On-site Coaching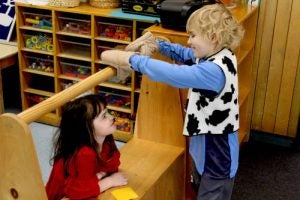 Would you like to change something about your teaching style or practice?
Would you like those changes to improve your day-to-day practice AND positively change child outcomes?
If the answer is YES, on-site coaching may be for you!
What is Practice Based Coaching?
URI coaches will use a model of coaching called Practice-Based Coaching (PBS). PBS includes three components which help to change teacher practices and improve child outcomes.
Component 1: Shared Goals and Action Planning
Component 2: Focused Observations
Component 3: Reflecting on and Sharing Feedback about Teaching Practices

URI coaches will partner with you to assess needs, set goals, create an action plan, reflect on practice , offer suggestions, provide support, problem solve, create materials and share resources . In addition, you may be eligible to earn professional development approved credit, it is free, and can be individualized to your schedule!
Practice-Based Coaching Components At-a-Glance
Practice-Based Coaching Handout
Scheduled visits to the participant's classroom will be planned to give the practitioner encouragement and support in implementing the Action Plan in the context of their own classroom. Observation and opportunities to reflect upon the Action Plan implementation will be the cornerstone of the On-Site Coaching meetings. We will use a customized co-teaching approach based on each center's individualized needs to introduce research-based best practice strategies in the classroom.
All early childhood professionals are invited to take part in this service. However, the number of slots are limited and if there is high demand, priority will be given to Institute and Observation attendees with BrightStars rating of 3 or higher. The first 20 participants in on-site coaching will also receive a $35 amazon gift card to help support their classrooms.