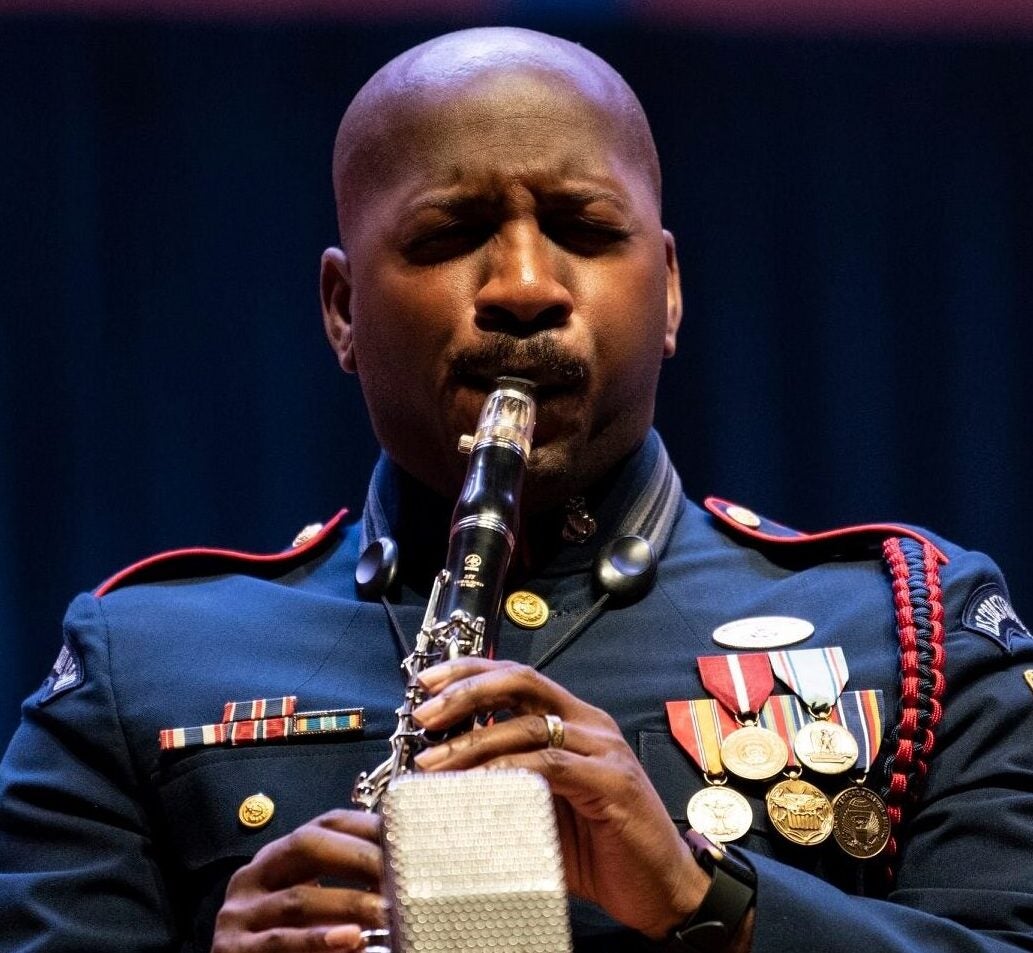 Biography
Houston Texas native Chief Musician Cedric Mayfield, clarinet and saxophone, joined the U.S. Coast Guard Band in July 2010. He is a graduate of Southern Methodist University and the University of Memphis, and currently pursuing Doctoral studies at UCONN. Cedric has performed in a variety of musical settings. He came to the Coast Guard Band by way of the U.S. Air Force Band in Europe, as well as The U.S. Air Force Band of the West in San Antonio TX, where he toured extensively as a band member, leader, and soloist.
In 2008, he was part of a specially collected group of musicians who embarked upon a three month tour of the Middle East for troop morale and social outreach. In the Air Force, he performed in a variety of ensembles, including concert band, chamber music groups, jazz, pop, and rock bands. As a civilian, he has performed with a national tour of the Broadway musical The Music Man, and spent four seasons with Galveston Island Musicals. He has also performed with orchestras, chamber groups, gospel choirs, big bands, salsa bands, even a polka band! Many of his compositions and arrangements were featured as a founding member of the acclaimed ensemble the S.A. Jazz Workshop (2006-2009). He is the founder and leader of the new jazz ensemble Epitome (2016-present). Though he expresses himself in many genres, classical music is Cedric's first love. He has had the privilege of performing with Wynton Marsalis, Chick Corea, Kirk Whalum, Bill Mays, Marvin Stamm, Shelly Carol, B.B. King, the Village Vanguard Jazz Orchestra, Aretha Franklin, The Four Tops, The Temptations, Roger Ingram, Trombone Shorty, Tori Kelly, Joe McCarthy, Doc Severinsen, and many others.
Cedric also enjoys spending time with his wife, Tamatha, and children Jasmine, Alexus, Emmanuel, and Malaylah. He works tirelessly with Miracle Temple Church in various ministries. He also enjoys physical fitness, sports, a variety of movies, reading, and working with his fraternity Alpha Phi Alpha Inc.
https://www.facebook.com/epitomejazzband
https://www.uscg.mil/Community/Coast-Guard-Band/personnel/mayfield/