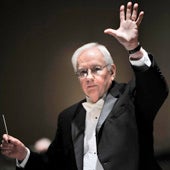 Biography
Before coming to the University of Rhode Island, Gene Pollart was a member of the faculty at California State University, the University of Wisconsin, and South Dakota State University. He has also taught in the public school systems of Colorado and Washington.
An accomplished percussionist, he has performed as a timpanist with the Fresno Philharmonic Orchestra, the Artists Internationale Opera Company, and the Providence Opera Theater. He has also performed as a drummer with renowned jazz pianists Don Grusin and Nilo Menendez.
Dr. Pollart is the former conductor of The American Band, an adult community band that presents formal concerts of traditional and contemporary wind literature, as well as informal outdoor concerts throughout the New England region. He maintains an active schedule as a guest conductor, clinician, and adjudicator and is a past president of the Rhode Island Music Educators Association.
Dr. Pollart retired from the University of Rhode Island in the spring of 2022.
Education
Ph.D., Columbia Pacific University
M.M., University of Colorado
B.M. in Music Education, University of Colorado