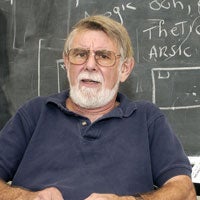 Biography
George Kent is a professor of music emeritus at the University of Rhode Island. He also served as music director of the Chorus Of Westerly, which he founded in 1959, and as an organist and choirmaster of Christ Church in Westerly.
Kent has made a number of recordings with Edward Tarr, trumpet virtuoso, and has toured and lectured in the United States, Canada, Europe, and Japan. In 1988, he was one of three recipients of the Governor's Arts Award, Rhode Island's highest honor in the arts.
In 1996, Kent received a Doctor of Divinity degree (honoris causa) from the General Theological Seminary in New York City. In September 1998, he was honored by the South County Center for the Arts with an Award for Excellence and, in October 1999, he was recognized by Choral Arts New England with a Lifetime Achievement Award. In May 2001 the Rhode Island Historical Society honored him as a "History Maker." In 2003, he received a Distinguished Alumni Award from New England Conservatory and the Encore Award for Individual Achievement from the Arts and Business Council of Rhode Island.
Education
M.M. in organ performance, New England Conservatory of Music
B.S. in music education, University of Rhode Island