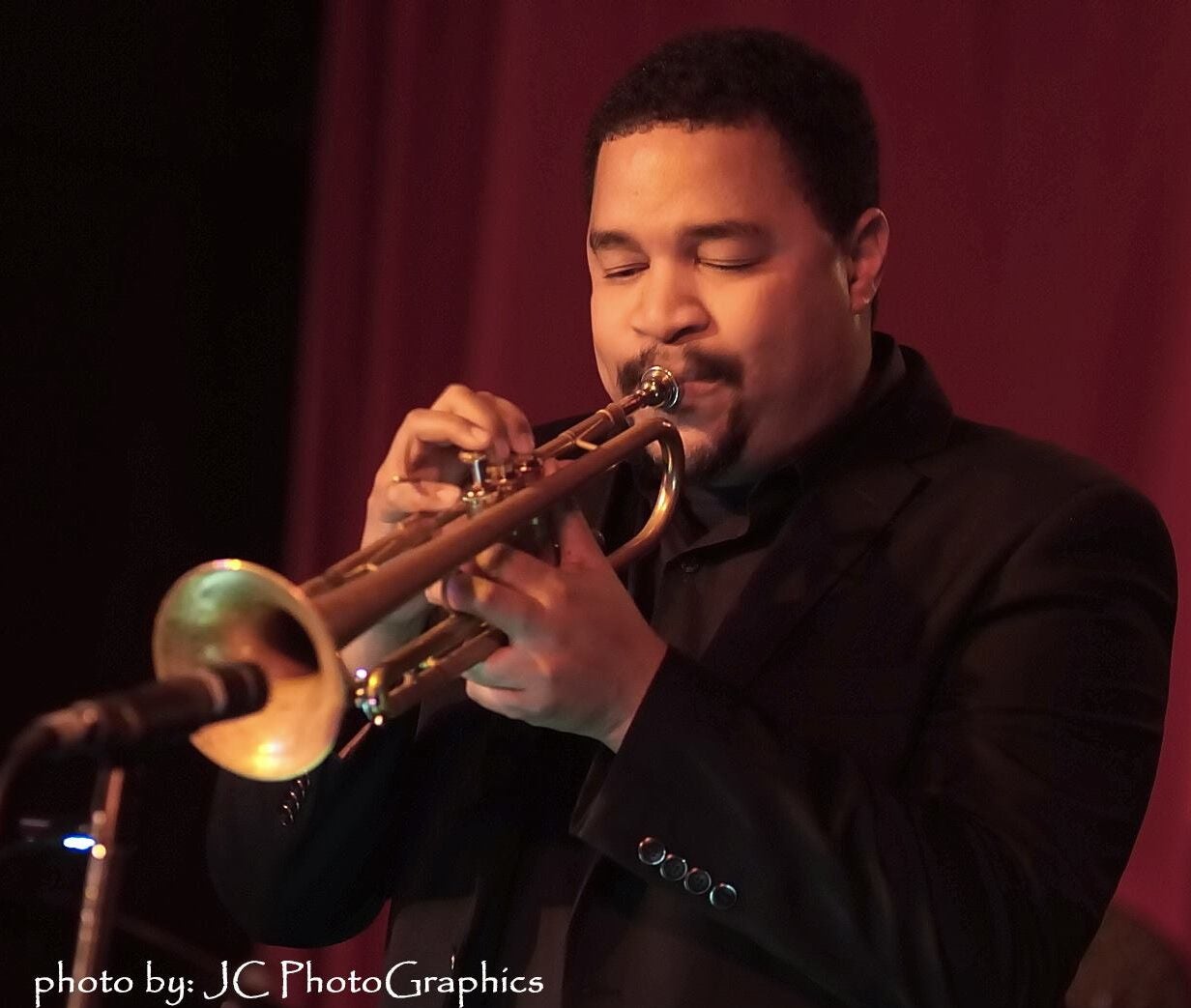 Biography
Haneef N. Nelson is a New York native who has made Hartford, CT his home for the last 20 years. He is an alumnus of the Long Island High School of the Arts and Uniondale High School where he studied with Dave Burns, an unsung legend of Jazz Trumpet. In addition, during his middle school/high school years he also studied at the famed Jazzmobile in Harlem, NY where we was taught trumpet by Jazz Masters, Dr. Donald Byrd, Cecil Bridgewater, and Eddie Preston along with music theory and ensemble classes by Charles Davis, Roland Guerrero, Max Roach, and several others. With the guidance of both Dr. Donald Byrd and Dave Burns Haneef went to the Hartt School at the University of Hartford to study with Jazz Legend Jackie McLean. He earned his Master's Degree in Jazz Composition and Arranging at the University of Massachusetts-Amherst where he would study arranging with Jeff Holmes and Dr. Felipe Salles.
Haneef has performed in a variety of musical genres and settings with various people. In Jazz he has performed with: Avery Sharpe, Tina Fabrique, Lafayette Harris, Onaje Alan Gumbs, Helen Sung, Steve Davis, Nat Reeves, Chico Freeman, Frank Lacy, Feya Faku, Joe Ford, the Makanda Project, the New London Big Band and Jon Faddis to name a few. In Gospel as well as R&B/Soul he has performed with: Doobie Powell, Musiq Soulchild, Billy "Church Boy" Powell, Hubert and Jacqueline Powell, the Watson's among several others. Haneef has also played in symphony and chamber orchestras, brass quintets, as well as solo classical trumpet literature. He also leads several groups of his own and manages the Jazz Monday Jam Sessions in Hartford, CT.
Haneef has recorded with Heshima Moja, Doobie Powell, Billy "Church Boy" Powell, the New London Big Band, David Davis, Hubert and Jacqueline Powell, and several other groups.
Haneef began his teaching career with a private studio in New York before moving to Hartford where he would teach the following subjects privately and in Community Music Schools: Trumpet, Jazz Ensembles, Jazz Improvisation, Jazz History, and College Audition Preparation. He has worked in Higher Education as a Teaching Assistant at the Hartt School working with the Big Band; as a Graduate Assistant at UMASS-Amherst where he was the Jazz Trumpet Studio Teacher, Jazz Lab Co-Instructor, Chamber Jazz Ensemble Instructor, as well as being in charge of the Jazz Graduate Composer's Ensemble; at Amherst College as a Visiting Professor for Jazz Ear Training; and Keene State College where he taught Jazz History.
Education
M.M. in Jazz Composition and Arranging, University of Massachusetts-Amherst

B.M. in African-American Music Study (Jazz Studies), The Hartt School/University of Hartford