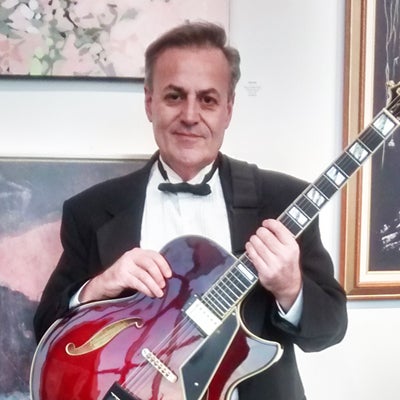 Biography
John Monllos is a versatile and dynamic guitarist, composer, performer and educator.
John was the Assistant Director of Navy Band Northeast and a member of the United States Navy Band for over 20 years. He officially retired from the Navy Band in June 2006. John has toured extensively throughout Europe and the United States.
As well as being an accomplished musician, John also participates in the academic arena as a music educator. John is a graduate of the University of Miami jazz program and completed his Master of Music degree at University of Rhode Island in December 2007 where he is currently serving on the music faculty as a lecturer. He also serves on the faculty of Salve Regina University teaching guitar. John maintains a private guitar studio in Newport, RI.
John has appeared on national television with a featured jazz spot on the News Program "Fox and Friends," and as the conductor of the Navy's Ceremonial Band on ABC's "Good Morning America." He appeared with the Boston Pops in June 2006 as a guitarist with the Navy's Showband. In August 2013, John appeared at the Newport Jazz Festival as Director of the University of Rhode Island Newport Jazz Festival Big Band. John continues to perform regularly throughout New England with his duo "John and Joanne" and in a variety of musical settings. John released his first album as a leader Shadow's Dance in 2008. His latest single "Pop the Cork" was released in 2012.
Research
Jazz Guitar, Ensemble Coach, Lecturer In Music
Education
M.M, University of Rhode Island, 2007
B.M., University of Miami, 1986
Selected Publications
Recordings: "Pop the Cork" 2012, "Shadow's Dance" 2008.