National Science Foundation Award No. 1852697
The University of Rhode Island has been awarded its second National Science Foundation grant to recruit, prepare, and support science, computer science, engineering and mathematics majors to become teachers. This Robert Noyce Teacher Scholarship program, funded by a 1.2 million dollar grant from the National Science Foundation, was established to address the large number of high school students who are being taught science and mathematics by individuals lacking the necessary credentials. The Noyce Scholars program seeks to recruit STEM majors and professionals for a career in K-12 education. Scholars entering the teaching field will receive support through their induction years.
High school students taught by teachers with no major and no certification in their subject area in 2000
79%
Earth and space science
Over the next five years, 16 undergraduate students and five STEM professionals will be selected as URI Noyce Scholars. They will be prepared to teach in high-need elementary, middle and high schools. Additionally, 20 freshman and sophomore students will be selected to participate in a paid summer internship program assisting local STEM programs in collaboration with the Rhode Island Environmental Education Association.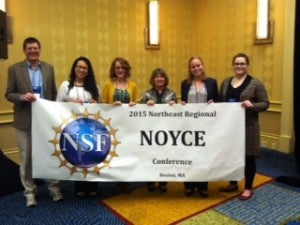 If you or someone you know may be interested in becoming a Noyce Teacher Scholar, please contact Jay Fogleman.
---
Recent Posts