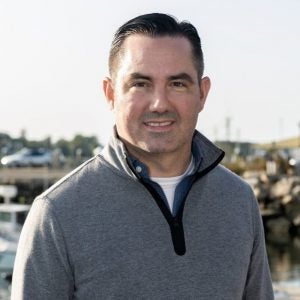 Associate Professor and Director of the M.P.A. Program
Tucker House, Rm 101
Phone: 401.874.7893
Email: ajley@uri.edu
Biography
Aaron Ley is an Associate Professor in the Department of Political Science at University of Rhode Island, and Director of the Master of Public Administration program at the Providence Campus and URI Online. His primary research interests focus on questions of law and policy, particularly how environmental groups mobilize law in the policymaking process and how they strategically select policymaking venues for pursuing their policy goals.
In addition to his research interests in these areas, Dr. Ley teaches courses in Environmental Politics and Policy, Public Administration, and Public Law. Originally from Alexandria, MN, he has taught at the University of Arizona in Nanjing, China, Gonzaga University, and the University of North Dakota. His research has appeared in Law & Society Review, Society & Natural Resources, Review of Policy Research, and Environmental Politics. When he came to Kingston in 2014, Aaron brought with him a small Yorkshire Terrier named Newman, who is a "rabid" Minnesota Gophers, Twins, and Vikings fan.
Research
Aaron is interested in examining the intersection of law and policy. His work contributes to the legal mobilization literature by examining how groups, while pursuing their environmental policy goals, choose among the various policymaking venues available to them.
Education
Ph.D., Political Science, Washington State University, 2011
M.A., Political Science, Washington State University, 2007
B.A., Political Science, Concordia College (Moorhead, MN), 2005
Selected Publications
Forthcoming. "What's Water Got To Do With It: Place Related Symbolic Meanings Alter Residents' Perceived Effects of Coastal Infrastructure," (with Bryce DuBois and Katherine Lacasse). Ecopsychology.
2018. "Mobilizing Doubt: The Legal Mobilization of Climate Denialist Groups." Law & Policy.
2018. "Constitutional Choices: Political Parties, Groups, and Prohibition Politics in the United States," (with Cornell Clayton). Journal of Policy History.
2016. "Vested Interests, Venue Shopping, and Policy Stability: The Long Road to Improving Air Quality in the Willamette Valley." Review of Policy Research 33 (5): 506-525.
2015. "The Adaptive Venue Shopping Framework: How Emergent Groups Choose Environmental Policymaking Venues," (with Edward P. Weber). Environmental Politics 24 (5): 703-722.
2014. "The Political Foundations of Miranda v. Arizona and the Quarles Public Safety Exception," (with Gordie Verhovek). Berkeley Journal of Criminal Law 19 (2), 206-251.
2014. "Policy Change and Venue Choice: Field Burning in Idaho and Washington," (with Edward P. Weber). Society & Natural Resources. 27 (6): 645-655.
2014. "The Costs and Benefits of American Policy-Making Venues," Law & Society Review, 48 (1): 91-126.
2013. "The Mysterious Persistence of Non-Consensual Norms on the U.S. Supreme Court," (with Kathleen E. Searles and Cornell W. Clayton). Tulsa Law Review, 49 (1) (Summer): 99-124.