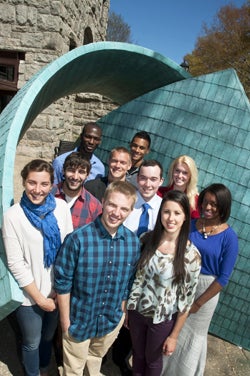 Quick Facts
300 undergraduate majors
20 M.A. graduate students
40 M.P.A. graduate students
14 full-time faculty
Degrees and Programs
Undergraduate
Bachelor of Arts in Political Science
Bachelor of Arts in International Studies (available to ISD students only)
Pre-Law Program
Graduate
Master of Arts in International Relations
Masters in Public Administration
Accelerated B.A. to M.A. (ABM) Option
Graduate degrees are often required for many jobs. PSC students may apply for the Accelerated B.A. to M.A. (ABM) Program in their junior year. Students in this ABM Program will receive the B.A. in Political Science as well as an M.A. in International Relations. M.A. concentrations include: Diplomacy, International Development, and Global Peace Studies. Please contact Department Chair, Professor Marc Hutchison, for more information and advising.
Affiliated Centers and Programs
Mentor/Tutor Internship (MTI) Program
The MTI Program sends URI students into K-12 schools, after-school programs, and adult-learning programs throughout the state, to help students who are in danger of falling behind academically and help them succeed and reach their goals.
John Hazen White Sr. Center for Ethics and Public Service
The Center promotes effective practice of ethics and fosters university engagement in public service throughout the State of Rhode Island. The Center sponsors several signature initiatives, including those that explore institutional dimensions of ethical practice, encourage student service learning, and foster public service broadly construed.
Center for Nonviolence and Peace Studies
The Center promotes peace and a global community by engaging in education training, academic courses, special programs, and community events.
Bikes Not Bombs
URI Bikes Not Bombs is a service learning course in Political Science. All bike collection efforts and administration are student directed and organized.
Spring Semester in Cuba Program
The Spring Semester in Cuba program is a study abroad program to Havana, Cuba. Students are exposed to an array of cultural activities and field study trips to significant sites in Cuban culture and history.