The University of Rhode Island is offering a study abroad program in Cuba for the Spring 2019 semester. Cuban society is a unique blend of African, European and American influences in the midst of significant social and political change. The program will be based in Havana, where students will study with Cuban professors who are affiliated with the Institute of Philosophy, along with University of Rhode Island faculty members.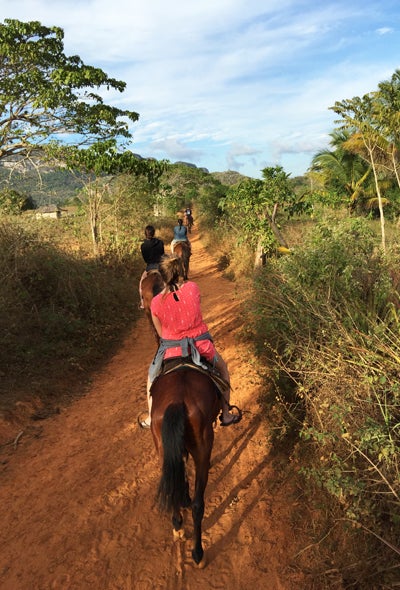 The study program is designed for students majoring or minoring in any areas of the social sciences and humanities, as as well as students who can apply these academic credits toward other degree programs. Last year's group included students majoring in political science, philosophy, economics, anthropology, history, psychology, writing, and Spanish. The group included a pre-med student and a jazz musician. There's something for everyone in Cuba!
All instruction is in English. Students attend classes Monday-Thursday with a full 15 credit curriculum. In addition, students will be exposed to an array of cultural activities and participate in field trips to significant cultural and historical sites, and attend lectures and performances by journalists, artists, writers, musicians, and other notable Cubans.
Program Highlights
The program runs from February through April.
The academic program will begin online January 22; students will then travel to Havana on February 8 and return on April 27.
At mid-semester, students will participate in a week-long field trip to explore organic farming, tobacco production, fishing and marine enterprises, and daily life among Cubans in various smaller cities, beaches, and rural areas.
Students will live in a clean, safe house in the Miramar neighborhood of Havana, an arrangement designed to encourage direct interaction with Cubans.
Program Requirements
Interested students must be degree-seeking, full-time students of sophomore standing or above at the University of Rhode Island, and have an overall GPA of 2.5 or higher.
Participants must either already possess or be able to obtain a valid passport.
Courses Offered
Professors associated with the Institute of Philosophy in Havana, Cuba, as well as URI faculty, will provide instruction. Students will enroll in at least 12 to 15 credit hours of 3-credit courses to maintain full-time status. Course options include:
LET 151: Introduction to Contemporary Cuba
PSC 310: Topics in Political Science: The Cuban Revolution and US Cuban Relations
PSC 455 or ECN 352: Individual Research Project
Students will choose an individual research topic relating to Cuban economy, culture, or politics, and will be mentored by experts at the Institute of Philosophy
ECN/GWS 386: The Economics of Race, Gender, and Class
PSC 375: Journal Reports
Students will complete a journal project that will require periodic entries that reflect their observations, experiences and interactions during the semester with the Cuban people and Cuban society
Program Costs
URI Tuition and Fees: $6,880 (In-state and out-of-state tuition)
Institute Program Fee: $8,000
Total: $14,080 (Does not include airfare and travel insurance)
Financial Aid and Scholarships
Most types of aid may be used for URI and URI sponsored/approved programs, including Centennial Scholarships, Federal Pell Grants, Federal Supplemental Opportunity Grants, Federal Perkins Loans, Health Profession Loans, URI Foundation Scholarships and grants, State Scholarship and Grants, and Federal William D. Ford Direct Loans
Other scholarships may be available (e.g., Gilman Scholarship)
Federal College Work Study awards are not transferable
Tuition waivers do not apply
Check with the Office of International Education and Enrollment Services for additional financial and admission details
To Apply