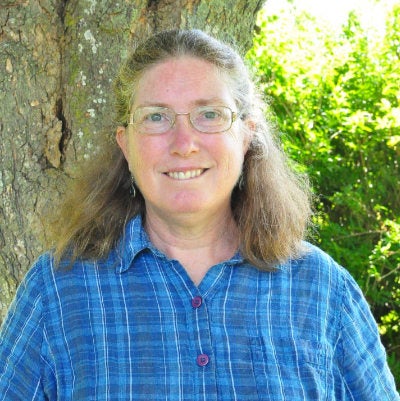 Professor and Chair
Phone: 401.874.2755
Email: brownreb@uri.edu
Office Location: Woodward Hall, Rm 236
Biography
Dr. Brown is passionate about local sustainable agriculture. She takes a generalized approach to horticulture science, integrating plant pathology, plant physiology, entomology, genetics, soil science and engineering to grow plants. Dr. Brown is the faculty leader for the peri-urban vegetable production research and extension program at URI and she teaches courses in vegetable production. She also conducts research on improving sustainability of vegetation on roadsides and in low-input human-impacted environments, and the use of native grasses and wildflowers for these environments. She collaborates on research projects exploring birdsfoot trefoil as a medicinal forage for sheep and goats, and on development of saffron as a high-value crop in New England.
In addition to her teaching and research programs Dr. Brown is actively involved in fighting food insecurity at URI and in the surrounding community. She is an active member of the American Society for Horticulture Science and serves as a consulting editor for HortTechnology. She is also an Associate Editor for Renewable Agriculture and Food Systems. Dr. Brown is a member of Phi Beta Kappa and an officer in the URI chapter, Beta of RI.
Research
Current and recently completed research projects include
Development of automated laser scarecrows to protect crops from birds
Integration of cover crops into vegetable production systems
Monitoring of nitrogen and phosphorus mineralization in high tunnels
Vegetable variety trials
Vegetable production method trials
Use of urban organic wastes to improve soil organic matter
Management of roadside grasslands as habitat for pollinators
Saffron production in southern New England
Education
PhD, Oregon State University, 2001
MSc, University of Minnesota, 1994
BA, St. Olaf College, 1991
Selected Publications
Gheshm, R., and RN Brown. 2021. Growing saffron crocus in the northeastern United States: Effects of winter protection and planting density. HortTechnology 31:524-531. https://doi.org/10.21273/HORTTECH04836-21.
Brown, RN and DH Brown. 2021. Robotic laser scarecrows: A tool for controlling bird damage in sweet corn. Crop Protection 146:105652. https://doi.org/10.1016/j.cropro.2021.105652.
Gheshm, R., and RN Brown (2020). Compost and Black Polyethylene Mulches Improve Spring Production of Romaine Lettuce in Southern New England, HortTechnology 30:510-518.
Gheshm, R., and RN Brown (2020). The Effects of Black and White Plastic Mulch on Soil Temperature and Yield of Crisphead Lettuce in Southern New England. HortTechnology https://doi.org/10.21273/HORTTECH04674-20
Schweig, S.R. and R.N. Brown (2018). Vegetable Amaranths for Summer Greens Production in the Northeastern United States. HortTechnology 28:399-406.
Gheshm, R and RN Brown (2018) Organic Mulch Effects on High Tunnel Lettuce in Southern New England. HortTechnology 28:485-491.
Long, R., R. N. Brown, and J. A. Amador (2017). Growing Food with Garbage: Effects of Six Waste Amendments on Soil and Vegetable Crops. HortScience 52 (6), 896-904.
Courses
PLS 324 Vegetable Crop Production
PLS 325 Greenhouse and Hydroponic Vegetable Production
PLS 255 Applied Plant Biology