Please join us in congratulating the
2023 Research and Scholarship
Excellence Awards Recipients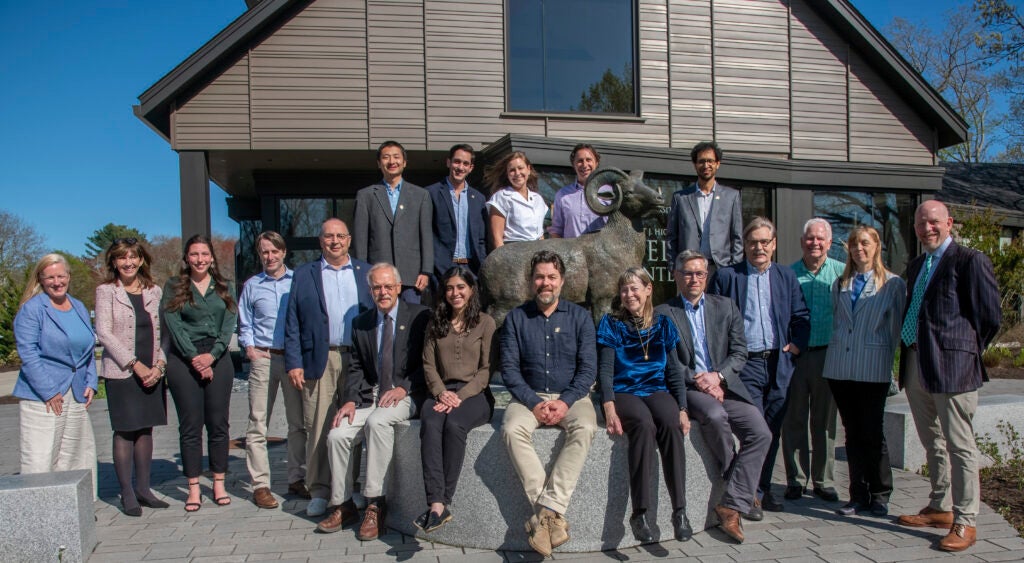 For their commitment to their studies, their College, the University community in general, and for serving as a positive role model and resource to all, The University of Rhode Island recognizes the 2023 Research and Scholarship and Intellectual Property Excellence Award recipients.
Undergraduate Student Research and Scholarship Excellence Award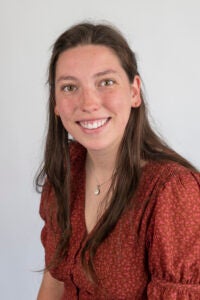 Life Sciences, Physical Sciences, and Engineering
CHLOÉ GILLIGAN
Department of Biological Sciences, College of the Environment and Life Sciences
Ms. Chloé Gilligan is a senior double-majoring in Marine Biology and Wildlife Conservation Biology who has exceeded all expectations of an undergraduate researcher. Through Ms. Gilligan's scholarly achievements, she has significantly advanced the field of study in coral histological work and made important contributions to the academic and research community by updating and advancing a 42-year-old study of a key Narragansett Bay study organisms and the Rhode Island State Coral, the Northern Star coral, Astrangia poculata.
As a freshman Ms. Gilligan studied how thermal stress affects the diets of Atlantic cod and sea bass. She also conducted field research related to the New England cottontail collecting samples to examine conservation efforts put in place. Sophomore year, she worked as a research assistant investigating the physiological and molecular effects of chronic thermal stress on the temperate coral. As a URI Coastal Fellow she took monthly coral samples for histological analysis, enabling her to extensively explore gametogenesis in corals. Her dedication led her to continue this research within the URI Honors Program. Through her analysis of histological slides, she developed an A. poculata staging guide in which she thoroughly described egg and sperm characteristics over time and provided essential information on the reproductive cycle of A. poculata. Additionally, she developed quantitative methodologies to statistically evaluate gamete size.
Ms. Gilligan was awarded the URI Centennial Scholarship due to academic achievement and received two undergraduate grants to fund her research. She has excelled in a research laboratory setting and has cultivated essential field skills. Fall 2020 she received her Open Water SCUBA Certification through the URI Diving Research and Safety Program and received her AAUS Research Diver Certification in May 2022. Her talent as a diver has led her to embark upon more than 40 dives contributing to both domestic and international marine science research.
Graduate Student Research and Scholarship Excellence Award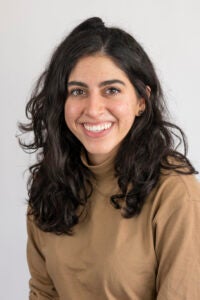 Social Sciences, Arts, and Humanities
ALEXA M. RAUDALES
Department of Psychology, College of Health Sciences
Ms. Alexa Raudales is outstanding in every metric you can use to assess success in graduate training in clinical psychology. She has excelled academically; published top-notch research in peer-reviewed journals; presented at numerous high impact professional conferences; is the recipient of a prestigious F31 NRSA award from the National Institute on Drug Abuse; is a gifted culturally competent therapist; and has spearheaded service activities that have meaningfully influenced the growth of students, staff, and faculty.
Ms. Raudales has shown exceptional promise as an early career researcher. Her research broadly focuses on emotion dysregulation as a transdiagnostic risk and maintenance factor for posttraumatic stress and suicidal behaviors. She has 29 peer-reviewed publications in this area, including 11 in the role of first author, with another five manuscripts under review. Extending her work in this area, she recently was awarded F31 grant provides nearly $100,000 for her to study real-time associations among opioid use, suicide risk, and posttraumatic stress symptoms in the community.
Ms. Raudales has also shown a strong commitment to justice, equity, diversity, and inclusivity initiatives. Within the Department of Psychology, she has been an integral member of the Inclusion and Diversity Committee since 2020, served on the Multicultural Consultation Team since 2020, and Chaired the Students of Color since 2021. Furthermore, she works with the Maximizing Access to Research Careers (MARC) program to mentor underrepresented students earning degrees in biomedical research. Ms. Raudales accomplished this while also maintaining a perfect (4.0) GPA.
Graduate Student Research and Scholarship Excellence Award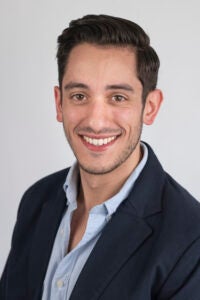 Life Sciences, Physical Sciences, and Engineering
PETER P. RICCI, III, Ph.D.
Department of Chemical Engineering, College of Engineering
After the tragic events of September 11, 2001, URI was chosen to lead the Department of Homeland Security Center of Excellence for Explosives Characterization and Detection. Starting in 2016, Dr. Peter Ricci played a critical role in those efforts developing a portable, lightweight sensor platform capable of detecting energetic materials and their precursors in real time. These sensors have detected peroxide-based and nitrogen-based explosives in the vapor phase at the part-per-quadrillion level, much lower than any other sensing platform. Ricci has led several field trials in which the detection of energetic materials was demonstrated through luggage, backpacks, and other potential improvised explosive devices.
In 2019, Ricci expanded the applications of the sensor platform into diagnostics and health monitoring. He demonstrated the use of his sensing platform for non-invasive disease diagnosis by identifying biomarkers in breath and through skin. As a result, he published a paper in Scientific Reports which was one of the most widely read articles in the Nature Portfolio.
Ricci's thesis entitled "The Next Paradigm in Vapor Sensing: Single Molecule Detection" was the basis for five published journal articles, including two in the Nature Portfolio, and the basis of another three articles in queue to be published. The premise of his thesis was the detection of a single molecule in the vapor phase. This extraordinary achievement in sensing has great potential to make a significant contribution in the field of healthcare and beyond. Ricci epitomizes the graduate student who has achieved distinction in his field and is being recognized specifically for his significant contributions in the field of chemical sensing. His major professor states that, "Peter is truly one of the most gifted, talented and hard-working students I have had the pleasure of mentoring in my 44 years at URI."
Postdoctoral Fellow Research and Scholarship Excellence Award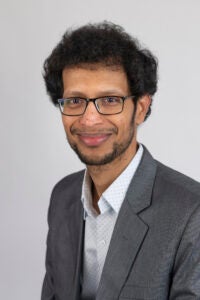 Life Sciences, Physical Sciences, and Engineering
ANIMESH PAN, Ph.D.
Department of Chemical Engineering, College of Engineering
Dr. Animesh Pan is a highly dedicated and capable science and engineering researcher committed to advancing URI's mission in scholarly excellence through his own work, service to our research enterprise, and student mentoring. His accomplishments are impressive, having published 26 peer-reviewed articles in highly respected journals and 1 book chapter, and giving 15 presentations at national and international conferences.
He joined URI as a Postdoctoral Fellow, conducting fundamental and applied research in nanobiotechnologies, colloid, and interfacial science. Pan works determinedly to progress his work and that of other members of the group, and to solve challenges that arise. He is currently leading a project funded by the National Science Foundation concerning the accumulation and transformation of microplastics and nanoplastics at the sea surface microlayer. He is developing standard techniques to create small plastic particles for laboratory studies to model environmental plastics and to study the interactions of those particles with organics in the ocean surface, their pollutant adsorption capabilities, and transport through the environment. He has been involved with another project to create new, more effective tracers for magnetic particle imaging for medical imaging and disease detection.
Pan has a wealth of technical expertise that spans a fundamental understanding of chemical systems, materials synthesis, and biology to analytical, spectroscopy, and microscopy instrumentation. This expertise makes him astute as a researcher and effective as a mentor. He has mentored 7 undergraduate students and 4 graduate students on their research projects. He trains students across departments and colleges to use research equipment. This is a significant contribution to the greater research enterprise at URI and speaks to Pan's desire to further science and help students. He has served as an independent reviewer on 36 manuscripts submitted to prestigious journals. Being recognized as a scholar for peer reviews is necessary to serve as a guest editor, which helps raise URI's research profile.
Early Career Faculty Research and Scholarship Excellence Award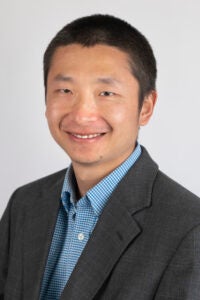 Social Sciences, Arts, and Humanities
ASSISTANT PROFESSOR PENGFEI LIU, Ph.D.
Department of Environmental and Natural Resource Economics, College of the Environment and Life Sciences
Assistant Professor Pengfei Liu joined URI in 2019 and has been remarkably productive in those four years, clearly establishing himself as a rising star in environmental economics. Liu's level of outputs achieved is nothing short of extraordinary. He has 33 peer-reviewed publications. What is even more remarkable is the consistency and quality of his productivity year after year. He also has been awarded close to $3 million in grants. His active research and high productivity led to serving as the social science lead of a pending NSF Track-1 EPSCoR proposal on marine plastic pollution.
The diversity of his work comprises a consistent record in areas including economic impacts of sustainable energy infrastructure, climate change, carbon markets, agriculture, and water sources, with recent publications in highly influential journals such as Nature Energy, Nature Sustainability, and Nature Communications.
He has evolved into a scholar in command of a broad research portfolio with a diverse spectrum of depth in an impressive set of areas. He is a scholar of remarkable breadth with substantial depth in such a variety of areas that many internationally known colleagues cannot display a comparable record after a much longer career. His productivity in any one or two areas exceeds the bar.
His colleagues are familiar with several cases which Liu does not claim enough credit. "But that is his nature, Dr. Liu pursues neither prestige nor reward." He pursues positive impact: to make our world better, while contributing to a collegial esprit-de-corps that makes everyone better. He is about helping students, the public, and governments understand what does or does not work, what is or is not valuable beyond costs, what may or may not change behavior and achieve desired goals.
Early Career Faculty Research and Scholarship Excellence Award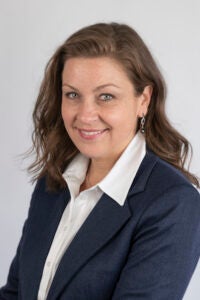 Life Sciences, Physical Sciences, and Engineering
ASSISTANT PROFESSOR LORA J. VAN UFFELEN, Ph.D.
Department of Ocean Engineering, College of Engineering
Dr. Lora Van Uffelen is a leader in the field of underwater acoustics. She has brought a focus in acoustic propagation and Arctic acoustics to ocean engineering at URI, and her graduate students have participated in fieldwork in the Arctic as well as in Hawaii, the Gulf of Mexico, Puget Sound, Nova Scotia, and Rhode Island. She led students on two scientific research cruises as Chief Scientist, with one student describing it as the best experience of his undergraduate career. Students are engaged in her classes and respond well to her enthusiasm for the subject and her inclusion of real-world problems and examples in her lectures.
The OPERA Lab, as Van Uffelen has named her research group, stands for Ocean Platforms, Experiments, and Research in Acoustics. Her research lies at the intersection of science and engineering and takes advantage of emerging technology in ocean vehicles and platforms to measure and to understand oceanographic effects on sound underwater. In an invited cover article for Acoustics Today, Van Uffelen compares our use of GPS for localization on land with the use of sound for localization underwater, and her work applies physics and oceanography to improve localization for vehicles underwater and under ice.
Dr. Van Uffelen has been PI or co-PI on 14 grants during her time at URI, which is remarkable and reflective of an extremely active research portfolio. She serves on faculty senate and mentors the URI Women in STEM group. She has graduated 4 MS students, one PhD, and has 4 active graduate students under her advisement. Dr. Van Uffelen is a very high performing faculty member who has a deep commitment to her research and the University. She inspires her colleagues and is one of the most creative and innovative young faculty in the US.
Advanced Career Faculty Research and Scholarship Excellence Award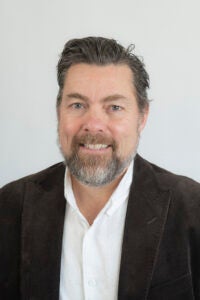 Social Sciences, Arts, and Humanities
PROFESSOR AUSTIN H. BECKER, Ph.D.
Department of Marine Affairs, College of the Environment and Life Sciences
Dr. Austin Becker's research achievements address fundamental societal challenges related to the resilience of coastal communities to climate hazards. His most significant societal contribution is closing the gap between science and decision-making by leveraging tools and insights from atmospheric and ocean sciences, engineering, public policy, and civic planning. Dr. Becker has pioneered a holistic approach to meet complex challenges resulting from climate-related impacts and increased demand for resources located in estuarine, environmentally sensitive, and exposed locations. His three core research areas, which focus on ports and other coastal infrastructure, are: deepening the understanding of natural hazard risk and consequences, identifying barriers to coastal resilience investments, and institutionalizing resilience assessment and planning.
Together with his research group, Dr. Becker developed new tools for emergency managers that integrate qualitative data elicited from critical-facility managers with dynamic storm model outputs created by his research colleagues at GSO. These tools help end users quickly assess natural hazard threats in real-time as storms moves up the coast. The project is now being transitioned to operations at the Rhode Island Emergency Management Agency and expanded through a pilot project in collaboration with NOAA's Environmental Response and Management Application.
His work has generated over $2.5 million in external support, and he has published over 50 peer reviewed publications in his nine years at URI. He has also served as major advisor to 29 graduate students, including 9 PhD students. This outstanding productivity rate is especially noteworthy given his service as Graduate Program Director and Department Chair of Marine Affairs. He also developed the new Coastal Resilience Graduate Certificate program, co-leads a dual LAR/MMA degree program with RISD, and is a Visiting Scholar at the US Naval War College.
Advanced Career Faculty Research and Scholarship Excellence Award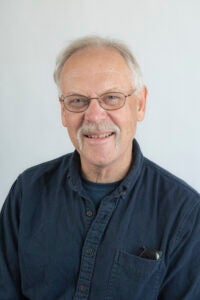 Life Sciences, Physical Sciences, and Engineering
PROFESSOR MARK H. STOLT, Ph.D.
Department of Natural Resources Science, College of the Environment and Life Sciences
Dr. Mark Stolt's entire professional focus has been toward the application of soils information toward solving environmental issues and problems. Soils are the foundation of life and an essential ingredient in understanding contemporary issues such as carbon sequestration, greenhouse gas emissions, pollutant abatement, and ecosystem restoration. He is at the forefront of advancing soils research on all these topics. His work focuses on new approaches to classify coastal and inland wetland soils including those in lakes and estuaries. His work promises to reshape the management of estuaries in the same manner that terrestrial soil classification empowered agronomists, foresters, land use planners, and engineers to sustainably manage our land resources. The ramifications of his work affect aquaculture, dredging, blue carbon, and salt marsh restoration.
One of his colleagues stated that his most memorable field experiences have occurred while standing beside soil pits–"with Mark's gas-powered pump lowering the groundwater water table to permit deep sampling he showed us samples of 3,000 year old carbon that was still stimulating nitrate removal". His insights into these deep carbon sources galvanized a new line of research that led to numerous papers by hydrologists and biogeochemists across the globe studying nitrate removal.
Dr. Stolt is a Fellow of the Soil Science Society of America and was honored with the SSSA William J. Patrick Lectureship Award for his wetland soils research. He received the National Cooperative Soil Survey Cooperator Achievement Award from the USDA for his work with soil survey. He has published over 75 peer-reviewed papers in a wide variety of high-impact journals. He is highly sought as an invited speaker and has been prolific in obtaining external funding throughout his distinguished career at URI totaling over $4 million in grants from a variety of agencies including USDA, NRCS, NOAA, EPA, and Sea Grant.
Intellectual Property Excellence Award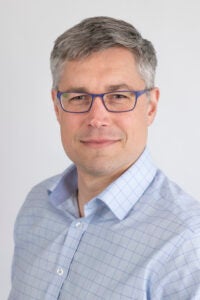 PROFESSOR JASON R. DWYER, Ph.D.
Department of Chemistry, College of Arts and Sciences
Professor Jason Dwyer is a Professor of Chemistry specializing in bioanalytical chemistry, nanotechnology, and technology development for biomedical applications. He is also a scientific entrepreneur, having co-founded a nanotechnology startup and then serving as its vice-president of research and development for 5 years. He has received an NSF CAREER award and funding from the National Institutes of Health and the Rhode Island Foundation Medical Research Grant program, among other sources.
Professor Dwyer has more than 50 peer-reviewed publications including in highly regarded journals such as Small, ACS Nano, and Nature Communications. His publications have more than 3500 citations. He has given 80 invited lectures in both academic and commercial settings and gave the feature interview on molecular movie-making in a Discovery Channel documentary. He transformed this, and other, media experiences into science communication training workshops for others interested in outreach. Professor Dwyer has 3 issued U.S. patents from his work at URI, and one of these earned him the 2019 Innovation Award of the Federation of Analytical Chemistry and Spectroscopy Societies.
As a core motivation, Professor Dwyer's research group is interested in learning about molecules: how they're put together, how they work, and how they interact with each other—and in turning discovery into applications that benefit society. The most prominent focus of his current work is developing a nanofabricated tool—a nanopore—to better detect and characterize biomolecules that are important for personalized medicine, earlier disease diagnosis, and a range of pharmaceutical industry applications. Professor Dwyer has a strong commitment to mentoring the next generation of scientists.
He has received funding from the Champlin Foundation to advance the use of cutting-edge technology in education, was the Graduate Mentoring Excellence Award Recipient of the College of Arts and Sciences in 2018, and his undergraduate and graduate students have earned numerous accolades nationally and internationally for their work in his group.
INTELLECTUAL PROPERTY AWARDS
Department of Physics, College of Arts and Sciences
Professor Oleg A. Andreev, Professor Yana K. Reshetnyak, Assistant Professor Anna Moshnikova, and Professor Donald Engelman, Yale University
for their U.S. Issued Patent: Carbohydrate Tethering at Cell Surfaces to Induce Immune Response
Department of Physics, College of Arts and Sciences
Professor Oleg A. Andreev, Professor Yana K. Reshetnyak, and Professor Donald Engelman, Yale University
for their U.S. Issued Patent: Environmentally Sensitive Compositions Comprising a pH-Triggered Membrane Protein and Methods of Use Thereof in the Treatment and Diagnosis of Tumors
Department of Physics, College of Arts and Sciences
Professor Oleg A. Andreev, Professor Yana K. Reshetnyak, and Professor Keykavous Parang, Chapman University
for their U.S. Issued Patent: pH-Sensitive Cyclic Peptides
Department of Chemistry, College of Arts and Sciences
Professor Brett L. Lucht and his students Julien Demeaux, Yingnan Dong, Bo Zhang, and colleagues from BASF Arnd Garsuch, Michael Schmidt, Frederick Francois Chesneau, Stefano Meini
for their U.S. Issued Patent: Pyridine Sulfur Trioxide Complexes as Electrolyte Component for High Voltage Batteries
Department of Chemistry, College of Arts and Sciences
Professor Jimmie C. Oxley, Professor James L. Smith, and their students Gerald Kagan and Alexander Yevdokimov
for their U.S. Issued Patent: Apparatus and Methods for Preparation and Introduction of Trace Samples Into an Ionizing Detection System
Department of Chemical Engineering and Department of Electrical, Computer, and Biomedical Engineering, College of Engineering
Professor Otto J. Gregory and Associate Professor Tao Wei and their colleague Geoff Grove, Pilgrim Screw Corp.
for their U.S. Issued Patent: Metal Fastener with Embedded RFID Tag and Method of Production
Department of Biomedical and Pharmaceutical Sciences, College of Pharmacy
Professor Navindra P. Seeram, Professor David C. Rowley, Professor Paul S. Cohen, and their students Jiadong Sun and Robert Deering
for their U.S. Issued Patents: Cranberry-Derived Compositions for Potentiating Antibiotic Efficacy Against Bacterial Persistence
Department of Ocean Engineering, College of Engineering
Assistant Professor Brennan T. Phillips
for his U.S. Issued Patents: Miniaturized Underwater Camera and Computer System