written by Dave Lavalee '79, MPA '87
Choking rivers, piling up in landfills around the world, and becoming a food source for marine creatures, plastic waste poses an increasing threat to the environment and human health.
In response, governments, non-profit agencies, industry, and academic institutions are joining forces to better understand the impacts of, and to devise strategies to deal with, plastics pollution.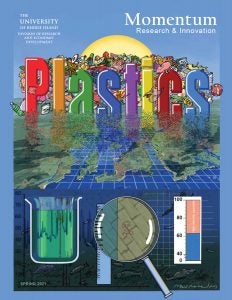 Such a massively complex problem requires coordinated international collaborative efforts, and to meet this challenge the University of Rhode Island (URI) is launching the Plastics: Land to Sea initiative, an effort to align research, resources, and talent across the entire University, to contribute to global efforts aimed at protecting a sustainable environment and to improve the quality of life for countless communities across the globe.
URI's interdisciplinary network includes more than 50 faculty working with state, regional and international governments, universities, and agencies around the world. In just the past two years, the initiative has either directly or indirectly attracted $4 million in private, state, and federal funding, and URI has invested in five new faculty members with expertise critical to plastics research.
Plastics play an important role in society and can be lifesaving, but they were not seen as a pollutant when they were developed. Yet, the environmental and economic reality of plastics pollution is a global crisis that has outpaced our understanding of its impacts on our waterways, food web, air quality and human health. The February 2015 issue of Science estimated eight million metric tons of plastics leak into the sea annually. According to the 2020 Pew Charitable Trusts report Breaking the Plastic Wave, the annual plastic flows to the ocean are expected to grow from Pew's calculation of 11 million metric tons in 2016 to 29 million metric tons in 2040. Science Advances 2017 article stated that approximately 420 million metric tons of plastics were produced worldwide, with production expected to triple by 2050. Less than 10 percent of plastic trash produced has been recycled, and it is the fastest growing component of municipal waste.
So, can Rhode Island and its public flagship research university contribute to a global conversation that seeks to understand and manage plastics pollution?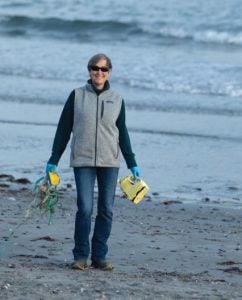 Sandra Whitehouse, '94 Ph.D., president of Ocean Wonks, founding member of Ocean Collectiv and consultant and senior policy adviser to Ocean Conservancy, replied emphatically.
"Of course, the answer is yes," Whitehouse said. "We have seen Rhode Island really excel in several areas, such as being the first state in the country to have an offshore wind project in the water, which was due in large part to the Ocean Special Area Management Plan. Obviously, URI had a major role in the development of that plan. We have seen that Rhode Island has been able to accomplish things quicker, more efficiently and more thoroughly because of its size."
University President David M. Dooley expects the institution to serve a similar role in tackling plastics pollution in the ocean. And that the state, URI, non-profits, and industry can be essential partners in finding answers to plastics pollution.
"Very few universities have the combination of a Graduate School of Oceanography, leading environmental and engineering colleges and outstanding social science programs, all of which work collaboratively together and also with leading universities, businesses and agencies here and around the world," said Dooley, who has made University collaboration with businesses, other higher education institutions around the world, and other nations, a defining part of his 12-year-tenure at URI.
From Sri Lanka to Ghana and from the Arctic to Block Island, URI's research and outreach have addressed the health of fisheries, climate resilience, sustainable energy and the presence of plastics in every ecosystem — land to sea. The University now plans to leverage those partnerships and cultivate new ones to advance plastics research.
"The University already has strong relationships with federal agencies heavily invested in environmental solutions, such as the National Oceanic and Atmospheric Administration, Environmental Protection Agency and the National Science Foundation," Dooley said.
Locally, URI works closely with the state's environmental agency to monitor water quality in rivers and ponds, and to study climate change and coastal resilience amongst other environmental issues. Rhode Island Department of Environmental Management Deputy Director Terrence Gray '00 said they are ready to take on plastics pollution with the University.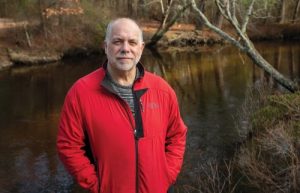 "Whenever we see a large-scale environmental problem like this, we can take a look at it because Rhode Island is an excellent place to innovate and to try things out at scale,"
Gray said.
"We are the Ocean State, we have this huge 400-plus miles of coastline. People could say, 'Hey, you are Rhode Island, you are not going to solve the world's plastics problem.' But we can demonstrate how a local entity can take charge of its own issues and develop projects that could be scalable to different venues around the world."
Whitehouse also said Rhode Island has a very well-studied resource in Narragansett Bay, particularly because of extensive research done by URI throughout the decades. URI scientists and students have collected and archived baseline data that are rare and difficult to find for many water bodies and have launched long-term studies such as the Fish Trawl Survey, running continuously since 1959 to quantify the seasonal migratory fish populations.
"There is still quite a bit we don't know about the cumulative effects of plastics on an ecosystem," Whitehouse said. "If we were able to investigate the presence, prevalence, and movement of plastics throughout an estuary such as Narragansett Bay — including in water, sediments, and biota — we could meaningfully advance research on plastics pollution and work toward enacting policies that help to alleviate or abate ecosystem-level impacts from those plastics."
Whitehouse said URI has a unique role to play in this all-hands-on-deck problem given its global research efforts.
"For example, URI has scientists in the Arctic, which is hard to access and expensive to conduct research in," she said. "Collaborating with other scientists who are interested in acquiring samples from there could be beneficial."
Dooley sees a role for URI engineering and social science researchers to find alternatives to plastics while helping the public and manufacturers understand the importance of shifting away from plastics and testing alternative materials.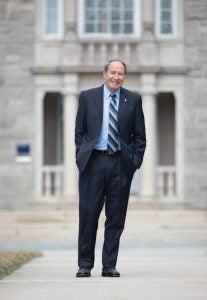 "We need to find new materials to replace current plastics, and that's where the scientists and engineers come in," Dooley said. "We need to work with manufacturers and others to develop new materials and to develop new methods for re-use and recycling.
"Many knew about this problem decades ago, but it takes time for governments and people to take action. One big barrier to all of this will be how much of this becomes politicized," Dooley said.
But Whitehouse, Gray, and Dooley are also optimistic about the future because of important global and local initiatives, including Ocean Conservancy's Trash Free Seas Alliance, which brings together leading voices in the private sector, such as Rhode Island-based CVS Health, with scientists and conservationists to come up with practical, high-impact solutions to the ocean plastics crisis.
CVS Health is a global leader in sustainability, including increasing plastics recycling and reducing plastics throughout its operations, and the company is enthusiastic about the URI Initiative Plastics: Land to Sea.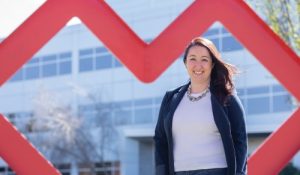 "At CVS Health, we recognize that the health of our planet is affecting the well-being of people and communities," said Caitlin Dillon '10, senior manager for corporate social responsibility at CVS Health.
"We are committed to reducing our environmental impact and embedding sustainability into our business operations, and work to engage our customers to take action and join us on this journey. As one example of this effort, we are working with a group of suppliers responsible for producing a large percentage of our plastics packaging within the store brand portfolio of products, in order to gain a better understanding of the impacts within our supply chain and inform meaningful sustainable packaging targets," Dillion said.
"With more than 6,000 colleagues in the Ocean State and nearly 70 CVS Pharmacy locations, we are working to engage our colleagues in sustainability efforts," Dillon said. "We work with organizations like Save the Bay and the Department of Environmental Management on managing the impacts of our business across the state."
These local to national efforts create best practices to share around the globe and impact consumer management of plastics.
Dillion added, "Large universities like URI have an opportunity to leverage their network of faculty, students, and alumni as ambassadors and champions in building and activating solutions."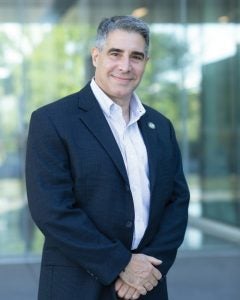 According to Professor Peter J. Snyder, URI vice president for Research and Economic Development, this signature research initiative will have its home within the URI Coastal Institute and will welcome participation by faculty and students across all URI colleges to make clear, tangible projects within the five "thrust areas" described within this issue of Momentum. In parallel with the publication of this issue, the Coastal Institute is launching a special website so that everyone connected to this effort can follow our progress and learn more about our research and partnerships https://plastics.uri.edu. From this web site, our faculty, students, collaborators and strategic partners will all be able to watch as we leverage our strengths, resources and connections. Please join us as the University "thinks big" to accelerate critical research efforts and contribute to global solutions to sustain the health of our land, our waters, our health, and our future.
Please view the full issue of URI's magazine
Momentum: Research and Innovation.
Launching URI's First Signature Research Initiative: Plastics Land to Sea