Rhody Outpost is URI's principal basic needs pantry for students experiencing food insecurity. The Outpost provides fresh and non-perishable food and personal care items at no charge to students. Formed as a collaboration between URI and St. Augustine's Episcopal Church, the pantry is managed by the Dean of Students Office and staffed by student and community volunteers.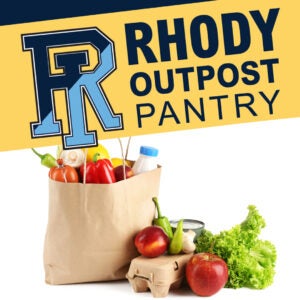 ---
Who's Eligible?
We serve all URI students who are food and/or housing insecure, and struggle to make ends meet. We are committed to protecting your privacy if you visit us or contact us for resources.
What's Available?
The pantry is stocked with canned goods, pasta, pasta sauce, mac and cheese, peanut butter and jelly, toiletries, household items, cleaning supplies, and much more. We also offer eggs, yogurt, milk, bread, bananas and fresh vegetables.
Where and When?
The Outpost is located at the Dining Services Warehouse, 10 Tootell Road, in Kingston. We're open for pickup on Fridays from 3-5:30 pm (except holidays), or by appointment if needed. See our Hours page for more details.
Dismiss message
Hours Fall 2023
Fridays: 3-5:30 pm
There are two steps to complete in order to use the Outpost:
Fill out a Rhody Outpost intake form, then submit a Request Items form prior to 10 am on Fridays.
We offer accommodation to individuals who have a schedule conflict. Simply email us at SSAS@etal.uri.edu to request an accommodation. Please note that we are closed on holidays weekends.
---
Our Partners