Today, We Are Global
At our home on the Bay Campus of the University of Rhode Island (URI), we love our backyard — the Narragansett Bay — and are honored to be a part of the Graduate School of Oceanography (GSO). With a staff of about 25 in Rhode Island, we manage a broad portfolio of projects. We are aided by many talented staff, faculty and students across URI and GSO as well as international personnel and partners. We are driven by our passion for the sea and concern for coasts. We understand the threats of climate change and challenges of population growth and needs.
CRC is making a difference
The Coastal Resources Center (CRC) helps communities become more effective stewards of their coastal and marine resources. CRC partners with stakeholders to apply science and find solutions to societal issues. Working with communities, other universities, industry, and government, we respond to issues that matter and build the capabilities of our collaborators and ourselves. We are fortunate to have excellent partners.
Where are we?
We work around the world. Whether in Matunuck or Manila, we strive to be present. Staff are always on the move for meetings, workshops and events. In addition to Rhode Island, we have a sustained presence in several countries, currently in Ghana, Madagascar and the Philippines. We do our best to interact locally and globally. Handshakes and smiles are our preferred means of communication. But saving funds and fuel is important and sensible, so we are increasingly using digital dialog — email, phone or videoconferencing.
A Long History … From Humble Beginnings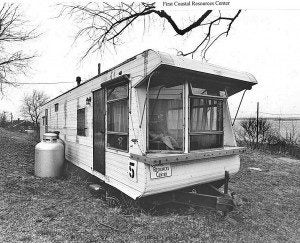 CRC has existed for almost 50 years. Our impact is large, and alumni network is great. We started small and remain nimble, collaborating with individuals and organizations. CRC's first home in the 1970s was a trailer that washed up on the beach during a storm and was moved to high ground. We are grateful to CRC's first Director Stephen Olsen, recipient of a URI Lifetime Achievement Award, and many others for bringing coastal management to the forefront in Rhode Island and international attention CRC.