Global Program Coordinator
Phone: 401-874-6823
Email: kkaine@uri.edu
Office Location: URI Bay Campus
220 South Ferry Rd.
Marine Resources Building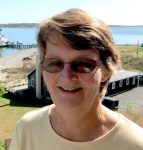 Biography
Kim joined CRC in 1998. She has over nineteen years of experience as a coordinator for training, volunteers, study tours, and fellowship programs at the Coastal Resources Center. Her experience with diverse populations and understanding of cross-cultural and gender issues served her well in the Center's United States-Zanzibar cross-culture and technology-exchange program. She manages all logistics for CRC-funded graduate students attending URI from Ghana, Malawi, and Indonesia as well as all international study tours, trainings, and workshops.
Kim is an accomplished designer of project protocols and systems. Among the systems Kim has developed are The Ambassador Program for International Graduate Students and CRC's Volunteers for Prosperity Program, a USAID initiative.
She is the fiscal/administrative person responsible for the ASSESS project in Ghana and the Malawi FISH project in Malawi. As the fiscal person responsible for The BaNaffa project in The Gambia where she facilitated a training on Financial and Administrative Management with her in-country colleague for local partners to build their capacity. In addition, Kim recruits and manages undergraduate students employed by the CRC international team to help with administration and finance.
Kim oversees all CRC travel, has designed policies for international travelers funded by CRC, coordinates all USAID Trainet training requirements, and trains in-country staff on Trainet policies. Kim has a bachelor's degree from the University of Rhode Island.