The College of Engineering is committed to recruitment, retention and diversity of our student population, and actively engages in creative initiatives that support these activities.
We foster a strong and diverse community of spirited scholars through the college's Minority Student Recruitment and Retention Office. Under the direction of the Dean and Assistant Director of Diversity Mr. Charles "Chuck" Watson, the office provides the focal point within the college for diversity, and for working with underrepresented student groups at various levels. In addition, staff are also actively involved in recruitment activities with high schools and middle schools throughout Rhode Island.
The office is actively engaged in attracting, retaining and graduating the very best in African American, Native American, Hispanic, and women engineering talent from across the United States.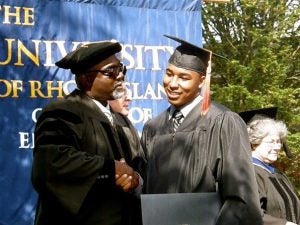 The office also provides a vital, networked support structure for the URI student chapters of the National Society of Black Engineers (NSBE), the Society of Hispanic Professional Engineers (SHPE), and the Society of Women Engineers (SWE).
Diversity Programs in the College of Engineering
Graduate Engineering: Research Opportunities
Graduate Engineering: Program Placement Assistance
K-12 Students: Outreach and Recruitment Activities
Minority Alumni: Networking
Proposal Development Participation: Broader Impact – Minority Recruitment and Retention