President Parlange welcomed students to a panel discussion by Raytheon Technologies that took place at URI Engineering's Facitelli Center for Advanced Engineering February 15, 2023, 6-8PM.
More than 100 students attended the event.
Students heard from a panel of Raytheon Technologies executives, and watched a promotional video. Students learned of the many careers in aerospace engineering and were given background on and answered questions about Raytheon Technologies, a $67 Billion S&P 100 company headquartered in Arlington, Virgina, and Waltham, MA with offices in Portsmouth, RI.
Danielle Curcio, Corporate Vice President, Engineering at Raytheon Technologies welcomed students and gave a company background and talked about the culture of "constant innovation" at the company.
Tony Rafanelli, a 1978 (BS), 1985 (MS), and 1995 (PhD) graduate of URI Engineering led the panel and discussion.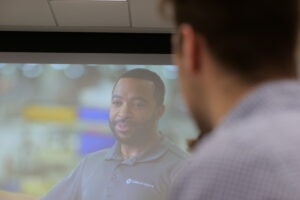 The event was sponsored by URI Engineering's Office of Diversity and Inclusion and Office of Student Affairs.
Raytheon Technologies is one of the largest aerospace and defense contractor and consultants in the world, with assets of $158.86 Billion in 2002. The conglomerate owns Collins Aerospace, Pratt & Whitney, Raytheon Intelligence & Space, Raytheon Missiles & Defense, and Raytheon BBN Technologies which employ a combined 182,000 people worldwide.