Fifth year student Carrie Ellis knows what it's like to be pressed for time. She's been a varsity soccer player since she came to campus. Then there's being the founding president of Engineers without Borders, having a double major, and maintaining a near-perfect GPA. To top it off, Ellis has just been awarded a scholarship from the New England Water Works Association (NEWWA). She credits her tenure at the University of Rhode Island with providing a pathway toward her career.
NEWWA is a professional organization that supports the work of students and professionals in the realm of pure drinking water. Ellis says that she and Professor Joe Goodwill used her recent project funded by the EPA as part of her application. "I applied back in the spring and was notified this summer that I was the award winner for it," she said. "I was very excited. It took a long time for the committee to get back to me, so I just assumed that I hadn't won. It was a shot in the dark. "I just graduated in May, so it's my first year as a grad student, and I don't have a ton of research to show yet, just my aspirations and goals. I was really excited that I won. It made me proud of my work so far."
Ellis' research project focuses on water reuse, with the objective of reducing water stress by advancing water reuse technologies. Specifically, water that can be harvested, such as rainwater or typical domestic wastewater, agricultural runoff, and other sources. Ellis says the end goal is to be able to apply the harvested water to various potable and non-potable uses, including water that is pure enough to drink or can be implemented as farmland irrigation.
Ellis also founded the URI chapter of Engineers without Borders (EWB USA). The organization has student and professional chapters throughout the world. "Nearly every major university in the country has a chapter," Ellis said. "Considering that we have a great engineering program and we're trying to build our research programs, I thought URI should be no exception."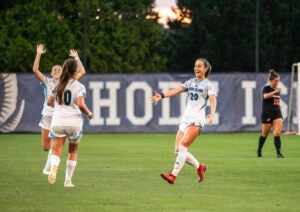 Ellis says she had her doubts about organizing a brand-new club. "I thought I would be in an empty room by myself when it started, but about 50 people showed up. There were people interested in elected offices. We got professional mentors, and the Dean of the College of Engineering, Dr. Anthony Marchese, was incredibly generous and supportive of our organization and provided financial support as
well."
EWB's goal is to partner with underserved communities and to build a sustainable world. Ellis says this entails sending student and professional groups to work closely with underserved communities to enhance their water treatment systems, sanitation systems, and agricultural systems. Her college career continues to be a source of pride. "It's really important to me to explore all of my interests. I want to be a person who's well rounded and multifaceted and able to do a lot of things. I think that I've learned a lot from all my activities individually, and I don't think I would have acquired the skills I have if I weren't so busy.
"There are a lot of good things that engineering students can do. There are tons of opportunities. I say that to recruits and future engineers and incoming freshman all the time, to just lay your hands on anything you can. Any connections that you can make, talk to professors, because you can go through four years and not do that much. There is a ton of opportunity, and you should take advantage of all you can."
This story was written by Hugh Markey.