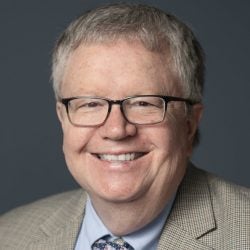 Professor and Department Chair
Ocean Engineering
Phone: 401.874.6540
Fax: 401.874.6837
Email: miller@uri.edu
Office Location: Sheets 111, Narragansett Bay Campus
James Miller's Full Research Profile
Education
Sc.D. Oceanographic Engineering. MIT-WHOI Joint Program, 1987
M.S. Electrical Engineering. Stanford University, 1981
B.S. Electrical Engineering. Worcester Polytechnic Institute, 1979
Research Interests
Ocean Engineering
Oceanography
Acoustic Engineering
Underwater Acoustics
Acoustic Signal Processing
Shear Wave Properties
Geoacoustic Inversions
Sediment Deposition
Major Sources of Funding
Brown University
Bureau of Ocean Energy Management
Deepwater Wind LLC
Office of Naval Research
University of Connecticut
United States Army
Biography
Dr. Miller is a Professor of Ocean Engineering and Oceanography at the University of Rhode Island. He conducts research and teaches courses in acoustical oceanography, sonar systems engineering, acoustic signal processing, underwater acoustics, marine bio-acoustics, ocean data analysis, modeling, and underwater vehicle design. His interests include the acoustics of ocean sediments, 3D acoustic propagation in shallow water and the effects of sea surface waves on acoustic normal modes. He has done work on the effects of ocean noise on marine animals.
He is a registered Professional Engineer in the State of Rhode Island.
Dr. Miller co-founded FarSounder, Inc. of Warwick, Rhode Island with URI alumnus Matt Zimmerman.
Experience:
7/08 – 6/11 Chair, Department of Ocean Engineering, URI
7/99 – 1/06 Professor of Ocean Engineering, URI
7/97 Tenure Awarded, URI
8/95 – 8/98 Associate Professor University of Rhode Island, Narragansett, Rhode Island
8/87 – 8/95 Naval Postgraduate School, Monterey, California
7/92 – 8/95 Associate Professor of Electrical and Computer Engineering, NPS
7/94 Tenure Awarded, NPS
8/87 – 7/92 Assistant Professor of Electrical and Computer Engineering, NPS
Honors and Activities:
2013 – 2014, President of the Acoustical Society of America
2012 – 2013, President-Elect of the Acoustical Society of America
2009 – 2012, member, Executive Council of the Acoustical Society of America
2007 – 2009, Chair, Acoustical Oceanography Technical Committee of the Acoustical Society of America
2007 – 2008, Chair, URI Faculty Senate
2001-present Scientific Advisory Team, Discovery of Sound in the Sea Website
2005 General Chair of the 151st Meeting of the Acoustical Society of America, June 5-9, 2006, Providence, Rhode Island
2004 URI Albert E. Carlotti Faculty Excellence Award for Research
2003-present, Fellow of the Acoustical Society of America
2001-2003 Member of National Academy of Sciences Panel on Noise in the Ocean
2002-2005 Member of NMFS Panel on Acoustic Criteria for Marine Mammals
2000 Member of the ONR External Review Panel for Propagation Modeling for the Bahamas Stranding Event
1999 URI Marshall Award for Faculty Excellence in Engineering
1993 NPS Menneken Faculty Award for Excellence in Scientific Research
1992-1996 Associate Editor for Underwater Sound – Journal of the Acoustical Society of America
2001-2007 URI Diving Control Board
Consultant on underwater acoustics to a number of corporations and government agencies.
Lecturer: ASA Short Courses in Marine Mammal Bioacoustics, 1995 and 1999.
Rhode Island Professional Engineer License No. 9595