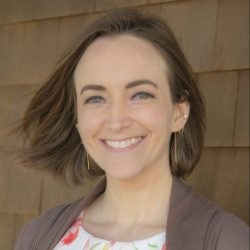 Coordinator, IEP
International Engineering Program
Phone: 401.874.4712
Email: schenckm@uri.edu
Office Location: TI House 115
61 Upper College Rd.
Kingston, RI 02881
Biography
Melissa Schenck serves as the International Engineering Program Coordinator at the University of Rhode Island. In this role, Melissa organizes the IEP's recruitment and retention efforts, engages with IEP community through social media, and works with program directors and student ambassadors to plan and host events.
An RI native herself, Melissa graduated from URI in 2009, majoring in Secondary Education and Spanish. She then stayed at URI to continue her studies while also instructing two undergraduate Spanish courses per semester, and graduated in 2011 with her Master's in Hispanic Studies.
Before coming back to URI in 2018, Melissa taught Spanish at Cumberland High School in Cumberland, RI, where she focused on personalized learning, incorporating technology into the classroom and teaching for proficiency. Having been a Spanish instructor for several years, she is a champion of language learning and global thinking who also harbors a deep appreciation for the types of opportunities that STEM degrees provide students in today's economy. Through her own study abroad experiences in Spain and Costa Rica as well as her other extensive global travel, she has cultivated a passion for cultural immersion that she hopes to pass on to current and future IEP students. In addition to having studied Spanish, Melissa also has been learning German on her own and has now reached an advanced level of proficiency.
She recently won the 2022 University Staff Excellence Award from the URI Foundation & Alumni Engagement as well as a 2021 Beatrice S. Demers Fellowship from the Rhode Island Foundation for an advanced German immersion course in Berlin (summer 2022).