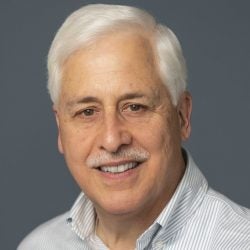 Professor
Electrical, Computer and Biomedical Engineering
401.874.5816
Fax: 401.782.6422
Office Location: Fascitelli Center for Advanced Engineering 489
Recent Grants1
Grant
8/8/2023. PI. Massachusetts Institute of Technology
. "Gain-Phase Calibration for Sensor Arrays."
6/21/2021. PI.
Office of Naval Research. "EGR: Vaccaro: ONR: IEEE Underwater Acoustic Signal Processing Workshop Series."
7/31/2017. Co-PI. Electro Standards Laboratories. "Tradeoff in Chemistry of Lithium Ion Battery for Energy/Power with External Lithium Ion Super Capacitor."
Recent Publications1
Citation
Adhikari K, Vaccaro RJ, Al Kinani RA. Optimal Subspace Estimation in Radar Signal Processing.
2023 IEEE Radar Conference (RadarConf23),
2023; 1-6. doi: 10.1109/RadarConf2351548.2023.10149565
Adhikari K, Vaccaro JR, Sartori DD. Shift Invariant Sparse Arrays and their Optimal Signal and Noise Subspaces.
Signal Processing
, 2022; 108579. doi:
10.1016/j.sigpro.2022.108579
Get
Vaccaro RJ. The Role of Subspace Estimation in Array Signal Processing. 2019 53rd Asilomar Conference on Signals, Systems, and Computers, 2019; 1566-1572. doi: 10.1109/IEEECONF44664.2019.9048994
Patents
Zaki AS, Vaccaro R, Inventors; US Secretary of Navy, Assignee. Method of Reducing Random Drift in the Combined Signal of an Array of Inertial Sensors. US Patent 10025891B1. July 17, 2018
Boufounos PT, Vaccaro R, Benosman M, Inventors; Mitsubishi Electric Research Laboratories, Inc., Assignee. Distributed Path Planning for Mobile Sensors. US Patent 9218646B1. December 22, 2015