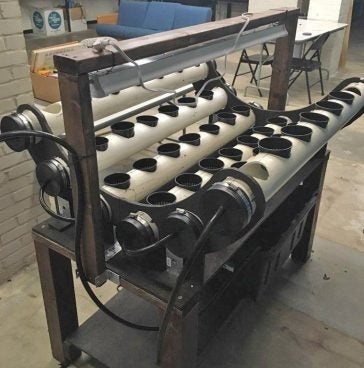 Each semester, the University of Rhode Island student chapter of Engineers for a Sustainable World (ESW) picks a hands-on project to work on. The project the group chose for the spring 2019 semester was a hydroponics system for plants.
Using six cylinders of four-inch PVC pipe, the students built the system in the shape of an arc to allow plants to receive light. The design would enable water to flow from one cylinder to the other once it reached the end of the pipe. In the meantime, the plants would absorb the water from their roots as the water cycles through the system. This system is also known as the Nutrient Film Technique (or an NFT system), due to using nutrient-enriched water to grow the plants.
The project was recognized by ESW's umbrella organization as the Project of the Month for May 2019.
"The hydroponics system from URI is a sound example of how precision agriculture can add sustainable value in the form of high-quality foods in areas where climate might not be best suited for food production all year round," said Jorge Izar, chapter relations coordinator for ESW's national organization.
The project was built in the club's space in Pastore Hall.
"This hydroponics system is unique, mainly due to the semi-circle based shape that allows it to more fully take advantage of both space and light to maximize growth," said Tereza Almeida, URI ESW's treasurer.
The expense for the PVC pipes and the support structure was $350, which was close to the group's estimated cost and budget.
"In the future, we hope to make the chemical filtration portion of the system fully automate so it is more of an independently working hydroponics system," said Almeida. "We would like to collaborate with other clubs at URI or local businesses to put the system to use permanently on campus or in the community."
Besides Almeida, the students who worked on the system included Gabby Aiello, Andrew Gomes, Bryan Evans, Nina Cammuso, Ray Turrisi, Theo Smith, Mariah Stephens, Billy Connelli, Gianna Zackarian, Julio Almanzar, Kim Chhe Srengsros, Kiran Thakur and Steven Parrillo.