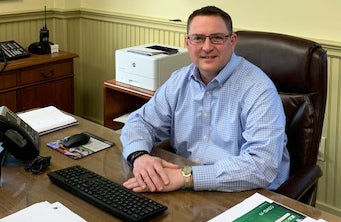 By Neil Nachbar
When it became evident that Rhode Island would not have enough personal protective equipment for doctors, nurses, first responders and other caregivers to use during the coronavirus pandemic, Gov. Gina Raimondo knew who to call.
With his proven track record of success in supply chain management, the governor enlisted the help of Steven J. King, the managing director of the Quonset Development Corporation (QDC).
"When the governor called me on the evening of March 21st and asked me to assist with PPE procurement, I was honored to serve and pleased to help in any way possible," said King.
A University of Rhode Island alumnus, earning a bachelor's degree in civil engineering in 1988, King has led QDC through a period of unprecedented growth in the 12 years he's been at the helm.
King has overseen more than $130 million dollars of projects for utility, roadway, rail, building and port construction in Quonset, leading to an increase of more than 40 percent in private sector employment, according to the QDC.
As successful as King has been, trying to secure equipment that 49 other states, the U.S. federal government and countless other countries are also attempting to procure has been an arduous task.
"Our team has been working 12-15 hours per day for the last several weeks," said King. "We have been vetting hundreds of leads trying to find those that are credible with sources of supplies that meet the required specifications."
King's team includes the Rhode Island Emergency Management Agency, locally assigned Federal Emergency Management Agency representatives, Rhode Island Department of Health representatives, a representative from the governor's staff and QDC personnel.
The search for equipment has been a bit of a roller coaster of successes and disappointments.
"We have purchase orders in place for months' worth of supplies," said King. "We continue to work hard to leave no stone unturned in the search for more sources. It is disappointing, however, the amount of time that is spent running down leads that turn out to be dead ends. But I believe our biggest wins are still ahead of us."
A former platoon leader and company executive officer with the U.S. Army's 588th Engineer Battalion, King isn't one to succumb to pressure or back down from a challenge.
"My background in engineering, military service, contracting, real estate development, port operations and executive management have all provided a solid foundation for organizing a team, establishing a process and driving results," said the decorated Persian Gulf War veteran.