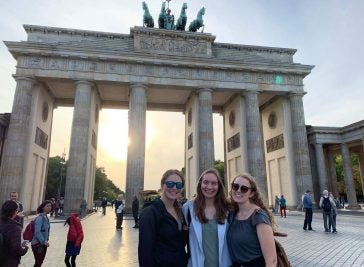 By Neil Nachbar
When the University of Rhode Island switched to remote learning in March due to the COVID-19 pandemic, it was a huge adjustment for students and faculty. For students who were studying abroad at the time, it meant a premature end to their international experience.
The 53 students in URI's International Engineering Program were studying and working in eight countries in Asia and Europe when they were brought home to the United States a few weeks into the spring 2020 semester.
Making the Best of the Situation
While it was impossible to duplicate the experience of a six-month internship at a global company while immersed in a foreign culture, IEP Executive Director Sigrid Berka scrambled to find internships locally for the students for the remainder of the semester or during the summer.
"When the students were abruptly recalled from their internships abroad, I turned to our advisory board, IEP alumni and engineering faculty to place the students into internships and research positions so that they could continue their work in the United States," said Berka.
The responses from the board members, alumni and faculty led to several internships, despite some companies experiencing hiring freezes at the time.
"It was heartwarming to see the overwhelmingly positive response by our alumni and faculty to find internship and research opportunities for our students," said Berka.
Although they were only abroad for the semester of study and a few weeks of interning, the students gained the valuable cultural experience of studying and working in new surroundings while using a language they learned at URI.
A few of the students shared their experiences.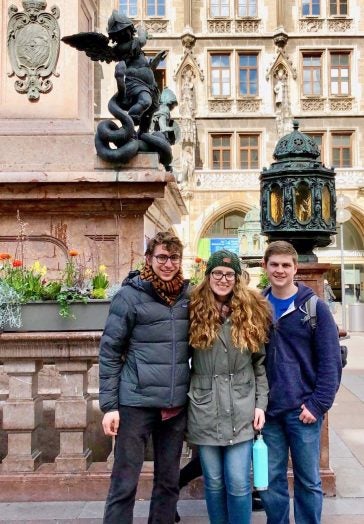 Kayla O'Connor
Majors: Chemical engineering and German
Internship: Four months of research at Fraunhofer Institute for Surface Technology while studying at Technical University of Braunschweig in Germany. Also placed at BASF in Ludwigshafen, Germany, for six-month internship, but could not complete it.
Hometown: Pascoag, Rhode Island
"I grew so much more while abroad than I ever thought I would," said O'Connor. "Learning and living in the German and European culture was eye-opening in every aspect. Unlike just visiting a place for a short time, we truly got to live in Braunschweig and explore all corners of the city."
At Fraunhofer IST, O'Connor worked in the atmospheric pressure plasma processes department.
"It was my first time using plasma to conduct experiments," said O'Connor. "My internship began with a lot of research on producing hydrogen through plasma conversion to use as a source of renewable energy. Through my research, I found studies involving methane and different alcohols, which because of their high hydrogen to carbon ratio, were desirable to use in this sort of reaction."
O'Connor also learned what the German work ethic is like.
"They are very time oriented and when it is said that something will be done by a certain time, that is what is expected," said O'Connor.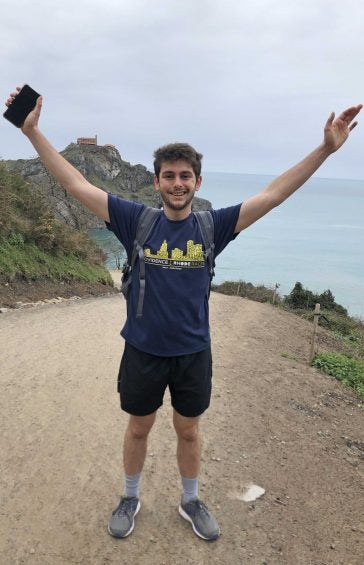 Oliver Hazard
Majors: Electrical engineering and Spanish
Internship: Worked at CAF Turnkey & Engineering/Ennera, studied at University of Zaragoza in Spain
Hometown: North Smithfield, Rhode Island
"I met many people from different parts of Spain," said Hazard. "I learned about their views on world issues, culture and their values. I became much more aware of how others think and it helped me gain a more open mindset."
Hazard worked with the engineering team in the energy division of CAF TE Ennera to calculate the performance of the solar plant.
"We created a graphic to display the plant's performance, as well as other parameters to the client," said Hazard. "Plant performance is important because at the inception of the project, the client and company agree contractually to a certain rate of production. If this is not met, the company is financially responsible to reimburse the client for the lost production."
The experience taught Hazard about the business and engineering aspects of renewable energy, a subject that had influenced his decision to enroll in the electrical engineering program at URI.
"I learned what makes a solar plant financially feasible and what is expected from the developer," said Hazard. "I also learned about the different technologies used in solar energy and which solar solutions make sense for a particular project."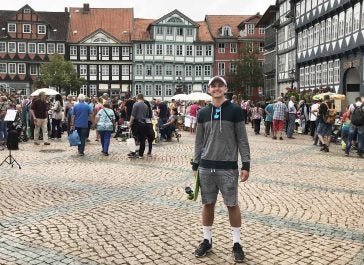 Scott Breault
Majors: Mechanical engineering and German
Internship: Worked at ZF Friedrichshafen AG, studied at Technical University of Braunschweig and the Institute for Vehicle Technology in Germany
Hometown: Milford, Connecticut
Long before Breault traveled to Germany for his internship, he was excited about the opportunity that awaited him.
"Back when I was still in high school, I learned about URI's German International Engineering Program when I saw a flyer of a student who was interning at BMW," said Breault. "I fell in love with URI's Kingston campus, as well as the idea of marrying my passions for cars and innovation."
Once in Germany, Breault relied on a strong support system to make the adjustment to a new culture.
"Luckily, I had tremendous support from URI, a great group of friends and a roommate who moved to Germany in 2015 from Ukraine," said Breault. "My roommate and I bonded over the challenges of learning the language and the intricacies of daily life."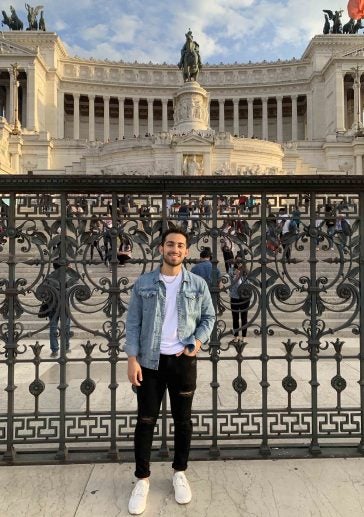 David Guevara
Majors: Mechanical engineering and Italian
Internship: Worked at Grastim JV, studied at Università Degli Studi di Napoli Parthenope in Italy
Hometown: Lincoln, Rhode Island
Like O'Connor and Hazard, Guevara also did an internship related to renewable energy.
Guevara worked for Grastim JV, a company which specializes in energy management. The company owns and manages cogeneration plants in multiple countries.
Cogeneration, otherwise referred to as combined heat and power, is a method of producing energy that is much more efficient and environmentally-friendly than energy produced at a traditional power plant.
"I was in charge of logging the time that the engines were running and when they weren't," said Guevara. "I also recorded the reasons behind any down time."
Of course, a stay in Italy would not be complete without indulging in some great Italian cuisine.
"I learned so much about the Italian culture, but my favorite experience might have been learning how to cook multiple authentic dishes from one of my friends whom I met in Italy," Guevara.
Landing on Their Feet
Thanks to a lead provided by Samantha Meenach, associate professor of chemical engineering at URI, O'Connor found temporary work upon her return at Bradford Soapworks in West Warwick, Rhode Island.
"I'm working as a lab technician in the application lab to help formulate and press new soap formulations that are being sent to Bradford's clientele before being set for production," said O'Connor.
Hazard and Breault both landed internships at the German company PI (Physik Instrumente) in Auburn, Massachusetts. David Rego, who graduated from URI's German IEP in 1999 is the vice president of sales and general manager. When Berka asked if he could place some of her students, he gladly obliged. He also agreed to join the IEP Advisory Board.
"PI makes precision motion equipment for a wide variety of industries," said Breault. "I look forward to building upon my engineering skills and hopefully I'll get to use my language skills by connecting with colleagues at their headquarters in Germany."
When Guevara returned to the United States, Berka connected him with URI Professors Mohammad Faghri and Constantine Anagnostopoulos to assist in their research on microfluidics.
"I conducted research on paper-based actuators for point-of-care diagnostics," said Guevara. "Paper-based diagnostic devices are becoming more and more popular every year because of their ease of use, portability and low cost."
Since Guevara couldn't gain access to the lab at URI, his role mainly consisted of searching for related literature online.
Helping with the Coronavirus Response
Some students who weren't assigned internships at companies joined URI engineering faculty in battling COVID-19. A few of those students included:
Vanessa Kamara, biomedical engineering and German IEP, worked with Associate Professor Kunal Mankodyia on his efforts to build respirators and ventilators with the URI Rapid Responders team of scholars and companies
Alexis Charpentier, electrical engineering and Spanish IEP, conducted research with Professor Manbir Sodhi, on using 3D printing to aid the rapid response efforts
Aaron Hertzer and Jeffrey Kimmerlein, who are both mechanical engineering and German IEP students, joined Associate Professor Tao Wei on the Ventilator Project, a statewide effort to collect and refurbish sleep apnea machines for use in hospitals.