Students from all engineering majors at the University of Rhode Island gained valuable hands-on experience this summer as interns for prestigious companies throughout the country. Several of the internships led to job offers.
Here are just some examples of the practical, real-world experiences the URI engineering students gained this summer.
Raisa Alejandro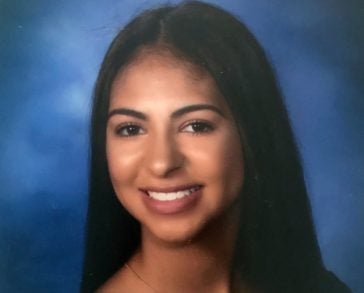 Major: Biomedical Engineering
Year of Graduation: 2023
Internship Employer: Medtronic
"I worked as a quality engineering intern. My project consisted of increasing supplier reliability by enhancing the Supplier Selection Decision Tool and holding focus groups to assess the changes.
The tool had eight main criteria, with a set of questions following the same format. I was tasked with incorporating reliability as an extra main criteria."
Alexandra Barbato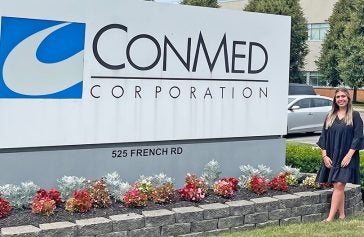 Major: Industrial and Systems Engineering
Year of Graduation: 2023
Internship Employer: ConMed Corporation, Utica, New York
"ConMed Corporation is a medical device manufacturer. I worked closely with the manufacturing engineering team on finalizing the development of a new product. My overarching project was optimizing a percussion welder that will be used in the manufacturing process of the new product.
This is the first percussion welder ever used at ConMed Corp., so it was a great experience for me to use new equipment and really understand the manufacturing process. I worked closely with the lean manufacturing team to make the operations floor more efficient to help increase production. The internship taught me how to work and communicate effectively in a team. It allowed me to apply my knowledge and skills from the classroom to the workforce."
Caroline Canales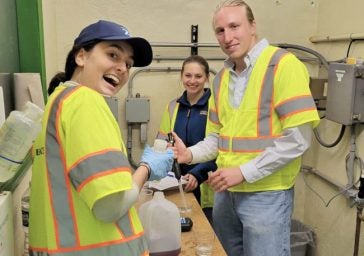 Major: Chemical Engineering
Year of Graduation: 2023
Internship Employer: Wright-Pierce, Providence
"I did my summer internship for the environmental engineering consulting firm Wright-Pierce. I worked with the wastewater group on many redesign projects for wastewater treatment plants and pump stations.
I gained field experience by performing contact tracer studies to determine the contact time for disinfectants in a water treatment plant. I learned a lot about the different unit processes and design standards involved in water treatment. The overall experience showed me how consulting works."
Mitch DiMartino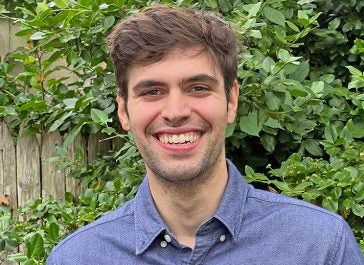 Major: Mechanical Engineering
Year of Graduation: 2023
Internship Employer: Pratt & Whitney
"I spent my summer with the test systems engineering team at Pratt & Whitney. I worked with cross-functional project teams based around the country to update equipment used to test commercial jet engines. The equipment will be used to certify engines to FAA standards and/or improve engine performance through studying engine hardware behavior.
My main assignment was to assist with project setup tasks and redesign test equipment components of a vibrations test rig. I worked with industry professionals in multiple departments to gather data and information to learn about the systems we were working with, establish boundary conditions, and validate design choices.
I learned that complex systems require many people to understand, develop, maintain, and test. I also learned the importance of communication and active listening skills. I realized that a design engineer must not only understand systems, but understand when to ask for assistance with specific issues.
Pratt & Whitney makes it clear that interns are their most valuable source of talent for the Engineering Development Program, a rotational program that allows young professionals to gain exposure to three different departments over two years. The program transforms recent graduates into engineers who are capable of working on cutting edge technology, and through their compensation, resources allocated, and overall attitude towards interns, it was clear that we were valued.
I have accepted a full-time position at Pratt & Whitney after I graduate in 2023."
Alex Doyne-Ditmas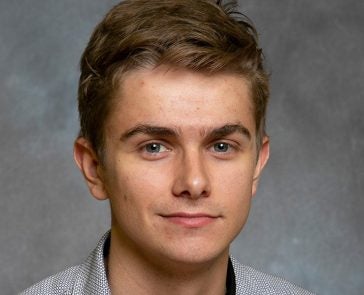 Major: Ocean Engineering
Year of Graduation: 2024
Internship Employer: STR, Woburn, Massachusetts
"Between January and August I worked as an intern in the undersea systems and acoustics group of STR. I broadened my knowledge of acoustics and robotics by learning from some of the foremost experts in the field.
I was lucky to participate in two field tests, working on a number of electrical and mechanical hardware integration tasks. I recently began working on some digital signal processing assignments.
STR decided to hire me as a technician. I'll be working for the company while I finish my degree at URI."
Islam Dymov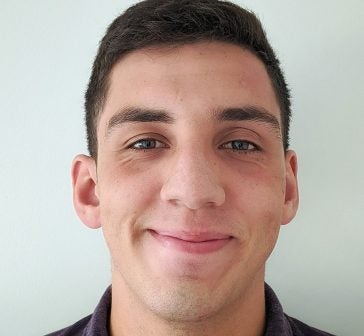 Major: Master's in Electrical Engineering
Year of Graduation: 2023
Internship Employer: Medical Device Plug n Play (MDPnP) Laboratory, Brigham and Women's Hospital, Boston
"As a clinical engineering intern, I did a lot of medical device upkeep, preventative maintenance, and inventory validation. I also helped integrate a variety of sensor APIs into a smarthome platform for lab surveillance. I made sure medical devices were working properly and I aided in writing device drivers for remote control.
During my senior year as an undergraduate at URI, I worked as a teaching assistant for an adjunct faculty named Mosa Al Zowelei. He worked as a clinical engineer in the Medical Device Plug n Play Laboratory at Brigham and Women's Hospital, which sparked my interest in the field and ultimately led to the internship.
Mosa's lab at the hospital focuses on the interoperability and cybersecurity of medical devices, mainly ventilators and infusion pumps. The work is concentrated on technical and clinical risk assessments of digital health solutions, product development and integration testing, and cybersecurity risk analysis.
The knowledge I obtained at URI enabled me to secure this internship and a more permanent position in the Medical Device Plug n Play Lab, which will involve coding device drivers for remote control, maintaining a proper inventory of medical devices, and assisting with research and development of future medical devices."
Caitlin Ludford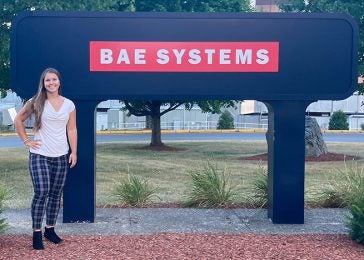 Major: Industrial and Systems Engineering
Year of Graduation: 2024
Internship Employer: BAE Systems, Nashua, New Hampshire
"As a quality engineer intern, I worked with a repository of more than 7,000 photos taken by inspectors and engineers that I tagged with meta data, including anomalous feature, component, defect, magnification and disposition. The disposition of accept/reject and defect types are justified under BAE systems internal and external criteria that I learned this summer.
I also completed quick survey audits on the factory floor and gained extensive knowledge of the products made at BAE. The two factory areas were Microwave and the Electronic Warfare Integrated Manufacturing Center. The products made there go in government planes and detect enemy air ships. That's why quality control is so important at BAE.
This summer, I also attended the Procter & Gamble Standout Emerging Leaders Camp in Greensboro, North Carolina. I visited the P&G factories as an intern candidate. I'm happy to say that I received an internship offer in product supply manufacturing for next summer that I am considering."
Sarah Lyons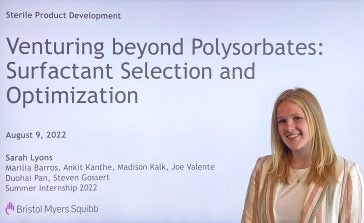 Major: Chemical Engineering
Year of Graduation: 2023
Internship Employer: Bristol Myers Squibb, New Brunswick, New Jersey
"As a sterile product development intern, I researched how protein-protein and protein-surfactant interactions impact drug formulation stability. I used that data to develop a workflow to choose new surfactants when the 'default' surfactant is incompatible with new drug products.
This summer was entirely out of my comfort zone, as I was learning new ways to characterize biologic drug products. Although there was a learning curve, it will impact my career, as it helped advance my skills as a scientist. The biggest lesson I learned was that you should get comfortable with being uncomfortable. I think that will continue to push me forward in my career."
Sofia Mancini
Major: Civil and Environmental Engineering
Year of Graduation: 2023
Internship Employer: Aetna Bridge Company
"My internship resulted from an interview I had after meeting Aetna Bridge Company's Vice President of Construction Jeff Bostock at the URI Engineering Career Fair. I'm interested in construction, steel structures and transportation. Working for a bridge construction company, I learned about all of these areas.
I visited projects as vast as the Gold Star Bridge in Connecticut, a $55 million steel repair project, to small projects, such as historical concrete bridges that cross rivers in Massachusetts.
My responsibilities included taking photos and measurements of job sites, doing take offs for materials leading up to the estimates, attending meetings about job bids, obtaining certificates of compliance from suppliers, creating organized systems of safety data sheets, and acting as a Rhode Island Department of Transportation stormwater inspector for an ongoing project in Lincoln, Rhode Island.
I learned how important it is to document every step of the process in a project. It's amazing how many people collaborate to make these bridges come together. I am beyond grateful for the opportunity to gain exposure to this industry."
Sarah Mayer
Major: Ocean Engineering
Year of Graduation: 2024
Internship Employer: General Dynamics Electric Boat
"I had the honor of interning at General Dynamics Electric Boat, the Navy's largest contractor for building nuclear powered submarines. I was placed in the Naval Architecture department in the Hydrostatics group, where I spent the summer performing displacement calculations, lead bin volume calculations for lead ballast bins, and doing a variety of smaller tasks assigned to me.
At the end of my internship, I gave a 15-minute in-depth presentation to the management team and other interns on my assignments and the skills I obtained.
Those skills included learning NX12 modeling, a powerful 3D modeling program that allowed me to model the submarine parts I performed calculations on. I learned how Microsoft Excel can be programmed to complete tasks and how to write technical reports, which provided experience for my work as a writing consultant at URI.
I also learned how to problem solve as an engineer, which will be extremely useful for completing challenging work in the future."
Julia McCarter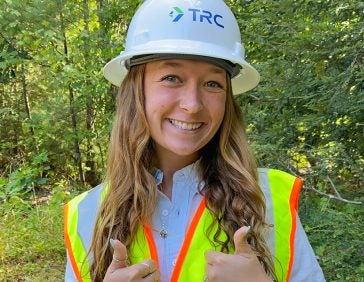 Major: Civil and Environmental Engineering
Year of Graduation: 2023
Internship Employer: TRC Companies, Inc., Scarborough, Maine
"This was my second summer as a technical intern for TRC's Power Delivery and Engineering section. As part of the civil engineering team, I was involved in multiple renewable energy projects. Some of my contributions included supporting stormwater design and researching permit requirements for land development.
I greatly valued my internship, as I was able to prioritize sustainability while expanding my knowledge of on site design for solar and wind farms. I look forward to continuing my career with TRC and applying what I've learned in my URI courses."
Nicole Mendoza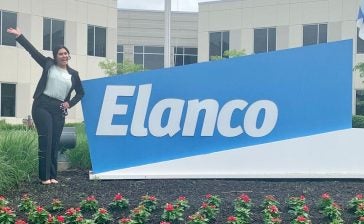 Major: Chemical Engineering and Spanish
Year of Graduation: 2024
Internship Employer: Elanco Animal Health, Winslow, Maine
"I started my internship at Elanco Animal Health's global headquarters in Greenfield, Indiana, where I connected with 34 other manufacturing interns and was part of the summer intern group made up of 55 students.
I was placed in the tissue culture department at the poultry vaccine manufacturing site, where I worked on improving tissue culture techniques for chicken embryo fibroblasts to optimize conditions for cell growth and improve cell viability. I was tasked with optimizing the use of trypsin in the primary cell culture process that is unique to Winslow.
I learned to apply my skills as an engineer in bioprocessing to develop experimental trials, as well as providing insight to mechanical design changes for improved process flow. I gained confidence in the laboratory by owning my work and delivering valuable results.
As president of URI's chapter of the Society of Hispanic Professional Engineers (SHPE), it was great to be among interns who were members of SHPE at their universities.
Most importantly, I discovered my 'why' for doing and studying what I love: to engineer new ideas through curiosity, influence the next generation of underrepresented minorities in STEM, and to lead with compassion."
Shamar Morgan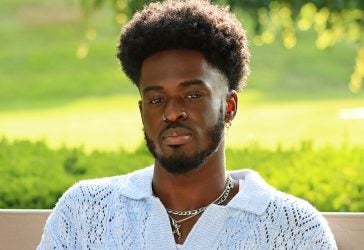 Major: Mechanical Engineering
Year of Graduation: 2024
Internship Employer: Hydrow, Boston
"I interned at Hydrow, a company that makes rowing machines. While I was interning, they were in the process of releasing a new product, called the Wave, so I got to see what went into it.
I helped create documents that manufacturers would use for production, I ran tests on internal/external components and discussed the results with the team, I designed parts on CAD, and I brainstormed solutions for unexpected problems after the release. I also learned about product management and prototyping.
My big takeaways were hearing about topics/classes my co-workers wished they had taken while in college, understanding how manufacturability and cost plays a big role in the design of products, and the importance of networking and maintaining the connections you make."
Siena Negash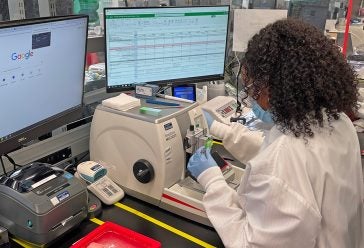 Major: Biomedical Engineering
Year of Graduation: 2023
Internship Employer: Foundation Medicine Inc.
"I provided assistance to laboratory technologists who perform live patient sample testing. I operated a microtome to prepare patient samples for testing. I was responsible for filing patient samples and retrieving those that were requested. I created a presentation on the effect the gene mutation BRAF V600E has on cancer and how Foundation Medicine helps and presented it to the company.
I was enlightened on the process patient samples must go through to find the best treatment option. When doing research on treatment options for BRAF V600E, I learned how it works and what improvements can be made. I plan to play a role in making these improvements, allowing treatment to be more effective for patients."
Mycarthy Newton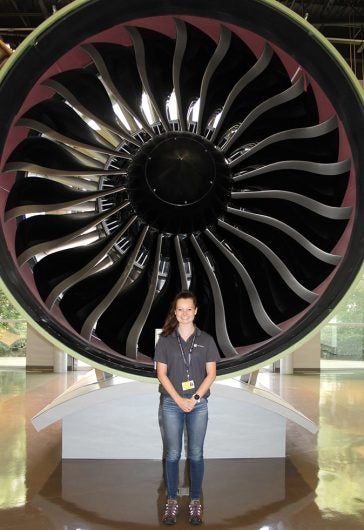 Major: Mechanical Engineering and German
Year of Graduation: 2024
Internship Employer: GE Aviation
"For my internship, I worked with ceramic matrix composites, one of the newest materials in the aviation industry, to develop new products and material capabilities. I worked with cutting-edge technology and techniques that are at the forefront of advancements in ceramic matrix composites.
GE Aviation provided me with not only an insight into the aerospace industry, which has always been my goal, but also with many professional development and networking opportunities. I learned what it's like to be a part of a large team of engineers and material scientists, all working together to advance their field. I worked on a wide range of projects and learned how to manage high- and low-priority projects and their respective timelines.
It was an incredible experience to join a company that is so well-respected in its industry. Being able to advance aviation technology brought me closer to my dream of working on aerospace materials."
Andrik Puentes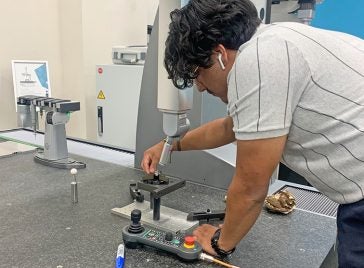 Major: Mechanical Engineering
Year of Graduation: 2024
Internship Employer: Hexagon Manufacturing Intelligence
"As an applications engineer at Hexagon Manufacturing Intelligence, I was trained to use and program coordinate-measurement machines (CMM) for precise measurements, inspecting, and calibrating customer parts up to a micron (i.e. 1/90th of a single hair strand). I worked on many different types of CMM's, some of which involved using advanced measuring instruments such as cameras, laser scanning, touch-scanning or robotic arms.
I learned problem-solving skills, how to work on a team with people from different backgrounds, and how to tackle and solve complex problems under pressure. I worked with different types of engineers from other companies to solve challenges.
I will take the technological and communication skills I learned in the internship and apply them at URI and in other opportunities that come up in order to keep learning and growing as an engineer."
Eliza Taylor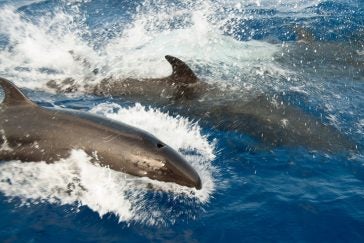 Major: Ocean Engineering
Year of Graduation: 2023
Internship Employer: National Oceanic and Atmospheric Administration (NOAA), Hawaii
"I worked at the Pacific Islands Fisheries Science Center on Ford Island on Oahu for 10 weeks. The internship was part of National Oceanic and Atmospheric Administration's Ernest F. Hollings Undergraduate Scholarship Program.
I evaluated the performance of automated whistle detectors using false killer whale passive acoustics data. The irregular movements and subgroup structure of false killer whales makes it difficult to accurately localize the cetaceans with just visual observation. Acoustic data can be analyzed to provide details into the population of false killer whales.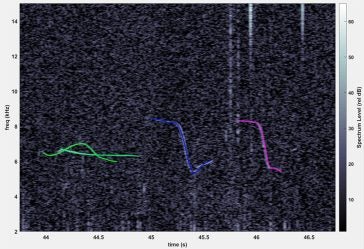 Due to a high volume of whistles, there is a need for an accurate automated whistle detection system. One detector, PAMGuard, uses a connected component approach to identifying whistles by comparing intensities of spectrogram pixels in close proximity. Other approaches to automated detection are statistical and require multi-target Bayesian tracking.
Over 10,000 whistles were hand annotated using Silbido (developed by Marie Roch) to create a ground truth data set. This project will be continued in the fall as an independent study overseen by Professor Lora Van Uffelen.
My favorite part of the internship was the weekly meeting I attended, where NOAA acousticians, statisticians and marine biologists discussed their active research.
After this experience, I know I'd like to continue to work with underwater acoustics. After I graduate, I hope to pursue a master's degree in this field. I'd love to work for NOAA again in the future."