Dean Anthony Marchese presented end-of-the-year awards to faculty and staff members during the College of Engineering's holiday event on Dec. 16. The recipients were nominated by their peers and by engineering students.
When announcing the winners, Marchese read some of the comments from the nomination letters, as seen below.
Early Career Award: Joseph Goodwill
Joe's primary research area focuses on improving drinking water quality. He has published 14 refereed journal and conference papers.
Significant work to date with Mark Edwards at Virginia Tech documenting the Flint, Michigan drinking crisis.
Joe is an extremely productive researcher in the department of Civil and Environmental Engineering with over $2 million in funded research since 2017.
Joe received in 2021 a National Science Foundation Career project focusing on closing the gap between rural and urban drinking water treatment outcomes.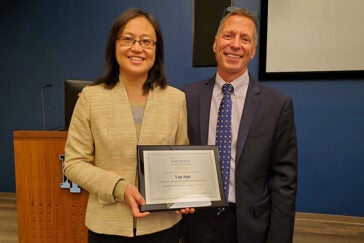 Research Award: Yan Sun
Yan is heavily involved with research protecting network security. She is the founding director of the URI CYPHER (Cyber-Physical Intelligence and Security) Center, with seven active grants of over $4.5 million. Her funding is primarily from the Office of Naval Research (ONR) and the National Institute for Undersea Vehicle Technology (NIUVT).
She is the author and co-author on multiple publications and has received several honors and provides service on many professional societies.
She has been serving on Congressman Langevin's Cybersecurity Advisory Committee since 2017.
Yan is a well-rounded researcher, educated, and a service-driven faculty member for the College of Engineering.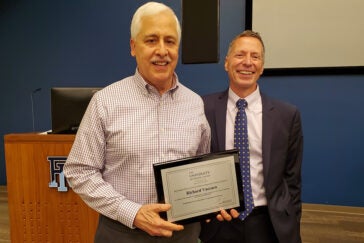 Frank White Teaching Award: Richard Vaccaro
Rick has made extraordinary contribution to the teaching in the electrical engineering program and has a track record of outstanding teaching in several decades at URI.
The evidence in SET and IDEA scores and student comments is unwavering. He has innovative teaching techniques with a large breadth of teaching.
Professor Vaccaro is the sweetest, most genuine professor that I've ever had. He absolutely loves what he does and it shows.
Professor Vaccaro is an exceptional professor. This is a professor that is passionate about teaching, and I would say the best engineering professor at URI.
Vaccaro is honestly the best engineering teacher at URI. Explanations are clear and short, the exams are exactly on what is taught in class.
Best professor I have had in engineering so far. Please recognize him more. He is the reason students don't drop out. He is amazing.
Staff Excellence: Maria Fan
Maria has truly gone above and beyond her original duties as a fiscal clerk assigned to mechanical engineering.
Maria has been assisting civil engineering since March. I am always amazed at her goodwill and ability to navigate the arcane regulations of purchasing and travel to satisfy our faculty.
She is a great person and an asset to the College of Engineering. Maria has been consistently assisting the departments of mechanical engineering, civil engineering and chemical engineering, and always with a positive outlook.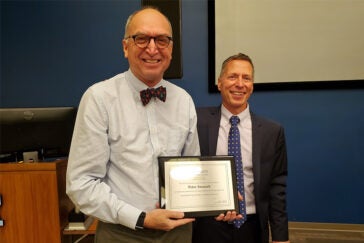 Service and Outreach: Peter Swaszek
Peter is a tremendous asset to the College of Engineering in general in his role as the Associate Dean of Academics.
He played a pivotal role as the project shepherd during the college's transition to the new buildings.
Peter was instrumental when the old engineering buildings needed to be vacated, everyone needing to be relocated and buildings being renovated, while continuing to teach courses, chair the undergraduate curriculum affairs committee, participate on the URI space committees, various faculty/ staff searches, and fill in as the College's interim dean during its transition.
Peter is invaluable to the college, and we would like to thank him for his dedicated service.