Ph.D. in English
Overview
As a student in the Ph.D. program, you will work closely with our distinguished faculty of widely published, prize-winning scholars, who will challenge you, encourage your interests, and support your professional goals.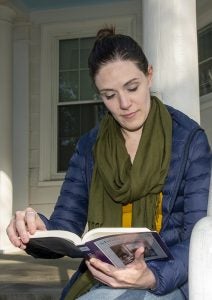 Students with an M.A. or M.F.A. enter the Ph.D. program. The URI English Doctoral Program educates students to enter a variety of professional fields. Graduates go on to careers in teaching, publishing, writing, film production, medicine, business, law, and various positions in academia. Our Ph.D.s have an excellent record of placement in tenure-track university positions.
The Ph.D. program is highly competitive and based primarily on academic merit. Admission is based on the demonstrated capability to pursue scholarship and the match of research interests between the applicant and faculty in indicated and developing areas of concentration. Applicants wishing to specialize in Creative Writing must also demonstrate strength in scholarly research.
With a low faculty/student ratio and an actively publishing faculty interested in sharing their time and interests, students receive personalized attention and are encouraged to publish their work, participate in conferences, and present creative work in public venues. Our graduate teaching assistants have the opportunity to teach courses in both writing and literature. In the Spring, the English Department hosts a graduate student conference.