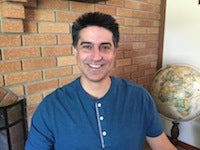 Associate Professor and Director of Undergraduate Studies
Tucker House, Rm 201
Phone: 401.874.5642
Email: cgonzal@uri.edu
Biography
I joined the Department of History in the fall of 2016. I received my Ph.D. in Early American and Native American history from the University of California, San Diego. After leaving UC San Diego, I became the Andrew W. Mellon Postdoctoral Fellow in Native American Studies at Wesleyan University, and prior to arriving at URI, I was Assistant Professor of History at the City University of New York, LaGuardia Community College. My book, Native American Roots, explores the development of modern Indigenous identities within the settler-colonial context of the early United States. I am also an avid martial artist, cyclist, and gardener.
Research
Native American history, Native/Anglo/African-American race relations in the eighteenth and early nineteenth centuries, particularly Native relations with Anglo religious reformers and black slaves; Native cultural histories, American Empire, and Early American slave systems.
Education
Ph.D., History, University of California, San Diego, 2010.
M.A., History, University of California, San Diego, 2003.
B.A., Cultural Anthropology and Classical Archaeology, University of California, Santa Barbara, 1995.
Selected Publications
Books
Native American Roots: Relationality and Indigenous Regeneration Under Empire, 1770-1859. Routledge, 2020.
Articles
"'Their Souls are Equally Precious': Edward Harvey Davis, Benevolence, Racial Logic, and the Colonization of Indigeneity," Journal of San Diego History vol 60, number 3, summer 2014.