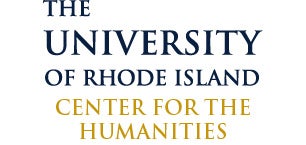 URI's Center for the Humanities was established by Faculty Senate legislation in 1994 and is designed to foster intellectual exchange and independent inquiry, analysis, and interpretation of the humanities in research, teaching, and learning.
The center is funded by the state, and by several generous endowments and governed by the board of directors. To donate to the Center for the Humanities, please click here.
The Center's activities include:
– a yearlong speaker series
– a monthly series of lunchtime "brown bag" presentations
– a spring humanities festival
– grants to fund research, public humanities projects and visiting scholars
– an annual Linking Humanities to Careers event for undergraduates
– the URI Pell Initiative
What are the humanities?
The humanities are the stories, the ideas, and the words that help us understand our lives and our world. They introduce us to people we have never met, places we have never visited, and ideas that may never have crossed our minds. By showing how others have lived and thought about life, the humanities help us decide what is important and what we can do to make our own life and the lives of others better. By connecting us with other people, the humanities point the way to answers about what is ethical and what is true to our diverse heritage, traditions, and history. They help us address the challenges we face together as families, communities, and nations. As fields of study, the humanities emphasize analysis and exchange of ideas and may be interdisciplinary. Watch the Center for Humanities 20th Anniversary video.

Traditional humanities disciplines include Art History, English, History, Languages and Philosophy. Scholars in other disciplines often take humanistic approaches to their work. These disciplines can include Art, Communication Studies, Economics, Gender and Women's Studies, Music, Political Science, Sociology and Anthropology, Theater, and Textiles, Fashion Merchandising and Design.
News
More News
Events