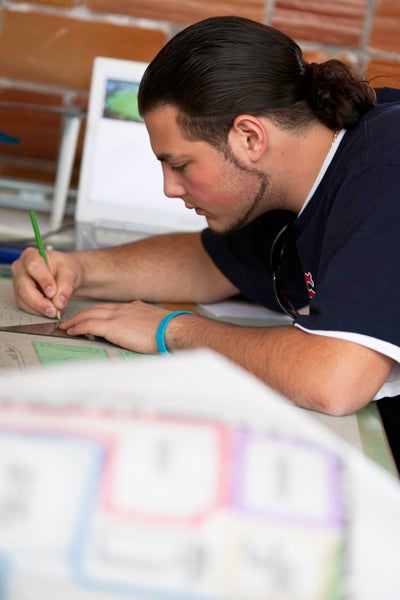 The URI Department of Landscape Architecture offers a four-year Bachelor of Landscape Architecture (B.L.A.) degree that is fully accredited by the American Society of Landscape Architects. We also offer undergraduate minors in Community Planning, Geography and Landscape Architecture, as well as a Graduate Certificate in Community Planning.
Over the past thirty years we have established a community of highly motivated learners, dedicated faculty and successful alumni. Our students gain valuable experience through outreach studios working in collaboration with related disciplines and a client base of non-profit, municipal and state agencies throughout southeastern New England. Students have received awards for their work on sustainable communities, coastal resilience, and transportation design.
Our graduates find professional careers in both the public and private sectors, designing environmentally and culturally sensitive landscapes.
Department Quick facts
50-60 Undergraduate Majors
5 Full-time and 3 Adjunct Faculty
Professional Licensure Disclosure
In accordance with the 2019 Reauthorization of the Higher Education Act, URI hereby discloses that the Bachelor of Landscape Architecture curriculum, which is accredited by the American Society of Landscape Architects, meets the educational requirements for licensure as a Landscape Architect in all U.S. States and Territories. The applicable licensing board in your state may impose additional non-educational requirements on candidates prior to granting a license (e.g., passing of an exam; obtaining a certificate; performing supervised clinical/practicum hours; etc.), and we encourage you to investigate those requirements.
Our Mission
The profession of landscape architecture is situated at the intersection of environment, technology and culture. It investigates diverse landscapes and populations through effective planning and design. While emphasizing innovation and professional skill-building, the URI Landscape Architecture program focuses on the design of diverse inland and coastal settings. As a small department dedicated to providing individual attention to students, interdisciplinary problem solving and community outreach, the University of Rhode Island Landscape Architecture Department is uniquely positioned to prepare an inclusive community of students to address complex design challenges of our time.