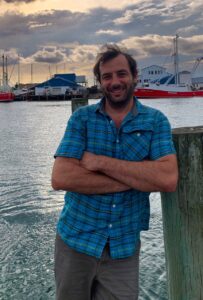 The Department of Marine Affairs is excited to welcome a new Asst. Prof. of Fisheries Policy and Management to the department this fall! Dr. Mateja Nenadovic is an interdisciplinary scientist with a keen interest in understanding the fisheries governance arrangements that lead to sustainable and resilient social and ecological outcomes, as well as the conditions under which they occur. His primary foci are on small-scale fisheries (SSF), marine conservation tools such as Marine Protected Areas (MPAs), social capital, and participatory arenas in decision-making. He is a strong believer in experiential learning and thus enjoys spending time in the communities where he conducts his work. A native of Serbia (former Yugoslavia), Mateja has more than 15 years of experience working in diverse social-ecological settings, including Bonaire, USA, Mexico, Suriname, and Trinidad and Tobago.
Mateja holds a Ph.D. in Marine Conservation from Duke University, along with two M.Sc. degrees in Marine Policy and Marine Biology from the University of Maine. Prior to joining CELS and URI, he worked as a Research Scientist at Duke University's Marine Lab in Beaufort, North Carolina.
In his new role in the Department of Marine Affairs, Mateja looks forward to incorporating his research findings, experience, and expertise into his courses, which will include New England and the Sea, and Fisheries Law and Management, among others. He is excited about delving deeper into the rich fisherfolk history of the Ocean State, fostering new collaborative research opportunities in the region, and connecting with other experts from URI and the local community.