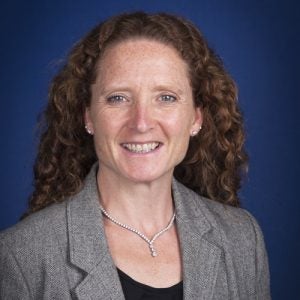 Professor, Graduate Program Director
Nutrition and Food Sciences, Energy Balance Lab
Phone: 401.874.4477, Contact Dr. Melanson about the MS and PhD Programs
Email: kmelanson@uri.edu
Office Location: Fogarty Hall, Rm 117D
Lab
Courses Taught
NFS 207: General Nutrition
NFS 360: Nutrition in Exercise and Sport
NFS 553: Nutrient Metabolism I
NFS 491: Undergraduate Special Projects in Human Energy Balance
NFS 591: Graduate Experiential Learning
Biography
Kathleen Melanson, Ph.D., RD, LDN, has focused her research on aspects of human energy balance since the start of her doctoral studies in the Energy Metabolism Laboratory at Tufts University School of Nutrition. There, she conducted work examining factors that may influence pre- and post-prandial energy expenditure and substrate oxidation. During her post-doctoral fellowship in the Human Biology Department at Maastricht University, she turned her attention to the intake side of the energy balance equation, investigating appetite physiology.
Now at URI, Dr. Melanson directs the Energy Balance Laboratory, with research focused on healthy body weight management, chronic disease risk reduction, energy and macronutrient balances, appetite, dietary quality, and the interface between nutrition and physical activity. Her lab team consists of an organized system of doctoral, masters, and undergraduate students under her direction. She has collaborated within URI, nationally, and internationally, and has led nutritional aspects of many weight management studies.
Research
Dr. Melanson's areas of interest are energy and macronutrient metabolism, metabolic regulation and energy balance, appetite physiology, eating behaviors, body weight regulation and management, nutrition and physical activity and chronic disease prevention.
Education
Post-Doc (appetite psychology), Maastricht University, The Netherlands, 1996-1999
Ph.D., Nutrition (Minor: Metabolic Physiology), Tufts University, 1996
Registered Dietitian (RD), The Pennsylvania State University, 1990
M.S., Nutrition (Minor: Dietetics), The Pennsylvania State University, 1990
B.S., Nutrition (Minor: Psychology), University of New Hampshire, 1987
A.S., Animal Science, University of New Hampshire, 1983
Selected Publications
Beatty J, Greene G, Melanson K. A Wearable Device Provides an Alternate Measurement of Free-Living Eating Rate. J Nutr and Diet 2018,1:107.
Beatty J, Melanson K. Examining changes in respiratory exchange ratio within an 8-week weight loss intervention. J Hum Nutr Diet. 2019 May 7. doi: 10.1111/jhn.12664.
Beatty J, Greene G, Melanson K. Effects of a novel bites, steps, and eating rate-focused weight loss randomized controlled trial intervention on body weight and eating behaviors. Journal of Human Nutrition and Dietetics 2019; DOI: 10.1111/jhn.12704
Nicoll JX, Hatfield DL, Melanson KJ, Nasin CS. Thyroid hormones and commonly cited symptoms of overtraining in collegiate female endurance runners. Eur J Appl Physiol. 2017 Nov 20. doi: 10.1007/s00421-017-3723-9.
Melanson KJ, Kresge DL. Chewing gum decreases energy intake at lunch following a controlled breakfast. Appetite. 2017 Nov 1;118:1-7.
Kresge DL, Melanson KJ. Chewing gum increases energy expenditure before and after controlled breakfasts. Applied Physiology, Nutrition, and Metabolism; 2014 Dec 18:1-6.
Dwyer J, Melanson KJ, Cross P, Wilson M. Dietary Treatment of Obesity. In "Endotext ", 6th edition; De Groot LJ, et al., editors; MDText.com, Inc. 2019; http://www.endotext.com/obesity/index.htm
Petty AJ, Greene GW, Melanson KJ. Self-Reported Eating Rate Aligns with Laboratory Measured Eating Rate but Not with Free-Living Meals. Appetite. 2013 Apr;63:36-41.
Melanson KJ, Summers A, Nguyen V, Brosnahan J, Lowndes J, Angelopoulos TJ, Rippe JM. Body composition, dietary composition, and components of metabolic syndrome in overweight and obese adults after a 12-week trial on dietary treatments focused on portion control, energy density, or glycemic index. Nutr J. 2012;11(1):57.
Melanson KJ, Lowndes J. Type 2 Diabetes Risk Reduction in Overweight and Obese Adults Through Multidisciplinary Group Sessions: Effects of Meeting Attendance. American Journal of Lifestyle Medicine 2010; 4(3):275-281. 2010.
Schembre SM, Greene GW, Melanson KJ. Development and Validation of a Weight-Related Eating Questionnaire. Eat Behav. 2009 Apr;10(2):119-24.
Andrade A, Greene GW, Melanson KJ. Eating rate and satiation in healthy young women. Journal of the American Dietetic Association 2008; 108: 1186-1191.