Careers
Careers in Dietetics
The Bachelor of Science (B.S.) in Dietetics program starts you on a career track as a Registered Dietitian, providing you with excellent employment opportunities in a variety of settings. Some of our graduates have gone on to work in:
Private practices
Hospitals such as Rhode Island Hospital and Hasbro Children's Hospital
Colleges as sports dietitians
Nutrition and health public relations
Food service operations, such as KIND and Ocean Spray
Long-term care and rehabilitation centers
Careers in Nutrition
The Bachelor of Science (B.S.) in Nutrition program graduates may find employment in government feeding programs (such as WIC), health and fitness centers, research, the Peace Corps, and industry. Many students seek advanced training in nutrition by pursuing a Master of Science (M.S.) or Doctor of Philosophy (Ph.D.) degree, or other careers in other health-related fields, such as Physician's Assistant (PA), Medical Doctor (MD), or Registered Nurse (RN). More detailed career information is available on the Bureau of Labor Statistics website.
The Bachelor of Science (B.S.) Nutrition program provides you with excellent employment opportunities in a variety of settings. Our graduates have found careers in:
Supplemental Food Program for Women, Infants, and Children (WIC)
Nursing care facilities
Supplemental Nutrition Assistance Program Education (SNAP-Ed)
Public health departments and government
Colleges and Universities
Food manufacturing companies, such as Blount Fine Foods
Restaurants as food service managers
Job Postings
Follow URI Nutrition on social media for the latest job postings around New England.
Instagram:
https://www.instagram.com/urinutrition/
Facebook:
https://www.facebook.com/NutritionURI
Alumni
Alexandra Oppenheimer Delvito MS, RD, CDN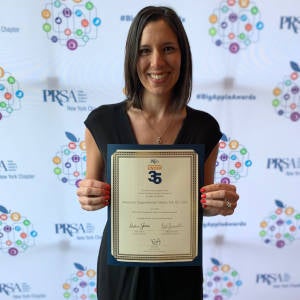 Alexandra graduated from URI in 2009 with a Bachelor of Science (B.S.) in Nutrition and Dietetics and a minor in Kinesiology. She graduated Summa Cum Laude and received the President's Award for Student Excellence in Nutrition and Dietetics. After graduating, she started at NYU to gain her Master's of Science in Clinical Nutrition. She completed her dietetic internship at NewYork-Presbyterian Hospital and finished her NYU degree in 2012. Now, Alexandra works at a NYC-based food, health and wellness public relations agency. She is also the Treasurer of the Dietitians in Business and Communications Dietetic Practice Group of the Academy of Nutrition and Dietetics. For students looking to follow a similar path, Alexandra recommends networking and speaking to professionals that work in the areas that interest you – especially for a less traditional path such as communications. Connecting with inspiring professionals gave her great insight into the communications field and built valuable relationships that created inroads to find opportunities in this unique line of work. She commends the URI Nutrition department for preparing her for the future and offering support throughout her time here.
---
Lauren Boisvert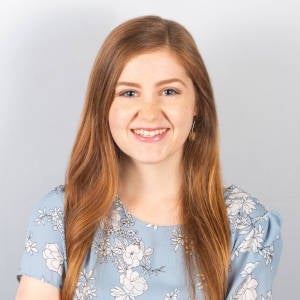 Lauren graduated from URI with her Bachelor of Science (B.S.) degree in Nutrition and Dietetics in 2020. She is currently working at Blount Fine Foods, which she began as an internship during her Senior year. Upon graduation, Blount offered her a full time position as a Technical and Regulatory Specialist. Lauren's favorite part of her job is being a part of the process to bring new and exciting food products to market. Grocery stores across the country contain products with labels she helped to produce. Lauren claims that her time at URI taught her to be inquisitive, thorough, and detail-oriented, which are all essential qualities for her job as a Regulatory Specialist. Her advice for current undergraduate students that may not choose to complete a Dietetic Internship: 'don't be afraid to make your own opportunities.' She suggests reaching out to companies that you may want to work or intern for, even if there is no formal job opening. Leading with confidence, passion, and eagerness to work and learn are qualities she believes are key for students applying for careers or internships.
---
Patrick Galagan MS, RD, LDN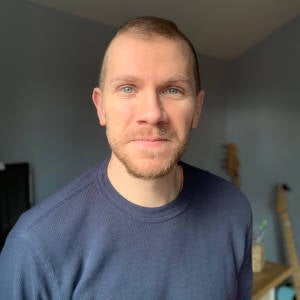 Patrick is a double graduate from URI, receiving his Bachelor of Science (B.S.) in Nutrition and Dietetics in 2018 and Master of Science (M.S.) in Dietetics in 2019. Now living in Warwick, RI, Patrick has worked at the RI Department of Corrections where his duties included one-on-one consultations with inmates, assisting with health fairs, providing nutrition classes, and making educational materials. He has also worked as a clinical inpatient dietitian. In both jobs, Patrick enjoys meeting and talking with patients and being a part of a healthcare team. Both of his jobs allow him to continue learning about food, nutrition, and healthcare. Thanks to his time at URI, Patrick felt confident and well prepared for his dietetic internship, which led directly to his current job positions. Patrick still relies and continues to build on the skills and he learned at URI. Patrick advises that current students looking to follow a similar path as him be open to new experiences. Not every person or opportunity in your life will be part of a plan, but be open to it. He also suggests doing things that put students outside of their comfort zone, and to make their own path instead of making decisions based on what they are "supposed to do."
---
Emily Sylvester MS, RD, LDN, IBCLC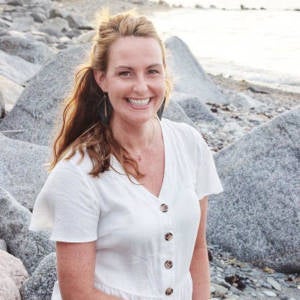 Emily completed her Master of Science (M.S.) in Nutrition in 2010 at URI. Now, Emily currently works as an RD/IBCLC ( International Board Certified Lactation Consultant) at Boston Medical Center working with kids diagnosed with failure to thrive, babies who are NICU graduates, and with breastfeeding people and babies. This year, Emily founded a startup company called NurtureTalk, the first on-demand service that connects new moms with RDs and IBCLCs. NutureTalk was awarded a grant from the Academy of Nutrition and Dietetics Foundation to study the effects of novel infant feeding help on outcomes related to breastfeeding duration and maternal feeding efficacy in following the 2020-2025 Dietary Guidelines for Americans. As a female entrepreneur in the nutrition/breastfeeding AND tech space, Emily works everyday to help advocate for her mission to get all families equitable and unbiased infant feeding support! During her time at URI, Emily was a research assistant under Dr. Ingrid Lofgren in the Lipid Lab. Working in the lab with fellow graduate students, or "nutrition champions" as the lab members called themselves, was her favorite memory as a Nutrition student. Her time at URI set her up for success in her career. Emily states that running a nutrition research study is a lot like becoming an entrepreneur and living in the startup world – you have to set your hypothesis, test the market, and always, always follow the data. She learned the importance of networking, and that one single person can impact your life and direction of your career, even if in the far future. Emily suggests that current students keep a list of what they want their day-to-day life to look like in one year and five years. She states, "having these goals can help you to match your passion (what does not feel like work) with how you envision your lifestyle (how you want to live your work). This way, as opportunities or new passions come up, you will always be 'living' to 'work' your dream."