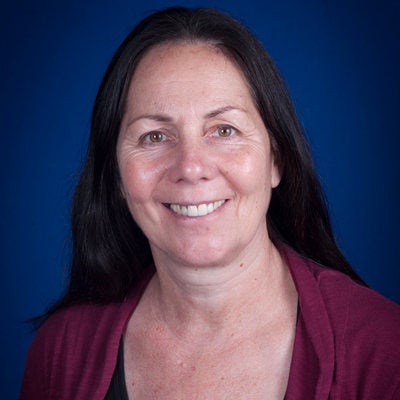 Professor
Department of Natural Resources Science
Phone: 401.874.7058
Email: lameyerson@uri.edu
Biography
Professor Laura Meyerson has been a faculty member at URI since 2005 in the College of Environmental Life Sciences (CELS), Department of Natural Resources Science. She teaches courses on invasion science, restoration ecology and conservation biology and is the Director of both the Restoration Ecology and Environmental Science minors.
Dr. Meyerson's research focuses on invasive species with a particular emphasis on plants. Much of her work uses the cosmopolitan macrophyte Phragmites australis as a model species. She uses Phragmites to study genetics, genomics, metabolomics, microbial ecology, and plant-insect interactions.
Dr. Meyerson has both the national and international experience in both policy and research. She has served on the National Invasive Species Council (NISC) Invasive Species Advisory Committee (ISAC) for the U.S. government and has worked for and with various federal agencies, international organizations, and NGOs. Dr. Meyerson currently serves as a trustee for the Robert and Patricia Switzer Foundation. She serves as an International Science Advisor for the Center for Invasion Biology, Stellenbosch University in South Africa. She an Editor-in-Chief for the journal Biological Invasions and an Associate Editor for the journal Neobiota. Dr. Meyerson is currently leading a three-year project with the Intergovernmental Panel of Biodiversity and Ecosystem Services (IPBES) on global trends in biological invasions for a forthcoming report.
Dr. Meyerson is an Aldo Leopold Leadership Fellow, a Switzer Fellow, and has twice been a Fulbright Scholar. Before coming to URI, Dr. Meyerson worked at the Heinz Center in Washington, DC developing national level environmental indicators for the State of the Nation's Ecosystems. As a post-doctoral fellow, Dr. Meyerson was an AAAS Fellow with the US Environmental Protection Agency and was detailed to NISC to work on national biosecurity after 9/11. She was also a research scientist at the Smithsonian Institution where she worked with the Global Invasive Species Program on two global assessments for the Convention on Biological Diversity and she was also a visiting Assistant Professor at Brown University. Dr. Meyerson earned her doctorate in 2000 from Yale University, School of Forestry and Environmental Studies.
Research
Dr. Laura Meyerson is an Associate Professor in the Department of Natural Resources Science at the University of Rhode Island. Her research is international in scope and addresses the mechanisms underpinning plant invasions and the consequences of invasions for ecosystem function and human well-being. Dr. Meyerson also conducts research on ecological restoration and ecosystem services. She has also made significant contributions in the area of environmental policy at national and international levels working with the U.S. Environmental Protection Agency, the U.S. National Invasive Species Council, the Global Invasive Species Programme, and the Convention on Biological Diversity. Laura Meyerson started her work in policy as an Environmental Fellow with the American Association for the Advancement of Science and later as a staff scientist at the H. John Heinz III Center for Science, Policy and the Environment. In 2009 she was selected as a 2009 Also Leopold Leadership Fellow and in 2011 she was awarded a Fulbright Fellowship to conduct research in the Czech Republic. Dr. Meyerson seeks to generate new scientific knowledge and clearly communicate this science to the public, policy makers and the scientific community.
Education
Ph.D., Yale University – School of Forestry and Environmental Studies, 2000
Selected Publications
Lindsay, DL, X Guan, NE Harms, JT Cronin, LAMeyerson, and RF Lance. Submitted 2021. DNA markers for the in-field genetic discrimination of three Phragmites australis (Poaceae: Arundinoideae) subspecies. American Journal of Botany.
Chang, J, Y Ge, Z Wu, Y Du, K Pan, G Yang, Y Ren, MP Heino, F Mao, KH Cheong, Z Qu, X Fan, Y Min, C Peng, LA Meyerson. 2021 (in Press). Modern cities modelled as "super-cells" rather than multicellular organisms: Implications for industry, goods and services. Bioessays.
Kaushik, R, R Pandit, LA Meyerson, DS Chaudhari, M Sharma, D Dhotre, YS Shouche. 2021. Contrasting Composition, Diversity and Predictive Metabolic Potential of the Rhizobacterial Microbiomes Associated with Native and Invasive Prosopis Congeners. Current Microbiology, https://doi.org/10.1007/s00284-021-02473-1.
Čuda J., Skálová H., Meyerson L. A. & Pyšek P. (2021) Regeneration of Phragmites australis from rhizome and stem fragments: an experimental test of effects of the environment, population origin and invasion status. – Preslia 93
Ricciardi, A, Iacarella, J, Aldridge, D, Blackburn, T, Carlton, JT, Catford, J, Dick, J, Hulme, P, Jeschke, J, Liebhold, A, Lockwood, J, MacIsaac, H, Meyerson, LA Pyšek, P, Richardson, D, Ruiz, G, Simberloff, D, Vila, M, Wardle, D. (2020, In Press). Four priority areas to advance invasion science in the face of rapid environmental change. Environmental Reviews, https://doi.org/10.1139/er-2020-0088
Meyerson, L. A., Pyšek, P., Lučanová, M., Wigginton, S., Tran, C.‐T., and Cronin, J.T. 2020. Size Matters: Genome Size Influences Plant Tolerance of Abiotic Stress in Native Versus Invasive Plants. Bull Ecol Soc Am 101(3):e01731. https://doi.org/10.1002/bes2.1731
Essl, F, B Lenzner, S Bacher, S Bailey, C Capinha, C Daehler, S Dullinger, P Genovesi, C Hui, PE Hulme, JM Jeschke, S Katsanevakis, I Kühn, B Leung, A Liebhold, C Liu1, H MacIsaac, LA Meyerson, MA Nuñez, A Pauchard, P Pyšek, W Rabitsch, DM Richardson, HE Roy, GM Ruiz, JC Russell, N Sanders, DF Sax, R Scalera, H Seebens, M Springborn, A Turbelin, M van Kleunen, B von Holle, M Winter, RD Zenni, BJ Mattsson4 & N Roura-Pascual. (In Press) Drivers of future alien species impacts: an expert-based assessment. Global Change Biology.
Croy JR*, Meyerson LA WJ Allen, G Bhattarai and JT Cronin. 2020. Latitudinal variation in tolerance to herbivory in native and invasive populations of Phragmites australis. Oikos. doi:10.1111/oik.07260
Pyšek, P, PE Hulme, S Bacher, TM Blackburn, JT. Carlton, W Dawson, F Essl, LC Foxcroft, P Genovesi, JoM. Jeschke, I Kühn, AM Liebhold, NE. Mandrak, LA Meyerson, A Pauchard, J Pergl, HE. Roy, H Seebens, D Simberloff, M van Kleunen, M Vilà, MJ Wingfield, DM Richardson. 2020. Scientists' Warning on Invasive Alien Species. Biological Reviews. doi: 10.1111/brv.12627
Meyerson, LA and D Simberloff. 2020. Political Breaches in Biosecurity. Op-Ed. Providence Journal.
Simberloff, D, JN Barney, RN Mack, JT Carlton, JK Reaser, BS Stewart, G Tabor, E Lane, W Hyatt, JW Malcom, LA Meyerson. 2020. United States lowers barriers to devastating invaders. Science. 10.1126/science.aba7186.
Enders, Martin, Frank Havemann, Florian Ruland, Maud Bernard-Verdier, Jane A. Catford, Lorena Gómez-Aparicio, Sylvia Haider, Tina Heger, Christoph Kueffer, Ingolf Kühn, Laura A. Meyerson, Camille Musseau, Ana Novoa, Anthony Ricciardi, Alban Sagouis, Conrad Schittko, David L. Strayer, Montserrat Vilà, Franz Essl, Philip E. Hulme, Mark van Kleunen, Sabrina Kumschick, Julie L. Lockwood, Abigail L. Mabey, Melodie McGeoch, Estíbaliz Palma, Petr Pyšek, Wolf-Christian Saul, Florencia A. Yannelli, and Jonathan M. Jeschke. 2020. A conceptual map of invasion biology: integrating hypotheses into a consensus network. Global Ecology and Biogeography. 00: 1– 14. https://doi.org/10.1111/geb.13082
Allen, WJ, AE DeVries, NJ Bologna, WA Bickford, KP Kowalski, LA Meyerson, JT Cronin. 2020. Intraspecific and biogeographical variation in foliar fungal communities and pathogen damage of native and invasive Phragmites australis. Global Ecology and Biogeography 29:1199–1211. https://doi.org/10.1111/geb.13097.
Novoa, A, DM Richardson, P Pyšek, LA Meyerson, S Bacher, S Canavan, JA Catford, J Čuda, F Essl, L Foxcroft, P Genovesi, H Hirsch, Cang Hui, MC Jackson, C Kueffer, JJ Le Roux, J Measey, NP Mohanty, D Moodley, H Müller-Schärer, JG Packer, J Pergl, TB Robinson, W-C Saul, RT Shackleton, V Visser, OLF Weyl, FA Yannelli, JRU Wilson. 2020. Invasion syndromes: a systematic approach for predicting biological invasions and facilitating effective management. Biological Invasions 22, 1801–1820, https://doi.org/10.1007/s10530-020-02220-w.
Meyerson, LA, P Pyšek, S Wigginton*, M Lučanová, C-T Tran*, JT Cronin. 2020. Plant genome size influences stress tolerance of invasive and native plants via plasticity. Ecosphere 11(5):e03145. 10.1002/ecs2.3145.
Pyšek, P, Jan Čuda, P Šmilauer, H Skálová, Z Chumová, C Lambertini, M Lučanová, H Ryšavá, P Trávníček, K Šemberová & LA Meyerson. 2020. Competition among native and invasive Phragmites australis populations: an experimental test of the effects of invasion status, genome size and ploidy level. Ecology and Evolution. DOI: 10.1002/ece3.5907
Hierro, JL, A Pauchard, M Nuñez, LA Meyerson, D Simberloff. 2019. Obituary for Enrique Chaneton. Biological Invasions 21: 2517–2518.
Meyerson, LA, JT Carlton, D Lodge and D Simberloff. 2019. The Growing Peril of Biological Invasions. Frontiers in Ecology and the Environment 17:191– 191, doi:10.1002/fee.2036
Meyerson, LA, D Simberloff, L Boardman, J Lockwood. 2019. Towards "rules" for studying biological invasions. Bulletin of the Ecological Society of America. Bull Ecol Soc Am https://doi.org/10.1002/bes2.1607
Kiviat, E, LA Meyerson, TJ Mozdzer, WJ Allen, AH Baldwin, GP Bhattarai, H Brix, JS Caplan, KM Kettenring, C Lambertini, P Pyšek, J Weis, D Whigham, JT Cronin. 2019. Evidence does not support the targeting of cryptic invaders at the subspecies level using classic biological control. Biological Invasions 21: 2529. https://doi.org/10.1007/s10530-019-02014-9.
Courses
Conservation Biology (NRS 223)
Invasion Ecology (NRS 445/545)
Restoration Ecology (NRS 401/501)