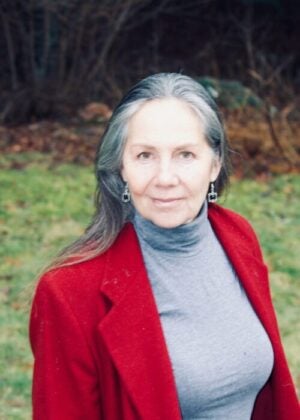 Professor
Department of Natural Resources Science
Phone: 401.874.7058
Email: lameyerson@uri.edu
Biography
Professor Laura Meyerson has been a faculty member at URI since 2005 in the College of Environmental Life Sciences (CELS), Department of Natural Resources Science. She teaches courses on invasion science, restoration ecology, and conservation biology and is the Director of both the Restoration Ecology and Environmental Science minors.
Dr. Meyerson's research is global in nature and focuses on invasive species with a particular emphasis on plants and their interactions. Much of her work uses the cosmopolitan macrophyte Phragmites australis as a model species to study genetics, genomics, metabolomics, microbial ecology, and plant-insect interactions.
Dr. Meyerson national and international experience in both policy and research. She has served on the National Invasive Species Council (NISC) Invasive Species Advisory Committee (ISAC) for the U.S. government and has worked for and with various federal agencies, international organizations, and NGOs. Dr. Meyerson served as a trustee for the Robert and Patricia Switzer Foundation and currently serves as an International Science Advisor for the Center for Invasion Biology, Stellenbosch University in South Africa. She Co-Editor-in-Chief for the journal Biological Invasions and an Associate Editor for the journal Neobiota. Dr. Meyerson is currently co-leading a three-year project with the Intergovernmental Panel of Biodiversity and Ecosystem Services (IPBES) on global trends in biological invasions for a forthcoming report.
Dr. Meyerson is an Aldo Leopold Leadership Fellow, a Switzer Fellow, has twice been a Fulbright Scholar, and in 2021 was elected as a Fellow with the Ecological Society of America. Before coming to URI, Dr. Meyerson worked at the Heinz Center in Washington, DC developing national level environmental indicators for the State of the Nation's Ecosystems. As a post-doctoral fellow, Dr. Meyerson was an AAAS Fellow with the US Environmental Protection Agency and was detailed to NISC to work on national biosecurity after 9/11. She was also a research scientist at the Smithsonian Institution where she worked with the Global Invasive Species Program on two global assessments for the Convention on Biological Diversity and she was also a visiting Assistant Professor at Brown University. Dr. Meyerson earned her doctorate in 2000 from Yale University, School of Forestry and Environmental Studies.
Education
Ph.D., Yale University – School of Forestry and Environmental Studies, 2000
Selected Publications
Salgado, A, A Glassmire, B Sedio, R Diaz, MJ Stout, J Čuda, P Pyšek, LA Meyerson, JT Cronin. 2023 (In Press). Metabolomic Evenness Underlies Intraspecific Differences Among Lineages of a Wetland Grass. Journal of Chemical Ecology.
Guo, X, J-Y Ma, L-L Liu, M-Y Li, H Wang, Y-K Sun, T Wang, K-L Wang, LA Meyerson. 2023 (In Press). Effects of salt stress on interspecific competition between an invasive alien plant Oenothera biennis and three native species. Frontiers in Plant Science.
Lockwood, JL, D Lieurance, SL Flory, LA Meyerson, A Ricciardi, D Simberloff. 2023. Scholarship, not rhetoric, advances a field. Trends in Ecology and Evolution 1016/j.tree.2023.01.006
Meyerson, LA, P. Pyšek, DM Richardson, A. Pauchard, J. Hierro, J. Carlton, C. Kueffer, R. Pandit, and J. Packer. 2022. Global strategies for invasions. In Global Plant Invasions, pp 331-360. D.R. Clements, M.K. Upadhyaya, S. Joshi and A. Shrestha (co-editors), Springer International Press, https://doi.org/10.1007/978-3-030-89684-3_16.
Novoa, A, S Canavan, D Lieurance, LA Meyerson. 2022. Exploring the performance of Biological Invasions in social media five years after opening its Facebook and Twitter accounts. Biological Invasions 25:141–152, doi.org/10.1007/s10530-022-02901-8.
Boardman, L, M Angilletta, J Krause, J Lau, J Lockwood, M Loik, LA Meyerson, D Simberloff, and Christopher Thawley. 2022. The future of invasion science needs physiology. BioScience 72: 1204-1219,https://doi.org/10.1093/biosci/biac080.
Pyšek, P, M Lučanová, W Dawson, F Essl, H Kreft, I Leitch, N Maurel, LA Meyerson, J Pergl, M van Kleunen, P Weigelt, M Winter & W-Y Guo. In Revision. Small genome size and variation in ploidy levels support the naturalization of vascular plants but constrain their invasive spread. New Phytologist.
Hierro, JL, Ö Eren, J Čuda, LA Meyerson. 2022. EICA may explain dominance of introduced species in ruderal communities. Ecological Monographs doi:10.1002/ecm.1524
Meyerson, LA, P. Pyšek, DM Richardson, A. Pauchard, J. Hierro, J. Carlton, C. Kueffer, R. Pandit, and J. Packer. 2022. Global strategies for invasions. In Global Plant Invasions, pp 331-360. D.R. Clements, M.K. Upadhyaya, S. Joshi and A. Shrestha (co-editors), Springer International Press, https://doi.org/10.1007/978-3-030-89684-3_16.
Lindsay, DL, X Guan, NE Harms, JT Cronin, LA Meyerson, and RF Lance. 2023 (In Press). DNA assays for genetic discrimination of three Phragmites australissubspecies in the United States. Applications in Plant Sciences. http://doi.org/10.1002/aps3.11512
Cortez, A. O., Chu, C.-L., Broadley, H. J., Lo, Y.-S., Chen, Y.-C., Gates, M. W., Meyerson, L. A., Hoelmer, K. A., Gould, J. R., & Hwang, S.-Y.2022. Exploratory surveys in Taiwan of the roseau cane scale Nipponaclerda biwakoensis Kuwana (Hemiptera: Aclerdidae) and its associated parasitoids. Journal of Applied Entomology, 00, 1– 11. https://doi.org/10.1111/jen.12982.
Meyerson, LA and D Simberloff. 2022. The journal Biological Invasions evolves. Biological Invasions. Biol Invasions24, 319–320 (2022). https://doi.org/10.1007/s10530-021-02663-9
Kuebbing, SE., MA McCary, D Lieurance, MA Nuñez, MC Chiuffo, B Zhang, H Seebens, D Simberloff, and LA Meyerson. 2022. A self-study of editorial board diversity at Biological Invasions. Biological invasions24: 321-332. doi: 1007/s10530-021-02664-8.
Nuñez, M.A., Chiuffo, M.C., Seebens, H. et al. Two decades of data reveal that Biological Invasions needs to increase participation beyond North America, Europe, and Australasia. Biol Invasions24, 333–340. https://doi.org/10.1007/s10530-021-02666-6.
Chang, J, Y Ge, Z Wu, Y Du, K Pan, G Yang, Y Ren, MP Heino, F Mao, KH Cheong, Z Qu, X Fan, Y Min, C Peng, LA Meyerson. 2021. Modern cities modelled as "super-cells" rather than multicellular organisms: Implications for industry, goods and services. Bioessays, https://doi.org/10.1002/bies.202100041
Kaushik, R, R Pandit, LA Meyerson, DS Chaudhari, M Sharma, D Dhotre, YS Shouche. 2021. Contrasting Composition, Diversity and Predictive Metabolic Potential of the Rhizobacterial Microbiomes Associated with Native and Invasive Prosopis Current Microbiology, https://doi.org/10.1007/s00284-021-02473-1.
Čuda J., Skálová H., Meyerson L. A. & Pyšek P. 2021. Regeneration of Phragmites australis from rhizome and stem fragments: an experimental test of effects of the environment, population origin and invasion status. Preslia 93: 237-254.
Marsh, Anne, Travis Warziniak, Patrice Klein, Nicole Zimmerman, Laura Meyerson, Jamie Davidson, Bonnie Harper-Lore, Alison Dalsimer, Douglas Burkette, Derrick R. Golla, Cindy Huebner, Robert Rabaglia, Marla Emery and Hilda Diaz-Soltero. 2021. Impacts of Invasive Species on U.S. Resources and Systems. US Forest Service. USDA. https://doi.org/10.1007/978-3-030-45367-1
Ricciardi, A, Iacarella, J, Aldridge, D, Blackburn, T, Carlton, JT, Catford, J, Dick, J, Hulme, P, Jeschke, J, Liebhold, A, Lockwood, J, MacIsaac, H, Meyerson, LA Pyšek, P, Richardson, D, Ruiz, G, Simberloff, D, Vila, M, Wardle, D. 2021. Four priority areas to advance invasion science in the face of rapid environmental change. Environmental Reviews, https://doi.org/10.1139/er-2020-0088
Meyerson, LA, Pyšek, P, Lučanová, M, Wigginton, S, Tran, C‐T, and Cronin, JT.2020. Size Matters: Genome Size Influences Plant Tolerance of Abiotic Stress in Native Versus Invasive Plants. Bull Ecol Soc Am 101(3):e01731. https://doi.org/10.1002/bes2.1731
Essl, F, B Lenzner, S Bacher, S Bailey, C Capinha, C Daehler, S Dullinger, P Genovesi, C Hui, PE Hulme, JM Jeschke, S Katsanevakis, I Kühn, B Leung, A Liebhold, C Liu1, H MacIsaac, LA Meyerson, MA Nuñez, A Pauchard, P Pyšek, W Rabitsch, DM Richardson, HE Roy, GM Ruiz, JC Russell, N Sanders, DF Sax, R Scalera, H Seebens, M Springborn, A Turbelin, M van Kleunen, B von Holle, M Winter, RD Zenni, BJ Mattsson4 & N Roura-Pascual. (2020) Drivers of future alien species impacts: an expert-based assessment. Global Change Biology 26: 4880– 4893, https://doi.org/10.1111/gcb.15199
Croy JR, Meyerson LA WJ Allen, G Bhattarai and JT Cronin. 2020. Latitudinal variation in tolerance to herbivory in native and invasive populations of Phragmites australis. doi:10.1111/oik.07260
Pyšek, P, PE Hulme, S Bacher, TM Blackburn, JT. Carlton, W Dawson, F Essl, LC Foxcroft, P Genovesi, JoM. Jeschke, I Kühn, AM Liebhold, NE. Mandrak, LA Meyerson, A Pauchard, J Pergl, HE. Roy, H Seebens, D Simberloff, M van Kleunen, M Vilà, MJ Wingfield, DM Richardson. 2020. Scientists' Warning on Invasive Alien Species. Biological Reviews. doi: 10.1111/brv.12627
Meyerson, LA and D Simberloff. 2020. Political Breaches in Biosecurity. Op-Ed. Providence Journal.
Simberloff, D, JN Barney, RN Mack, JT Carlton, JK Reaser, BS Stewart, G Tabor, E Lane, W Hyatt, JW Malcom, LA Meyerson. 2020. United States lowers barriers to devastating invaders. Science. 1126/science.aba7186.
Enders, Martin, Frank Havemann, Florian Ruland, Maud Bernard-Verdier, Jane A. Catford, Lorena Gómez-Aparicio, Sylvia Haider, Tina Heger, Christoph Kueffer, Ingolf Kühn, Laura A. Meyerson, Camille Musseau, Ana Novoa, Anthony Ricciardi, Alban Sagouis, Conrad Schittko, David L. Strayer, Montserrat Vilà, Franz Essl, Philip E. Hulme, Mark van Kleunen, Sabrina Kumschick, Julie L. Lockwood, Abigail L. Mabey, Melodie McGeoch, Estíbaliz Palma, Petr Pyšek, Wolf-Christian Saul, Florencia A. Yannelli, and Jonathan M. Jeschke. 2020. A conceptual map of invasion biology: integrating hypotheses into a consensus network. Global Ecology and Biogeography. 00: 1– 14. https://doi.org/10.1111/geb.13082
Allen, WJ, AE DeVries, NJ Bologna, WA Bickford, KP Kowalski, LA Meyerson, JT Cronin. 2020. Intraspecific and biogeographical variation in foliar fungal communities and pathogen damage of native and invasive Phragmites australis. Global Ecology and Biogeography 29:1199–1211. https://doi.org/10.1111/geb.13097.
Novoa, A, DM Richardson, P Pyšek, LA Meyerson, S Bacher, S Canavan, JA Catford, J Čuda, F Essl, L Foxcroft, P Genovesi, H Hirsch, Cang Hui, MC Jackson, C Kueffer, JJ Le Roux, J Measey, NP Mohanty, D Moodley, H Müller-Schärer, JG Packer, J Pergl, TB Robinson, W-C Saul, RT Shackleton, V Visser, OLF Weyl, FA Yannelli, JRU Wilson. 2020. Invasion syndromes: a systematic approach for predicting biological invasions and facilitating effective management. Biological Invasions 22, 1801–1820, https://doi.org/10.1007/s10530-020-02220-w.
Meyerson, LA, P Pyšek, S Wigginton*, M Lučanová, C-T Tran*, JT Cronin. 2020. Plant genome size influences stress tolerance of invasive and native plants via plasticity. Ecosphere 11(5):e03145. 10.1002/ecs2.3145.
Pyšek, P, Jan Čuda, P Šmilauer, H Skálová, Z Chumová, C Lambertini, M Lučanová, H Ryšavá, P Trávníček, K Šemberová & LA Meyerson. 2020. Competition among native and invasive Phragmites australis populations: an experimental test of the effects of invasion status, genome size and ploidy level. Ecology and Evolution. DOI: 10.1002/ece3.5907
Hierro, JL, A Pauchard, M Nuñez, LA Meyerson, D Simberloff. 2019. Obituary for Enrique Chaneton. Biological Invasions 21: 2517–2518.
Meyerson, LA, JT Carlton, D Lodge and D Simberloff. 2019. The Growing Peril of Biological Invasions. Frontiers in Ecology and the Environment 17:191– 191, doi:10.1002/fee.2036
Meyerson, LA, D Simberloff, L Boardman, J Lockwood. 2019. Towards "rules" for studying biological invasions. Bulletin of the Ecological Society of America. Bull Ecol Soc Am https://doi.org/10.1002/bes2.1607
Kiviat, E, LA Meyerson, TJ Mozdzer, WJ Allen, AH Baldwin, GP Bhattarai, H Brix, JS Caplan, KM Kettenring, C Lambertini, P Pyšek, J Weis, D Whigham, JT Cronin. 2019. Evidence does not support the targeting of cryptic invaders at the subspecies level using classic biological control. Biological Invasions 21: 2529. https://doi.org/10.1007/s10530-019-02014-9.
Pyšek, P, H Skálová, J Čuda, WY Guo, J Doležal, O Kauzál, C Lambertini, K Pyškova, LA Meyerson. 2019. Physiology of a plant invasion: biomass production, growth and tissue chemistry of invasive and native Phragmites australis Preslia 91: 51–75.
Kuebbing, S and LA Meyerson. 2019. Honoring Daniel Simberloff. An Unwavering Champion of Invasion Biology. Biological Invasions 20: 3379. https://doi.org/10.1007/s10530-018-1878-x
Kuebbing, S and LA Meyerson. 2019. Announcing the inaugural winners of the Simberloff Award for Outstanding Presentation. Biological Invasions. doi.org/10.1007/s10530-018-1877-y.
Canavan, S, LA Meyerson, JG Packer, P Pyšek, N Maurel, V Lozano, DM Richardson, G Brundu, K Canavan, A Cicatelli, J Čuda, W Dawson, F Essl, F Guarino, W Guo, M van Kleunen, H Kreft, C Lambertini, J Pergl, H Skálová, RJ Soreng, V Visser, MS Vorontsova, P Weigelt, M Winter, J RU Wilson. 2018. Tall­statured grasses: a useful functional group for invasion science. Biological Invasions. doi.org/10.1007/s10530-018-1815.
Pauchard, A, LA Meyerson, S Bacher, T Blackburn, G Brundu, MW Cadotte, F Courchamp, F Essl, P Genovesi, S Haider, N Holmes, P Hulme, J Jescheke, J Lockwood, A Novoa, MA Nuñez, DA Peltzer, P Pyšek, DM Richardson, D Simberloff, K Smith, BW van Wilgen, M Vilà, JRU Wilson, M Winter, RD Zenni. 2018. Biodiversity assessments: Origin Matters. PLoS Biol 16(11): e2006686 org/10.1371/journal.pbio.2006686
Pyšek, P, Skálová, H, Čuda, J, Guo, W, Suda, J, Doležal, J, Kauzál, O, Lambertini, C, Lučanová, M, Mandáková, T, Moravcová, L, Pyšková, K, Brix, H and Meyerson, LA. 2018. Small genome separates native and invasive populations in an ecologically important cosmopolitan grass. Ecology 99: 79-90. doi:10.1002/ecy.2068.
Allen WJ, Meyerson LA, Flick AJ, Cronin JT. 2018. Intraspecific variation in indirect plant-soil feedbacks influences a wetland plant invasion. Ecology 99: 1430-1440.
Wigginton, SK and LA Meyerson. 2018. Passive Roadside Restoration Reduces Management Costs and Fosters Native Habitat. Ecological Restoration 36:41-51; doi:10.3368/er.36.1.41
Du, Y, Y Ge, Y Ren, X Fan, K Pan, L Lin, X Wu, Y Min, LA Meyerson, M Heino, SX Chang, X Liu, F Mao, G Yang, C Peng, Z Qu, J Chang, and RK Didham. 2018. A global strategy to mitigate the environmental impact of China's ruminant consumption boom. Nature Communications 9:4133.
Fan, X, J Chang, X Wu, Y Ren, Y Du, D Liu, LA Meyerson, SX Chang, Y Ge. 2018. Coupling industrial dairy feedlots and croplands reduces China's environmental impacts. Environmental Science and Technology, DOI: 10.1021/acs.est.7b04829.
Meyerson, LA, M. Groom, J. Richburg, KA Stinson. 2018. A Tribute to Elizabeth Farnsworth. Biological Invasions https://doi.org/10.1007/s10530-018-1689-0
Gotelli, N and LA Meyerson. 2018. Resolution of Respect: Elizabeth J. Farnsworth (1962-2017). Bulletin of the Ecological Society of America 99: 52-53. doi:10.1002/bes2.1381
Pyšek, P, LA Meyerson, D Simberloff. 2018. Introducing Alien Floras and Faunas, a new series in Biological Invasions. Biological Invasions. https://doi.org/10.1007/s10530-017-1648-1.
Bowen, JL, PJ Kearns, JEK Byrnes, S Wigginton, WJ Allen, M Greenwood, K Tran*, J Yu*, JT Cronin and LA Meyerson. 2017. Plant lineage determines rhizosphere microbial structure and activity in a cosmopolitan species. Nature Communications 8:433.
Bowen, JL, PJ Kearns, JEK Byrnes, S Wigginton*, WJ Allen*, M Greenwood*, K Tran*, J Yu*, JT Cronin and LA Meyerson. 2018. Why do invasive species do so well? Environmental Science Journal for Teens. https://sciencejournalforkids.org/search-articles/why-do-invasive-species-do-so-well/.
2017. Advanced Biotechnology Tools for Invasive Species Management. C/O National Invasive Species Council Secretariat. U.S. Department of Interior, Office of the Secretary. (LA Meyerson lead author and task group chair). https://www.doi.gov/sites/doi.gov/files/uploads/isac_advanced_biotechnology_white_paper.pdf
Simberloff, D, LA Meyerson, P Pyšek, D Richardson. 2017. Honoring Harold A. Mooney: Citizen of the World and Catalyst for Invasion Science. Biological Invasions 19: 2219–2224.
Meyerson, LA and D Simberloff. 2017. Introducing "The Elton Reviews," a new series in Biological Invasions. Biological Invasions19:1053–1054.
Bhattarai, GP, LA Meyerson, and JT Cronin. 2017. Geographical variation in apparent competition between native and invasive Phragmites australis. Ecology 98: 349–358 doi: 10.1002/ecy.1646.
Packer, J, LA Meyerson, H. Skálová, P Pyšek and C Kueffer. 2017. Biological Flora of the British Isles: Phragmites australis. Journal of Ecology 105: 1123-1162. DOI 10.1111/1365-2745.12797.
Eller F, H Skálová, JS Caplan, GP Bhattarai, MK Burger, JT Cronin, W-Y Guo, X Guo, ELG Hazelton, Kettenring KM, C Lambertini, McCormick MK, LA Meyerson, TJ Mozdzer, P Pyšek, BK Sorrell, DF Whigham and H Brix. 2017. Cosmopolitan Species as Models for Ecophysiological Responses to Global Change: The Common Reed Phragmites australis. Front. Plant Sci.8:1833. doi: 10.3389/fpls.2017.01833.
Gordon, D, Flory, SL, Lieurance, D, Hulme, P., Buddenhagen, C., Caton, PD Champion, TM Culley, C Daehler, F Essl, JE Hill, RP Keller, L Kohl, AL Koop, S Kumschick, DM Lodge, RN Mack, LA Meyerson, GR Pallipparambil, FD Panetta, R Porter, P Pyšek, LD Quinn, DM Richardson, D Simberloff, M Vilà. 2016. Weed Risk Assessments Are an Effective Component of Invasion Risk Management. Invasive Plant Science and Management 9: 81-83. doi:10.1614/IPSM-D-15-00053.
DiTomaso, JM, RA Van Steenwyk, RM Nowierski, OC Doering, E Lane, PE. Cowan, K Zimmerman, MJ Pitcairn, CP Dionigi, LA Meyerson. 2017. Addressing the Needs for Improving Classical Biological Control Programs. Biological Control 106: 35-39.
Zenni, R, I Dickie, M Wingfield, H Hirsch, C Crous, LA Meyerson, T Burgess, T Zimmermann, M Klock, E Siemann, A Erfmeier, R Aragon, L Montti, J Le Roux. 2017. Evolutionary dynamics of tree invasions: complementing the unified framework for biological invasions. AoB Plants: doi: 10.1093/aobpla/plw085.
Allen, WJ, LA Meyerson, D Cummings, J Anderson, GP Bhattarai, JT Cronin. 2016. Sources of latitudinal variation in local enemy release of invasive Phragmites australis from an introduced gall-forming herbivore. Global Ecology and Biogeography 26:435–446.
Bhattarai, GP, WJ Allen*, JT Cronin, E Kiviat, and LA Meyerson. 2016. Response to Blossey and Casagrande – Ecological and evolutionary processes make host specificity at the subspecies level exceedingly unlikely. Biological Invasions 18: 2757. doi:10.1007/s10530-016-1215-1
Bhattarai, GP, LA Meyerson, J Anderson*, D Cummings*, WJ Allen*, J Cronin. 2016. Biogeography of a plant invasion: genetic variation and plasticity in latitudinal clines for traits related to herbivory. Ecological Monographs 87:57-75, DOI: 10.1002/ecm.1233
Meyerson, LA, Cronin, JT, Bhattarai, GP, Brix, H, Lambertini, C, Lučanová, M, S Rinehart, J Suda, Pyšek, P. 2016. Do ploidy level and nuclear genome size and latitude of origin modify the expression of Phragmites australis traits and interactions with herbivores? Biological Invasions 18: 2531–2549. doi:10.1007/s10530-016-1200-8.
Packer, J.G., Meyerson, L.A., Richardson, D.M. et al. 2017. Global networks for invasion science: benefits, challenges and guidelines. Biological Invasions19;1081–1096 https://doi.org/10.1007/s10530-016-1302-3.
Saltonstall, K and LA Meyerson. 2016. Phragmites australis in the modern world: From Genes to Ecosystems: Introduction to the Biological Invasions Special Issue. Biological Invasions 18: 2415. doi:10.1007/s10530-016-1240-0.
Cronin, JT, E Kiviat, LA Meyerson, GP Bhattarai, and WJ Allen*. 2016. Biological control of invasive Phragmites will be detrimental to native Phragmites. Biological Invasions 18: 2749-2752DOI 10.1007/s10530-016-1138-x.
Dibble, K and LA Meyerson. 2016. Detection of decreased quantities of actively spawning female Fundulus heteroclitus in tidally restricted marshes relative to restored and reference sites. Biological Invasions 18: 2679-2687, DOI: 10.1007/s10530-016-1153-y.
Meyerson, LA, JT Cronin, P Pyšek. 2016. Phragmites as a model organism for plant invasions. Biological Invasions 18: 2421-2431, DOI 10.1007/s10530-016-1132-3.
Druschke, CG, K Hychka, LA Meyerson. 2016. The war is over: Managing invasives in an age of adaptation. Biological Invasions 18: 2739–2747, DOI 10.1007/s10530-016-1112-7
Mozdzer, T, JS Caplan, RN Hagar, CE Proffitt, LA Meyerson. 2016. Contrasting trait responses to latitudinal climate variation in two lineages of an invasive grass. Biological Invasions 18: 2649. doi:10.1007/s10530-016-1218-y
Courses
Conservation Biology (NRS 223)
Invasion Ecology (NRS 445/545)
Restoration Ecology (NRS 401/501)