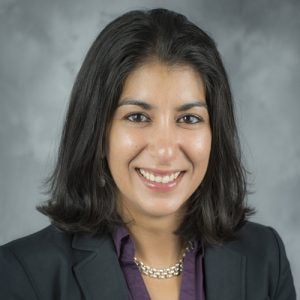 Associate Professor
Department of Nutrition, Byte Lab
Phone: 401.874.2992
Email: maya_vadiveloo@uri.edu
Office Location: Fogarty Hall, Rm 201A
Lab
Big Data and Eating Decisions (Byte) Lab
Courses Taught
NUT 395: Nutrition in the Lifecycle II
NUT 550/650: Epidemiology of Nutrition and Chronic Disease
Biography
Maya Vadiveloo, Ph.D., RD, is an Associate Professor in the Department of Nutrition at the University of Rhode Island. She is a registered dietitian and nutritional epidemiologist whose research focuses on using behavioral theory to favorably influence food choices, dietary quality, weight control, and eventually cardiovascular health.
She is interested in using population-level data to develop strategies that make it easier for consumers to choose healthy foods that are tasty and filling with the ultimate goal of helping individuals and populations develop lifelong dietary patterns that they enjoy and that promote healthy body weights.
Maya's research in the Big Data and Eating Decisions lab employs a variety of research methods, including epidemiological analyses, laboratory and online studies, and qualitative methods.
Research
Dr. Vadiveloo is the Principal Investigator of the Big Data and Eating Decisions (Byte) lab. Her research group focuses on dietary assessment, diet quality, and modifying factors in the environment to favorably influence diet quality and obesity.
Drawing largely on sources of secondary data from large population studies, the goal of her lab is to develop interventions and recommendations that promote improvements in dietary quality, weight control, and cardiometabolic health at the population level.
The lab's work spans domains including the role of dietary variety and energy density in promoting dietary quality, factors that influence purchasing decisions in food retail environments, and the role of weight discrimination in promoting metabolic dysregulation. The lab also investigates the influence of food policy on consumer decision making and public health.
Education
Postdoctoral Fellow, Harvard T.H. Chan School of Public Health, 2013-2015
Ph.D., Nutrition (emphasis in epidemiology), New York University, 2013
M.S., Nutrition and Dietetics, Boston University, 2008
Registered Dietitian (RD) Certification, 2008
B.A., Human Biology, Brown University, 2005
Selected Publications
Vadiveloo MK, Guan X, Parker HW, Perraud E, Buchcanan A, Atlas S, and Thorndike AN. Evaluating the effect of individually-targeted food incentives on grocery purchases: The Smart Cart Study protocol for a randomized controlled cross-over trial. Contemporary Clinical Trials. 2020;91.
Vadiveloo M, Perraud E, Parker HW, Juul F, Parekh N. Geographic Differences in the Dietary Quality of Food Purchases among Participants in the Nationally Representative Food Acquisition and Purchase Survey (FoodAPS). Nutrients. 2019. May 20; 11(6).
Guan X, Atlas SA, Vadiveloo M. Targeted retail coupons influence category-level food purchases over 2-years. Int J Behav Nutr Phys Act. 2018 Nov 15;15(1):111
Vadiveloo M, Malik V, Spiegelman D, Willett W, Mattei J. Trends in sales, nutrients, and consumer preferences for traditional and enhanced grill menu items in a worksite cafeteria setting. Preventive Medicine Reports. 2017 Sep 11;8: 140-147.
Nowlin SY*, Cleland CM, Vadiveloo M, D'Eramo Melkus G, Parekh N, Hagan H. Explaining racial/ethnic dietary patterns in relation to type 2 diabetes: an analysis of NHANES 2007-2012. Ethn Dis. 2016 Oct 20;26(4):529-536.
Vadiveloo M and Mattei J. Perceived weight discrimination and 10-year risk of allostatic load among US adults. Annals of Behavioral Medicine. 2017 51(1): 94-104.
Vadiveloo M, Campos H, Mattei J. The role of variety and quality in seasoning on intake of beans and rice among Costa Rican Adults. Nutrition Research. 2016 Aug;36(8):780-8.
Vadiveloo M, Sacks FM, Champagne CM, Bray, GA, Mattei J. Increasing healthful dietary variety is associated with greater long-term reductions in adiposity among weight-loss participants in the POUNDS Lost trial. Journal of Nutrition. 2016 Aug;146(8):1552-9.
Vadiveloo M and Parekh N. Dietary Variety: An Overlooked Strategy for Obesity and Chronic Disease Control. American Journal of Preventive Medicine. 2015 Sep 2. Epub ahead of print.
Vadiveloo M, Parekh N, Mattei J. Consumption of a greater variety of healthful foods is associated with metabolic syndrome and its components in U.S. adults. Journal of Nutrition. 2015 Mar;145(3):555-63.