NEOWTP classes are designed to assist registrants in meeting their professional goals as well as satisfying regulatory requirements. Our classes, offered virtually and in-person, are approved for continuing education credits by regulatory agencies in Rhode Island, Massachusetts, New Hampshire, Vermont, and New York.
We will continue to offer both in-person and online classes via Webex throughout 2023. Registrants may also choose a self paced training course in Summer 2023. Please review the schedule carefully to determine whether the class is online or in-person before completing your registration. Self paced course registration is indicated by a separate registration link.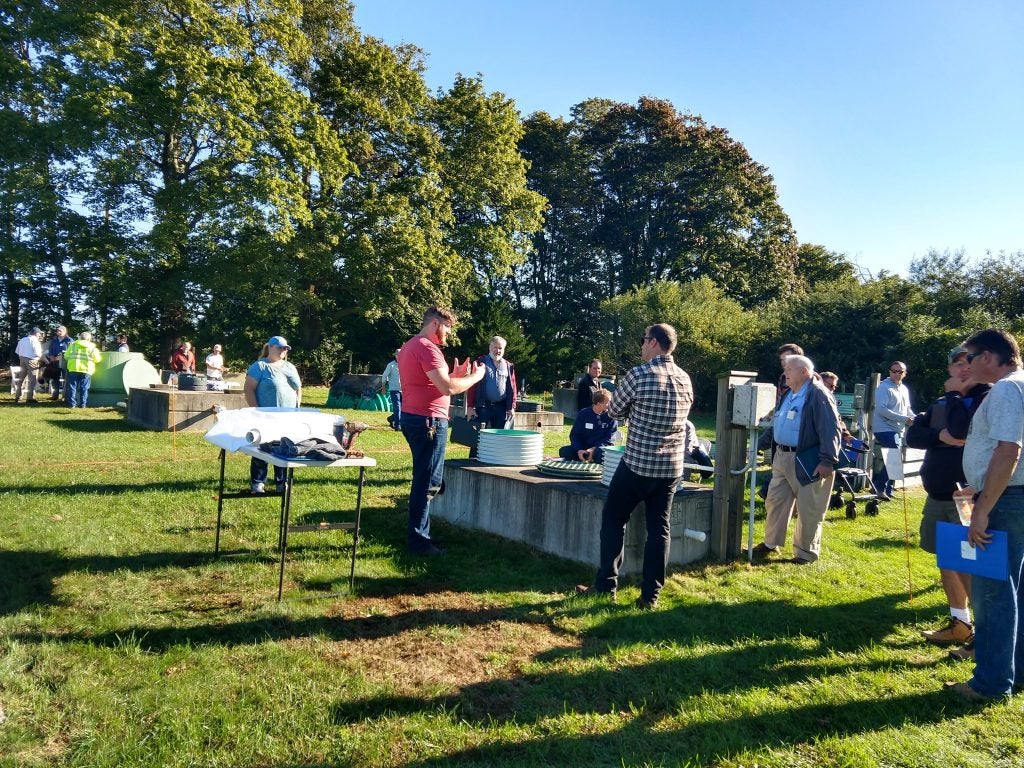 2023 CLass SCHEDULE AND REGISTRATION
NEW: Self Paced Classes Using Brightspace Engage Learning Platform
NEOWTP is working to provide additional training opportunities for wastewater professionals who are unable to attend traditional in-person trainings or scheduled online workshops to meet continuing education requirements. NEOWTP will deliver programming through the University of Rhode Island's Brightspace Engage online educational platform, a web-based, mobile-friendly, hosted learning platform to deliver course content beginning in Summer 2023. Registrants will receive a Brightspace Engage account after completing registration and may complete the training when most convenient for them. Additional self paced classes may be added to their account as they become available.
Online Training Information
NEOWTP scheduled online classes are delivered live using WebEx, an application-sharing and conferencing service that may be used for presentations, demos, training and support and is provided in a cloud-based, hosted format from Cisco's WebEx Communications, Inc., Santa Clara, CA.
WebEx is free for you to use and lets you participate in NEOWTP's classes. When you join a WebEx session, everything that the presenters see and manipulate on their computers can be viewed by everyone in the session. WebEx works well from both Windows and Mac systems and is also available via portable devices such as iPad and Android-based systems.
webex directions for use, troubleshooting and tips
Program Policies
Registration
Courses are open to all interested parties, but please recognize that some courses have prerequisites (see course descriptions for details) to ensure that participants have appropriate background knowledge and context for the content. Registration must be completed using our online registration platform. Please note many classes have a minimum and maximum number of registrants and we encourage you to register early. Should the minimum number not be reached, we reserve the right to cancel the class. Registrants will be offered the choice to transfer to another class (different fees may apply), obtain a refund, or receive credit for a future course. Any participant unable to register online should email neowtp@uri.edu or call 401.874.5950 for alternative registration instructions.
Class Fees
Every class is assigned an early fee and regular fee. Please check the course schedule for individual class fees, which will also display during online registration. The early fee is reserved for those registrations recorded by the NEOWTP at least 14 calendar days before the scheduled class. All other registrations will be charged the regular fee, unless submitted within 48 hours of the scheduled start of class. Registrations submitted within 48 hours of the scheduled start of class will be assigned an additional $25 late fee. Please note some courses have a participant limit and late registration may not be possible.
Cancellations and Transfers
Cancellations may be completed online until 48 hours before the scheduled class date. A cancellation fee of $25 will apply. Cancellations made less than 48 hours before the class will forfeit the registration fee.
No shows on a class scheduled date will forfeit their registration fee.
Registrants who have completed more than 25% of any self paced course content are ineligible for a refund or transfer to a different class.
To transfer to another course, you must request a transfer at least 48 hours prior to the scheduled class date by emailing neowtp@uri.edu or calling 401-874-5950. A transfer fee of $25 will apply. Transfer requests made less than 48 hours before the class will not be accepted.
Attendance
Registrants joining class after its scheduled start time may attend the class, however Continuing Education Credits (CEU's) or Training Contact Hours (TCH's) cannot be awarded. Virtual registrants must be logged into the training by its start time and remain logged in until class is finished. In-person classes must be attended for the full duration to earn credit as well. The NEOWTP has agreements with regulatory agencies regarding CEU's and TCH's and contact hours which are strictly adhered to and no partial credits can be given for partial attendance to any course.
In order to meet regulatory requirements for continuing education credits assigned to self paced classes, registrants must complete all elements of each class module (except those marked "Optional") to earn their certificate of completion. NEOWTP staff reserves the right to deny a certificate of completion to any registrant who does not meet the regulatory requirements for self paced classes.
There will be a $30 fee for researching attendance records and re-issuing certificates of attendance for each class already taken. Please email neowtp@uri.edu or call 401-874-5950 to request a records search/certificate and for payment instructions.
Virtual Classes
Online course are offered via Webex, an online conferencing platform. Registrants must have a Mac or Windows operating system and a browser with audio to participate in the classes. Video is recommended. We recommend reading "Webex Help and Troubleshooting Resources for Class Participants" before your selected class for helpful information about joining the meeting, technology, and tips to use during the meeting. 
Self Paced Classes
Self paced courses are now available using the University of Rhode Island's Brightspace Engage learning platform used for delivering course content and other online learning resources.
In Person Classes
The majority of our in person classes are held in the Surge Building at 210 Flagg Road on the University of Rhode Island Kingston campus or at the New England Onsite Wastewater Training Center located nearby at the University's Peckham Farm. Additional courses may be offered off site and will be indicated in our course schedule. Directions will be provided to registrants approximately three days before class with additional class information and materials.
Parking
All classes held on the URI Kingston campus require a valid PARKING PASS issued by URI Parking Services. Registrants must register as a visitor for a one day parking pass at https://web.uri.edu/transportation/parking/visitors/ and park in a visitor lot or risk ticketing or towing. Parking instructions will be sent to registrants by email approximately three days before class is scheduled. A parking pass is not required to park at Peckham Farm.
Disability Information Statement
Any NEOWTP class attendee with a documented disability is encouraged to contact the Onsite Wastewater Training Program office at (401) 874-5950 as early as possible prior to the class so that we may arrange reasonable accommodations to the extent practicable.