Playing Poker for Public Safety: Reaching out Across the Globe to Supply Face Masks to Rhode Islanders in Need.
Written by Karen Markin
Rhode Island's health care workers received thousands of face masks in the beginning of the coronavirus pandemic thanks to a connection made at a poker game last spring.
Qing "Ken" Yang, University of Rhode Island (URI) professor of electrical, computer and biomedical engineering, happened to join a poker group's weekly game in early 2020. Yang is active with the URI Chinese Culture Club, which aims to create a welcoming environment for Chinese-American faculty and staff.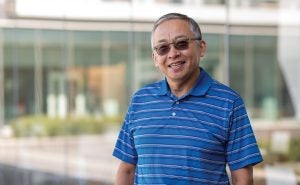 As club members saw news reports and heard personal accounts about first responders and hospitals in need of personal protective equipment (PPE) they wanted to help.
The URI Chinese Culture Club began contacting friends and family in China, where major manufacturers of the masks are located. Through those contacts, they arranged for mask shipments to the United States. They raised funds and ordered 1,000 masks, which were delivered to ten different addresses as a hedge against potential losses in transit.
Assistant professor of pharmacy practice Xuerong Wen, a new member of the club, heard tales of PPE shortages from her daughter, a medical school student who shared firsthand accounts of mask shortages. "If we lose these physicians due to a shortage of PPE, who is going to protect us?" she said. Wen reached out to the club to determine how best to assist.
The club was unsure how to get the masks into the hands of healthcare providers, until Yang learned from a poker buddy that URI's vice president for research and economic development, Peter J. Snyder, formerly worked for the Lifespan health system. Through Snyder's contacts he was able to put Yang in touch with the appropriate officials at Lifespan to arrange delivery of the PPE.
Yan Sun, professor of electrical, computer and biomedical engineering, and president of the URI Chinese Culture Club, said that in addition to Lifespan, the group donated masks to the South Kingstown Police Department, South County Hospital, Thundermist Health Center, the Jonnycake Center, and to several URI departments: Health Services, Emergency Medical Services, Campus Police, Dining Services, and Maintenance and Repair.
The URI Chinese Culture Club also joined forces with the Rhode Island Association of Chinese Americans, a statewide organization that sponsors cultural events and other activities. Members of the group raised funds and tapped their connections in China to purchase an additional 200,000 face masks, which were donated to the Rhode Island Department of Health.
Please view the full issue of URI's magazine
Momentum: Research and Innovation.
URI's COVID-19 Response and the Post Pandemic Future: A Reset for Change