v-NERIC Lightning Talk General Information


August 17th from 1:00 to 4:00 pm
Lightning Talks were an opportunity for trainees* to share short, 3-minute engaging presentations focusing on key points of research. Sessions were run by the conference organizers.

Several opportunities existed for trainees to earn cash awards related to their Lightning Talk.
Two types of awards were issued in each of the three trainees* categories. A total of six awards were issued for the selected trainees who present during the Lightning Talk Session. Each award was for $500.
*Trainee categories: undergraduate students, graduate students, and postdoctoral scholars.

The two types of awards were sponsored by:
NERIC/NAIPI (The National Association of IDeA Principal Investigators) and
DRIVEN (The Northeast's New Biomedical Accelerator Hub)

Lightning Talk Evaluation Criteria
'Best NERIC/NAIPI Lightning Talk'
Oral presentation style: Talk is clear, concise, easy to understand, and impact of research is well stated.
Slide quality: Slide(s) are simple, aesthetically pleasing, and easy to follow.
'Best DRIVEN Translational Research Talk' Criteria
The possibility that your research could improve the lives of patients is the primary reason that society supports and funds academic research. Winners will be selected based upon the potential impact of the work (ability to address an important unmet medical need), and the probability that this impact will be realized (scientific rigor and ability to persuade and inspire).
Host: Samantha Meenach, PhD, RI-INBRE Training Director (RI)
---
Lightning Talk Awardees and honorable mentions
Twelve Lightning Talk Awards were presented to undergraduate and graduate students, and postdoctoral scholars by NERIC/NAIPI (The National Association of IDeA Principal Investigators) and DRIVEN (The Northeast's New Biomedical Accelerator Hub). Six additional individuals received honorable mentions. The two first-place winners in the Lightning Talk (LT) undergraduate category included Elizabeth Billings, Cell and Molecular Biology Major at the University of Rhode Island, and Emma Noel, a Biochemistry and History Major at Bowdoin College.
Emma Noel
Biochemistry and History Major
Bowdoin College
Honeycutt Lab
DRIVEN Translational Award Winner
Undergraduate Category, 1st Place in the Neuro Session
Emma was the recipient of the DRIVEN Translational Talk first place award in the Neuro Session with her LT "Characterizing the Effect of Early Life Adversity on Sex-specific DNA Methylation Patterns over Development." Emma works in Dr. Jennifer Honeycutt's Lab and utilizes a maternal separation paradigm in rats to create a translational model of caregiver deprivation that quantifies predictive, early-life biomarkers for mental illness. Emma said "The [v-NERIC] format was very conducive to attending a multitude of talks from keynote speakers and students alike. I really enjoyed listening to the other undergraduate presentations." Emma recently received the Grua-O'Connell Research Award from Bowdoin College to continue her work with early life adversity and DNA methylation.


---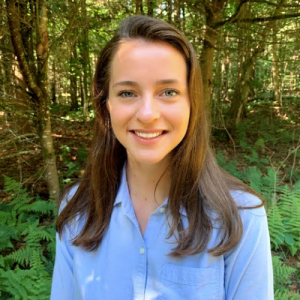 Elizabeth B. Billings
Cell and Molecular Biology Major
University of Rhode Island
Zhang Lab
NERIC/NAIPI Award Winner
Undergraduate Category, 1st Place in the Microbial Session
Elizabeth received the NERIC/NAIPI first place award for her talk "Examining the Role of Glycerol 3-Phosphate Metabolism in Vibrio cholerae During Cholera Toxin-Mediated Disease," presented in the Microbial Session. Elizabeth is a URI MARC U*STAR trainee who works in Dr. Ying Zhang's lab. She studies metabolic function in benthic foraminifera, microbial protists that inhabit the chemocline, using bioinformatic techniques to analyze RNA data and explore how these organisms are able to thrive in harsh oxygen and nutrient conditions. Liz's LT was based on her MARC Summer Research Experience with Dr. Fabian Rivera-Chávez at the University of California San Diego School of Medicine, Department of Pediatrics. Liz also presented her summer research with Dr. Rivera-Chávez at the 2021 Annual Biomedical Research Conference for Minority Students (ABRCMS) and applied to Ph.D. programs in Cell and Molecular Biology and Microbiology.
---
Arvin H. Soepriatna, Ph.D.
AHA Postdoctoral Fellow
Brown University
Coulombe Lab for Heart Regeneration
School of Engineering
Arvin is an American Heart Association Postdoctoral Fellow (since April 2021) at Brown University. His AHA Postdoctoral Fellowship work focuses on utilizing cutting-edge imaging tools (4D ultrasound to quantify 3D myocardial strain and optical mapping to map electrophysiology) to reveal the complex interplay between mechanical and electrical remodeling driving cardiac disease progression.
"v-NERIC provided me with the opportunity to network with researchers across multiple disciplines to learn of their exciting new innovations and how to strategize a high-risk high-reward grant application to fund these ideas." "The atrial microtissue work that I presented at v-NERIC's lightning talk is now published in the Young Innovators Issue of the Cellular and Molecular Bioengineering journal."
Arvin was recently selected as a 2021 Rising Star in Engineering in Health by Columbia University and Johns Hopkins University for his scientific contribution in improving cardiovascular health, part of which covers the atrial work and his current AHA Postdoctoral Fellowship work.
---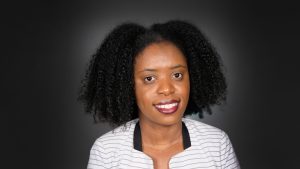 Debora Kamin Mukaz, Ph.D.
Postdoctoral Associate
University of Vermont
Laboratory of Clinical Biochemistry Research, Larner College of Medicine
"NERIC helped me summarize my research better. I also appreciated the interdisciplinary nature of the meeting."
Since the conference, Dr. Kamin Mukaz Published 2 papers:
Kamin Mukaz D, Gergi M, Koh I, Zakai NA, Judd SE, Sholzberg M, Baumann Kreuziger L, Freeman K, Colovos C, Olson NC, Cushman M. Thrombo-inflammatory biomarkers and D-dimer in a biracial cohort study. Res Pract Thromb Haemost. 2021;5(8): e12632.
Levitan EB, Howard VJ, Cushman M, Judd SE, Tison SE, Yuan Y, Kamin Mukaz D, Wang HE, Pamir N, Plante TB, Juraschek SP, Safford MM, Goyal P. Health care experiences during the COVID-19 pandemic by race and social determinants of health among adults age ≥ 58 years in the REGARDS study. BMC public health 2021;21(1):2255. DOI: 10.1186/s12889-021-12273-8.
"I am a co-founder of BlackInCardio, an organization to celebrate Black people in cardiovascular fields and raise awareness about cardiovascular diseases in Black communities. We just organized our second #BlackInCardioWeek from December 6th to December 12th. You can check us out at https://blackincardio.com/."
---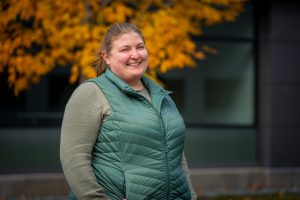 Hannah E. Laue, ScD.
Dartmouth Toxic Metals Superfund Research Program
Geisel School of Medicine at Dartmouth College
Department of Epidemiology
"NERIC is such an inspiring conference because of the breadth of research presentation and the number of opportunities for trainees at all levels to share their work. It is always interesting to see how our work connects."
The work Hannah presented at v-NERIC was recently published in Pediatric Research (https://rdcu.be/cCubJ).
---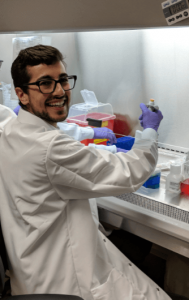 Bader Jarai
Ph.D. Candidate
University of Delaware
Catherine Fromen Research Group
Chemical & Biomolecular Engineering
"My highlight from v-NERIC was when Barney Graham (from NIAID) answered my question!"
Bader is excited to share that he has accepted an offer with —- and will be starting his new role after graduation.
---

Cole Davidson
Cellular Molecular and Biomedical Sciences
University of Vermont
Carr Lab
"I was thrilled to have the opportunity to not only present my research highlights to a wide audience, but to also learn about exciting, ongoing research from a diverse panel of disease experts. I have since been published in Cancers [https://doi.org/10.3390/cancers13174254] and I very recently submitted my work presented at NERIC! I am grateful to represent UVM at NERIC, and I owe my success to the interdisciplinary nature of my CMB program and collaboration between my mentors Frances Carr and Eyal Amiel."
---

Sydney Bonauto
Neuroscience Major
Bowdoin College
Honeycutt Lab
"One of my favorite parts about NERIC was that undergraduates were encouraged to participate and recognized for our work. Not only did I appreciate the opportunity to present my own research, but I also enjoyed supporting my peers as they shared their research experiences."
In September 2021, Sydney received a Grua/O'Connell Mini-Grant from Bowdoin College.
---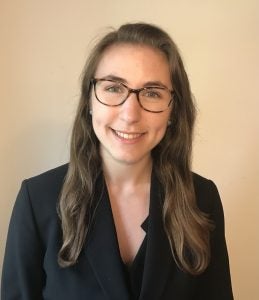 Christine Schremp
Neuroscience
Brown University
Carpenter Butler Hospital Mood Disorders Research Program
"My favorite part of v-NERIC was feeling connected to and learning more about other student researchers, especially in a time when the COVID-19 pandemic limited interaction and exploration beyond my lab group."
Schremp is currently completing her undergraduate honors thesis on the same topic as her v-NERIC Lightning Talk [Large-Scale EEG Neural Networks Change in Response to Therapeutic TMS] and is planning to apply to medical school in the spring.