Building on success:  Expanding opportunities for sustainable management of small ruminant gastrointestinal parasites
USDA Northeast Sustainable Agriculture Research and Education Program (LNE19-381)
Project Education and Research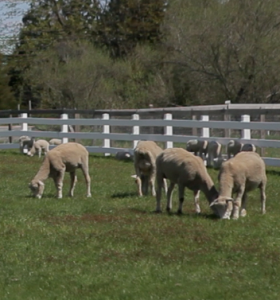 Gastrointestinal nematodes (GIN), especially the barber pole worm (Haemonchus contortus), are one of the top health concerns of sheep and goat producers in the northeast. GIN parasites are a primary concern when raising sheep and goats on pasture and can cause poor growth, anemia, and death in severe infections.
Education
This three year project will continue a successful Online FAMACHA© Certification program with updated and condensed informational videos, and a Spanish language version.  A group facilitated class format is also available to further assist under-served audiences.
Workshops will be offered with a focus on selective breeding through the use of the estimated breeding values (EBV) for parasite resistance.  Producers will be introduced to the benefits of enrolling in the National Sheep Improvement Program (NSIP) and supported with fecal egg count (FEC) analyses.  Ultimately, a multiple-trait selection index that includes multiple GIN resistance traits as well as other economically important traits will be developed for pasture-based sheep operations enabling NSIP producers to select replacement animals that excel in traits affecting health and production simultaneously.
Research

This project will continue to research and evaluate the anti-parasitic effects of a cranberry vine (CV) feed supplement on GIN infection in ewes during late gestation through early lactation.  CV has demonstrated anti-parasitic efficacy in previous Northeast SARE Projects (LNE15-342) and (LNE10-300).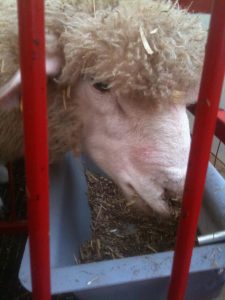 How Can I Participate?
For more information EMAIL:  urisheepandgoat@etal.uri.edu.
View our Project Brochure
Online Training Resources
View our resources including videos & fact sheets on Integrated Parasite Control, FAMACHA© Scoring, and Fecal Egg Counts.  A Spanish language version will be available in 2021!
Online FAMACHA© certification can be obtained through a 4-step process:
View 2 required informational videos on Integrated Parasite Control & FAMACHA© scoring and complete an online post-video summary assessment.
Practice the Cover, Push, Pull, POP! technique.
Record and send a video performing the FAMACHA© scoring technique.
Follow up with URI staff through email to ensure learning and proper technique.
Facilitated group classes available upon request!  Online FAMACHA© Certification – detailed instructions
Regional, in-person, workshops on integrated parasite control/FAMACHA© training available upon request.
Selective Breeding for Resistance to Gastrointestinal Nematodes (GIN)

Northeast sheep and goat producers; NSIP members selling animals to the Northeast:
Attend an NSIP workshop and learn more about the benefits of enrolling in NSIP and estimated breeding values (EBV).
Seedstock producers:  Receive assistance in identifying the most parasite resistant sheep and goats in your flock/herd.
New and current NSIP members:  Generate FEC, FAMACHA© and other economically important EBVs for superior production traits.
Project supported FEC analysis is available!  Conducted June – September 2020.  Check back for details for Summer 2021!
Program Evaluation:
We conducted an anonymous online survey of existing parasite control issues and practices for continued needs assessment, May – December 2020.  Stay tuned for a summary of the results!
Complete annual follow-up surveys to provide feedback on knowledge gained and practices adopted or improved as a result of this project.
This project builds upon former Northeast SARE Projects, New Approaches for Improving Integrated Parasite Control Strategies for Small Ruminants in the Northeast LNE15-342 and  Improving Small Ruminant Parasite Control in New England LNE10-300.
Project Partners
Katherine Petersson, PhD, Animal Scientist and Lead Project Coordinator
University of Rhode Island, Dept. Fisheries, Animal and Veterinary Science
(401) 874-2951; kpetersson@uri.edu
Anne Zajac, DVM, PhD Parasitologist
Virginia-Maryland Regional College of Veterinary Medicine; Virginia Tech
Project parasitologist
azajac@vt.edu
Michael Thonney, PhD, Nutritionist
Cornell University, Dept. Animal Science;
mlt2@cornell.edu
Elizabeth Kass, Research Assistant
University of Rhode Island, Dept. Fisheries, Animal and Veterinary Science
Online FAMACHA Certification, education and program evaluation;
urisheepandgoat@etal.uri.edu
Tom Murphy, PhD, Research Geneticist, U.S. Meat Animal Research Center, USDA ARS, Clay Center, Nebraska, NSIP multi-trait selection index; tom.murphy@usda.gov
Melanie Barkley, M.Ed., Extension Educator
Penn State University, speaker and NSIP member; meh7@psu.edu
National Sheep Improvement Program
http://nsip.org/
Reid Redden, Chairman of the Board; reid.redden@tamu.edu
Rusty Burgett, Program Director; info@nsip.org
---
This work is supported by the USDA National Institute of Food and Agriculture (NIFA) Northeast Sustainable Agriculture Research and Education Program Project LNE19-381, and USDA NIFA Animal Health and Disease Research Project 1007290.  URI provides equal program opportunity.