USDA Northeast Sustainable Agriculture Research and Education Program (LNE19-381)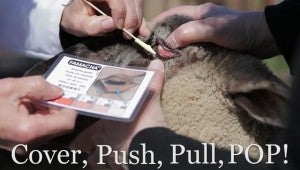 This project builds upon former NE SARE Projects,
LNE15-342 and LNE10-300  to address gastrointestinal nematode (GIN) infection in sheep and goats in the Northeast.
This project will continue a successful Online FAMACHA© Certification program with updated and condensed informational videos, and a Spanish language version.  A group facilitated class format is also available to further assist under-served audiences.  Workshops with a focus on selective breeding through the use of estimated breeding values (EBV) for parasite resistance and the benefits of enrolling in the National Sheep Improvement Program (NSIP) will continue along with project-supported fecal egg count analysis.  A new NSIP FAMACHA© EBV and pasture-based, multi-trait selection index that includes GIN resistance and other economically important traits will also be developed and utilized.  Research will expand and continue to evaluate the anti-parasitic effects of cranberry vine (CV) on GIN infection in ewes during late gestation through early lactation.
Project partners include University of Rhode Island, Virginia-Maryland College of Veterinary Medicine at Virginia Tech, Penn State University, Cornell University, the National Sheep Improvement Program, and the U.S. Meat Animal Research Center (USDA ARS).  Learn more about this NE SARE project.
USDA NIFA Organic Transitions Program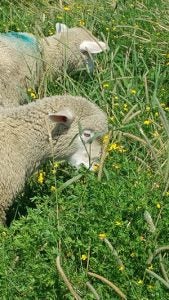 This project builds on a recent USDA National Institute of Food and Agriculture (NIFA) Organic Research and Extension Initiative (OREI) Project, "Forage-Based Parasite Control in Sheep and Goats in the Northeast U.S."   That project (August 2012-2017) joined several land grant university researchers, educators, and farmers together to research, demonstrate and evaluate the potential of Birdsfoot trefoil (Lotus corniculatus L.) to suppress GIN parasites in the Northeast.  That project demonstrated that the benefits of grazing Birdsfoot trefoil (BFT) were significant and justified additional research.
Learn more about this new Organic Transitions Program project.
Photo courtesy of Conor McCabe, Cornell University, July 2015.