In October, a SMILE field trip to the University of RI Graduate school of Oceanography was sponsored by Dr. Rainer Lohman's NSF grant. This trip involved the analysis of carbon pollution in ocean and atmosphere locations.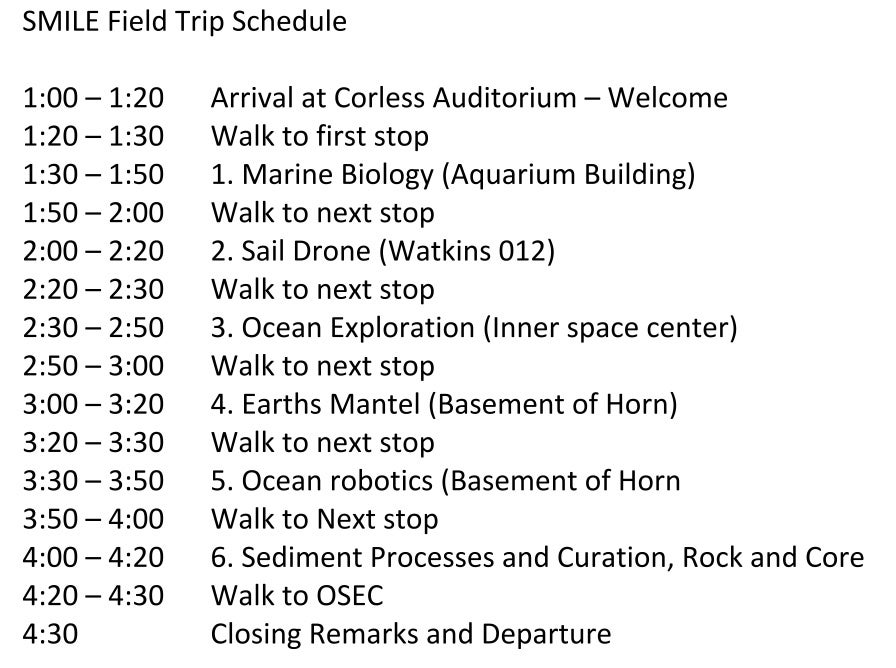 On October 19, 2022 SMILE students came to the GSO at 1pm from the following schools: Central Falls Calcutt Middle School, Woonsocket Hamlet and Villa Nova Middle Schools, Newport Rogers High School and Thompson Middle School, Westerly Middle School, and West Warwick Deering Middle School. They were welcomed to URI GSO by Dr. Rainer Lohman and Associate. Dean David Smith.
Students then visited each of the program site activities and learned how oceanographers study different characteristics of the water, sediments, animal life using robotics and sensors. The 6 presentations lasted until 4:45. Students had a very interesting time learning about ocean exploration and visiting the different locations on the GSO Bay campus.
Highlights of the tour included the Marine Geological Laboratory where students were able to touch various rock and mineral samples, take a peek at minerals under the microscopes and hold an actual megalodon tooth in their hands. Students were able to examine the tools of ocean research along the tour. At one stop they were able view research on a model of mid-ocean ridge. At several others, they were able to see the robotic technology involved in researching the ocean. The Inner Space Center vividly demonstrated how necessary technology is in ocean research. Students were amazed at the live feeds and videos of some of less explored parts of the ocean. The absolute favorite station was at the Aquarium. Students each had a chance to hold a seastar, hermit crab, sea urchin or other marine life. For several students, this was their first time interacting with any type of marine life. Our SMILE students left the Narragansett Bay Campus exhausted from all the walking, fresh air, and ocean interactions.