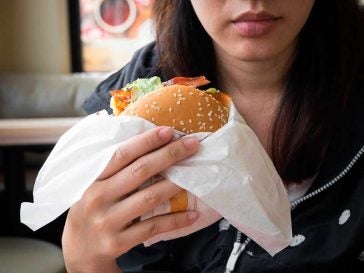 The tendency of PFAS compounds to be water- and oil-resistant makes them a convenient additive for food packaging, especially as companies replace plastic with paper or cardboard wrappers. But evidence has surfaced in recent years that some of these chemicals can harm human health. Now, Consumer Reports has released the results of an investigation into which food packaging products from popular chains contain PFAS.
Testing revealed that all retailers included in the study had PFAS in at least one of their packaging products, and more than half of the 118 products tested contained evidence of PFAS. Even companies that have previously announced plans to stop using PFAS in their wrappers were found to still be doing so.
Avoiding fast food with PFAS-laden packaging may not be enough to prevent exposure. The chemicals can also enter the environment through manufacturing waste and landfills, ultimately getting into crops and drinking water. STEEP researcher Dr. Philippe Grandjean explains that even infants often have PFAS in their system because of the many exposure pathways that reach them and their mothers. "The next generation is being exposed to these toxic compounds at the most vulnerable time period in their development," Dr. Grandjean says.
Health concerns linked to PFAS exposure include thyroid disease, kidney and liver disease, and immune system impacts. Dr. Grandjean has studied the effects of PFAS on children in the Faroe Islands, finding it reduced their immune responses to routine vaccinations. "I fell off my chair," Dr. Grandjean says of the alarming results. "It was very clear these compounds were inhibiting the immune system."
The findings from Consumer Reports are renewing pressure on companies to eliminate PFAS from their packaging, and several companies have responded. For example, Chick-fil-A and Restaurant Brands International, the owner of chains like Burger King and Popeyes, have announced commitments with concrete timelines to stop intentionally adding the forever chemicals to their packaging. Consumer Reports recommends that consumers seek out retailers who have made such pledges and, when possible, avoid leaving or reheating food in its original packaging.