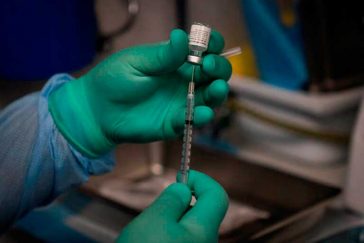 STEEP researchers are among the scientists asking if PFAS exposure could play a role in the variability of COVID-19 symptom severity and vaccine effectiveness.
STEEP researcher Philippe Grandjean of Harvard University and his team found decreased antibodies from tetanus and diphtheria vaccines in children who had been exposed to PFAS. STEEP scientist Laurel Schaider of the Silent Spring institute is part of another group studying links between PFAS exposure and antibody responses to routine childhood vaccinations.
Previous knowledge of PFAS impacts on the immune system and vaccine effectiveness are now leading scientists to search for connections to COVID-19 vaccine responses. Grandjean expressed concern that the patterns he saw in his research on the tetanus and diphtheria vaccines may also arise for the COVID-19 vaccine in people with high PFAS exposure.
"Obviously, it's a very new question because the vaccines are still new, so there's no evidence right now to suggest that COVID vaccines are any less effective in PFAS-exposed communities," Schaider said. "But it's a really important research question, and something that scientists and communities both want to know."
Researchers are also exploring PFAS exposure as a potential risk factor for increased severity of COVID-19 symptoms. Grandjean explained, "We understand that concomitant disease, like Type 2 diabetes or obesity or perhaps even cigarette smoking, are certain risk factors that may play a role, but they explain very little of the variability. And my concern is that PFAS exposure and perhaps other environmental exposures can explain part of that variability, meaning that these exposures make the infection more severe and perhaps even more deadly."
Understanding the effects of PFAS on COVID-19 risks will be critical for recommendations such as drinking water limits for these chemicals and how often to get vaccinated for COVID-19.