Leading experts from around the world came together recently to share their latest findings and progress on science-based solutions for a specific kind of chemical pollution – PFAS. FLUOROS GLOBAL 2021, an annual gathering for scientists to join with community members in dialogue on PFAS issues, drew more than 335 attendees from at least 18 countries and Puerto Rico to its hybrid (in-person and virtual) symposium.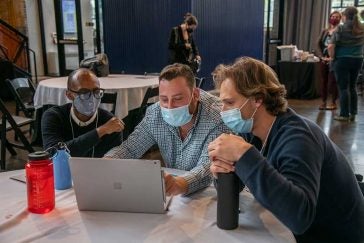 Held October 3 – 7, 2021 at the WaterFire Arts Center in Providence, the symposium emphasized the dissemination of knowledge and resources concerning biomedical and environmental research advances regarding PFAS, as well as information for minimizing human exposure and environmental effects. PFAS, or per- and polyfluorinated alkylate substances, are a family of colorless and odorless manmade chemicals which are used in a wide array of household and commercial settings. PFAS uses are many; for example, they are used to retard fire, so are present within extinguishing foams, and they coat pizza boxes and popcorn bags, to keep them from getting soggy with grease. They are also prevalent in coatings used in outerwear, furniture, and carpeting to make them stain and water resistant.
These chemicals are now known to pose harm to human health and the environment – the chemicals disrupt hormones in people and animals, and are carcinogenic, or linked to cancer – and are especially pernicious once dispersed in drinking water sources. "PFAS has turned out to be a much greater health hazard than we thought," says Dr. Philippe Grandjean, STEEP (University of Rhode Island [URI] Sources, Transport, Exposure & Effects of PFAS Superfund Research Program) co-lead.
FLUOROS Global 2021 addressed the rapidly evolving landscape of detection, health effects, regulation, remediation, and community response to PFAS contamination. National and international PFAS experts discussed state-of-the-art research and put forth their insights on advances in the field to the benefit of consumers, manufacturers, oversight and environmental agencies, and global health specialists. Participants included established and early career scientists, government officials (international, federal, state, and local), impacted community members, journalists, environmental NGOs, and PFAS-linked product manufacturers.
Program Highlights included:
Keynote Speaker Elsie Sunderland, a STEEP scientist with STEEP partner Harvard University and a leading PFAS researcher; she discussed PFAS in the context of food webs impacting human consumers in case studies spanning from the remote Faroe Islands to communities in the Northeast of the United States;
Panel sessions, such as one on PFAS impacts in the Arctic ecosystem, including discussion of the health and well-being of native and local communities, and potential steps for remediation;
Lectures, such as one on the detection, identification, and toxicology of novel PFAS; other talks focused on issues such as human biomonitoring programs and efforts underway to better understand the extent of impacts in varied environments.
"There is no way to put the genie of PFAS contamination back in a bottle, so countries will have to invest heavily to protect drinking water resources from PFAS, and find novel ways of curtailing further production and use," says Rainer Lohmann, a lead STEEP researcher and chemical oceanographer associated with the URI Graduate School of Oceanography. Scientists the world over now study the problem, working to ensure that the best science informs practical answers to protect human and ecosystem health at the community level.
"A focus on innovation has also informed conference structure and content," says Judith Swift, a STEEP lead, who serves as Director of the URI Coastal Institute. "FLUOROS Global demonstrates that in times of COVID, we can come together even when a classical in-person meeting is not feasible," she says. "The problem of PFAS contamination knows no boundaries and is of pressing concern everywhere. This event provides the arena and sharing spaces we need to coalesce answers and strategies."
The conference, funded in part by the National Institute of Environmental Health Sciences in coordination with partners from the Harvard T.H. Chan School of Public Health and Silent Spring Institute, is also considered of special interest to Superfund Research Program (SRP) trainees. These emerging leaders comprise the critical voice of the next generation of scientists, and they enthusiastically supported the concept of a global FLUOROS. In fact, many SRP trainees ensured the success of the event through their tireless work behind the scenes.
The FLUOROS GLOBAL 2021 program is available for download. Funding for this conference was made possible, in part, by the National Institute of Environmental Health Sciences under award number R13 ES031852-01. A full list of sponsors is also available here. STEEP is a partnership of the University of Rhode Island, Harvard T.H. Chan School of Public Health, Department of Environmental Health, and Silent Spring Institute, with funding provided under grant P42ES027706.