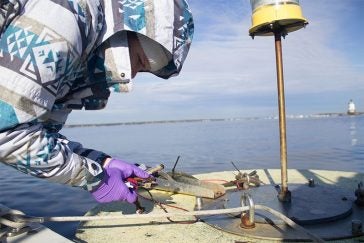 Policy, health, and justice served as lenses through which PFAS contaminants in drinking water were examined via the recent virtual conference, "PFAS In Our World: What We Know and What We Can Do." The event, sponsored on October 13 and 14 by the University of Rhode Island (URI) STEEP Superfund Research Center, brought leading and emerging scientists together with government, private sector, and citizen interests to collectively explore the advancement of policies to protect communities from contamination.
"We wanted to create an opportunity for young scientists interested in PFAS to learn how their research can have an impact, whether it's guiding environmental regulations, reducing people's exposure, or protecting communities most at risk," said STEEP (Sources, Transport, Exposure and Effects of PFAS) trainee Heidi Pickard, a PhD student at the Harvard John A. Paulson School of Engineering and Applied Sciences.
PFAS are a class of chemicals that companies add to consumer products to make them nonstick, waterproof, and stain-resistant. They are also used in firefighting foams and industrial processes. The hazardous chemicals have been detected in groundwater and drinking water across the country, affecting millions of Americans and raising health concerns.
"These chemicals are highly pervasive, they never degrade, and they can cause health effects at very low levels of exposure," says URI professor Rainer Lohmann, who leads the STEEP center. "So, it's imperative that we find solutions to keeping these chemicals from entering our environment and our bodies."
Highlights of the event included a talk on environmental policy by Linda Birnbaum, former head of National Institute of Environmental Health Sciences (NIEHS), a two-day follow-up workshop hosted by the Green Science Policy Institute, and a poster session. Access to the event presentations will be available shortly on STEEP's YouTube channel.