Undergraduate Research and Innovation at URI is for undergraduate students in all disciplines and at all levels who think big in a self-directed, hands-on way. Conduct research, produce scholarly work, and innovate artistic creations. Make new and original contributions to your field. At URI, we value innovation in traditional STEM, and in art, music, theater, film and more. Undergraduate Research and Innovation at URI provides students with undergraduate project grants each semester in support of undergraduate research, and creative and innovative student projects of their own design.
Need funding for your independent Project?
Apply now through October 23 for a project grant!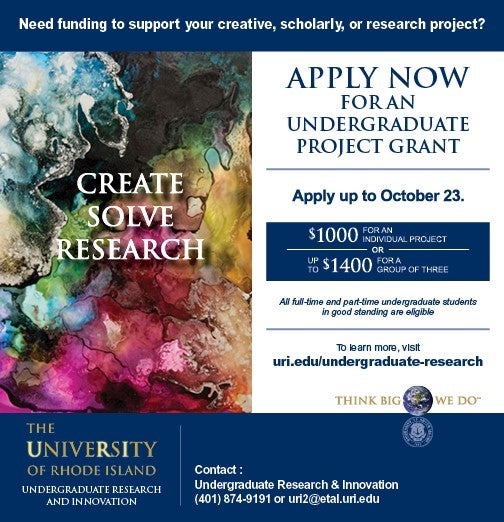 ---
Related Links
---
Contact Us
Graham Forrester
Director, Undergraduate Research and Innovation
Carothers Library
15 Lippitt Road, Room 270B
401.874.7054
gforrester@uri.edu
Carolyn White