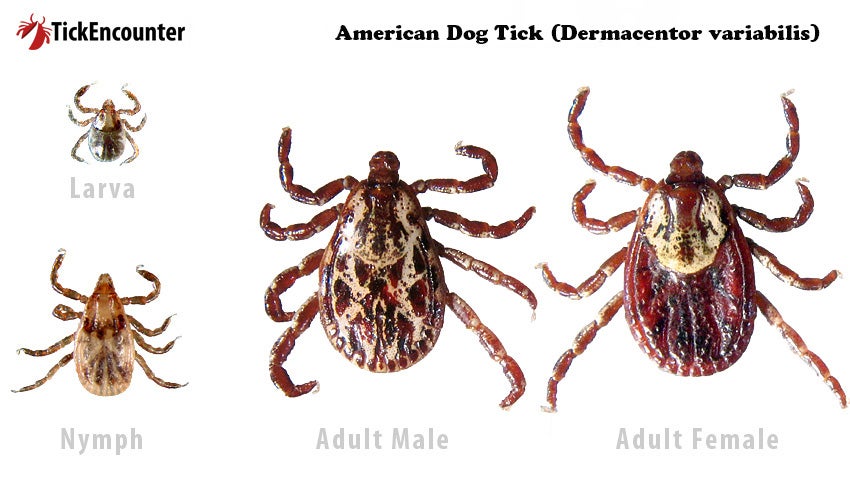 Overview
American dog ticks are found over most of North America, predominantly along forest edges and in areas with little or no tree cover, such as grassy fields and scrubland, as well as along walkways, sidewalks, and trails. American dog ticks are 3-host ticks (use 3 different hosts in their lifecycle) feeding on people and a variety of animals ranging in size from rodents to livestock. Adult stages prefer medium-sized hosts, including racoons, skunks, cats, dogs and other canids. Larvae and nymphs mainly infest small mammals including mice, voles, rats, and chipmunks. Nymphs and adults can transmit Rocky Mountain Spotted Fever and lesser pathogenic spotted fever group germs as well. They also transmit the germ causing Tularemia. American dog ticks can survive for up to 2 years at any given life stage if no host is found.
Tick Growth Comparison (see how ticks change appearance as they feed)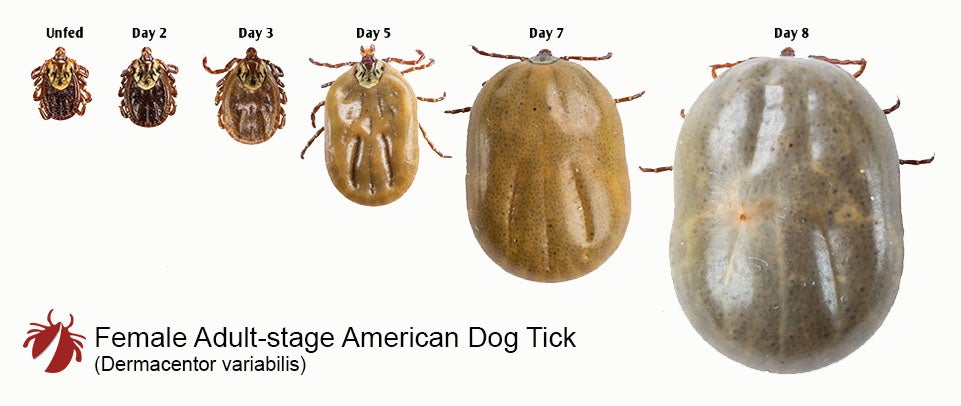 Field Notes
Adult males and females are active April-early August in most regions, and are mostly found questing in tall grass and low lying brush and twigs. Adult American dog ticks commonly attack humans, typically climbing to the crown of the head. Male ticks blood feed briefly but do not become engorged with blood. After a brief (1-2 day) attachment, males detach and wander on the host in search of an attached feeding female to mate with. Females can take one week or more to completely engorge. Once replete, female American dog ticks detach from their host and drop into the leaf litter, where they can lay over 4,000 eggs before dying. Nymphs and larvae rarely attach to people or pets. Larvae are most active biting rodents in May and June while nymphs are most active in July and August.
Life Cycle Stages
Select a region to see how seasonal activity and diseases carried by this tick change across the country.
Larva

Northeast Central Region

Known Diseases Transmitted

No known diseases in this region at this time.

Southeast Central Region

Known Diseases Transmitted

No known diseases in this region at this time.

Mid Atlantic Region

Known Diseases Transmitted

No known diseases in this region at this time.

Mountain Region

Encounter Risk

No encounter data for this region at this time.

Known Diseases Transmitted

No known diseases in this region at this time.

New England Region

Known Diseases Transmitted

No known diseases in this region at this time.

Pacific Region

Known Diseases Transmitted

No known diseases in this region at this time.

South Atlantic Region

Known Diseases Transmitted

No known diseases in this region at this time.

Northwest Central Region

Known Diseases Transmitted

No known diseases in this region at this time.

Southwest Central Region

Known Diseases Transmitted

No known diseases in this region at this time.

Nymph

Northeast Central Region

Known Diseases Transmitted

No known diseases in this region at this time.

Southeast Central Region

Known Diseases Transmitted

No known diseases in this region at this time.

Mid Atlantic Region

Known Diseases Transmitted

No known diseases in this region at this time.

Mountain Region

Encounter Risk

No encounter data for this region at this time.

Known Diseases Transmitted

No known diseases in this region at this time.

New England Region

Known Diseases Transmitted

No known diseases in this region at this time.

Pacific Region

Encounter Risk

No encounter data for this region at this time.

Known Diseases Transmitted

No known diseases in this region at this time.

South Atlantic Region

Known Diseases Transmitted

No known diseases in this region at this time.

Northwest Central Region

Encounter Risk

No encounter data for this region at this time.

Known Diseases Transmitted

No known diseases in this region at this time.

Southwest Central Region

Encounter Risk

No encounter data for this region at this time.

Known Diseases Transmitted

No known diseases in this region at this time.

Adult Male

Northeast Central Region

Known Diseases Transmitted

Rocky Mountain Spotted Fever

Rickettsia rickettsii (bacteria)

Tularemia

Francisella tularensis (bacteria)

Southeast Central Region

Known Diseases Transmitted

Rocky Mountain Spotted Fever

Rickettsia rickettsii (bacteria)

Tularemia

Francisella tularensis (bacteria)

Mid Atlantic Region

Known Diseases Transmitted

Rocky Mountain Spotted Fever

Rickettsia rickettsii (bacteria)

Tularemia

Francisella tularensis (bacteria)

Mountain Region

Known Diseases Transmitted

Rocky Mountain Spotted Fever

Rickettsia rickettsii (bacteria)

Tularemia

Francisella tularensis (bacteria)

New England Region

Known Diseases Transmitted

Rocky Mountain Spotted Fever

Rickettsia rickettsii (bacteria)

Tularemia

Francisella tularensis (bacteria)

Pacific Region

Known Diseases Transmitted

Rocky Mountain Spotted Fever

Rickettsia rickettsii (bacteria)

Tularemia

Francisella tularensis (bacteria)

South Atlantic Region

Known Diseases Transmitted

Rocky Mountain Spotted Fever

Rickettsia rickettsii (bacteria)

Tularemia

Francisella tularensis (bacteria)

Northwest Central Region

Known Diseases Transmitted

Rocky Mountain Spotted Fever

Rickettsia rickettsii (bacteria)

Tularemia

Francisella tularensis (bacteria)

Southwest Central Region

Known Diseases Transmitted

Rocky Mountain Spotted Fever

Rickettsia rickettsii (bacteria)

Tularemia

Francisella tularensis (bacteria)

Adult Female

Northeast Central Region

Known Diseases Transmitted

Rocky Mountain Spotted Fever

Rickettsia rickettsii (bacteria)

Tularemia

Francisella tularensis (bacteria)

Southeast Central Region

Known Diseases Transmitted

Rocky Mountain Spotted Fever

Rickettsia rickettsii (bacteria)

Tularemia

Francisella tularensis (bacteria)

Mid Atlantic Region

Known Diseases Transmitted

Rocky Mountain Spotted Fever

Rickettsia rickettsii (bacteria)

Tularemia

Francisella tularensis (bacteria)

Mountain Region

Known Diseases Transmitted

Rocky Mountain Spotted Fever

Rickettsia rickettsii (bacteria)

Tularemia

Francisella tularensis (bacteria)

New England Region

Known Diseases Transmitted

Rocky Mountain Spotted Fever

Rickettsia rickettsii (bacteria)

Tularemia

Francisella tularensis (bacteria)

Pacific Region

Known Diseases Transmitted

Rocky Mountain Spotted Fever

Rickettsia rickettsii (bacteria)

Tularemia

Francisella tularensis (bacteria)

South Atlantic Region

Known Diseases Transmitted

Rocky Mountain Spotted Fever

Rickettsia rickettsii (bacteria)

Tularemia

Francisella tularensis (bacteria)

Northwest Central Region

Known Diseases Transmitted

Rocky Mountain Spotted Fever

Rickettsia rickettsii (bacteria)

Tularemia

Francisella tularensis (bacteria)

Southwest Central Region

Known Diseases Transmitted

Rocky Mountain Spotted Fever

Rickettsia rickettsii (bacteria)

Tularemia

Francisella tularensis (bacteria)