As we launch into the Spring 2022 semester, the College of Arts & Sciences (A&S) reflects on the memories that defined the Fall 2021 semester. Among the most impactful moments came from an October event hosted by Migrant Justice, a nonprofit organization based in Vermont, in coordination with URI's Dr. Julie C. Keller, associate professor of sociology and director of the Social Science Institute for Research, Education, and Policy. Migrant Justice focuses on labor rights and economic justice for migrant workers within the dairy industry while encompassing a variety of intersectional issues, such as racial justice. The four pillars that support their mission include immigrant rights, agricultural justice, migrant media, and community education. Dr. Keller has researched immigrant dairy workers since attending graduate school; she says she became familiar with Migrant Justice several years ago and saw the opportunity to invite the group to campus during their New England tour. The event was especially enjoyed by instructors representing the new A&S minor, Latin American, Caribbean, and Latinx Studies, as well as students from several classes, including a sociology course studying social movements and change.
"What a cool thing to be able to invite an organization that's actively working on these issues," Dr. Keller said. "It's worker led, so the organization itself is led by the very workers who are the focus of this kind of work and improving the working conditions of those exact people." She continued, "It's such a concrete way for students to think about workers issues when all they have to do is look at their dinner plate or breakfast bowl and think about where these dairy products are coming from and under what conditions they are produced." Among the many concerns for dairy workers that were discussed at the event included fair wages, paid sick leave, workman's compensation, and job training in the native languages of workers to ensure proper safety practices. Migrant Justice also highlighted how the workers they advocate for have been disproportionately affected by the COVID-19 pandemic in being essential workers.
The event left a major impact on both Migrant Justice and those students and faculty who attended. Dr. Keller said, "Students were so excited leaving the event because they had a real-world movement to use as a case study to apply to the movements they were studying in class." She described the event as "really impactful" as her students "were able to see a way that they could get involved and actively work to change these unequal working conditions." Students and others can continue to find ways to get involved by visiting the Migrant Justice website where they offer specific instructions as to how to support their work and the rights of farmworkers. Dr. Keller notes that folks can also get involved in justice for immigrants at Cosecha or United We Dream, or by contacting their local congressperson.
Read more about Migrant Justice and ways to get involved here.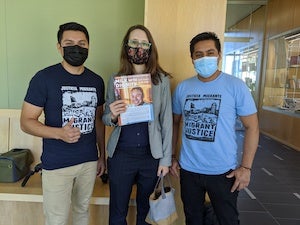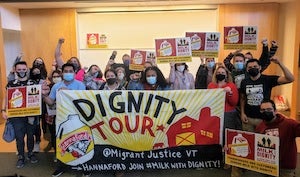 ~Written by Sabrinna Fogarty