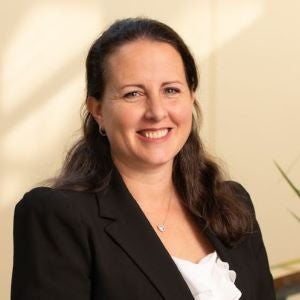 Associate Dean of Undergraduate Programs & Professor, SCM/BAI Area Coordinator
Marketing
Phone: 401.874.4172
Email: ChristyAshley@uri.edu
Office Location: 342, Ballentine Hall
Biography
Christy Ashley (Ph.D., University of Rhode Island) joined the faculty as an Assistant Professor of Marketing in Fall 2015 ad was promoted to Associate Professor in 2017. She was previously an Associate Professor of Marketing and Research Fellow at East Carolina University, where she was recognized as a leading Scholar-Teacher and as the top Alumni Teaching Award recipient at the University level. Prior to that, she was an Assistant Professor of Marketing at Fairfield University, and she has industry experience in direct marketing, new media marketing, and retail and service management.
Christy's main research interests include customer experience management, creativity, and consumer-brand relationships. She focuses on how retailers, advertising, and new media impact consumer-brand relationships. Her publications have appeared in the Journal of Retailing, the Journal of Advertising, the Journal of Public Policy & Marketing, the Journal of Business Research, Psychology & Marketing, and Marketing Education Review, among others.
Christy is committed to fostering the talents of the "Big Thinkers" at the University of Rhode Island and in the community. She teaches Social Media for Marketing and Marketing Strategy at the undergraduate level, where she uses innovative methods to help students gain hands-on experience with real-world marketing challenges. She also teaches in the Ph.D. and D.B.A. programs.
Although she is not a native, she adopted Narragansett, Rhode Island as "home." She resides there with her husband Jay Oliver (who also earned his Ph.D. at the University of Rhode Island), their three children, and a free-spirited Irish Setter-Golden Retriever mix.
Selected Publications
Please see Christy Ashley's Google Scholar profile.